July 11, 2008 @ 6:36 am | Filed under: Family, Photos, Pregnancy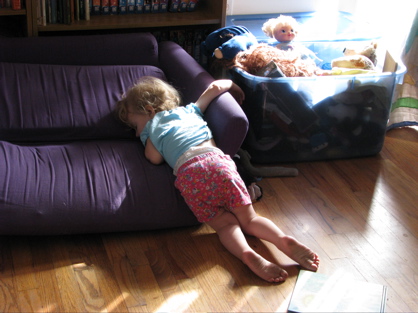 Some days you're just too tired to make it all the way onto the sofa.
(Or, apparently, to wash your feet.)
This photo could be called "Like Mother, Like Daughter," because the fatigue displayed by my lass here matches exactly how I've been feeling lately. Utterly wiped out. Which is to say: the pregnancy is proceeding exactly as it should. 🙂 I'm 15+ weeks now, so I should be climbing out of the nausea soon. SOON, you hear me?
One of these days, I might even be up to giving Rilla a bath.
Scott's in charge of baths around here. You can blame those dirty feet on him. After all, who's the one who let the child run around barefoot in the yard all morning?
Oh, right, that was me. (Technically: that was I. Doesn't the correct grammar sound awfully stilted in this case? What is one to do?)
Except for the occasional bouts of violent nausea, it's been quite a mellow week around here. Possibly a little too mellow for a couple of my big girls, after the fabulously exciting week they had with my parents and sisters and niece in Colorado. But they haven't complained, probably because they are so relieved to have missed the massive cleaning out of their closet I undertook while they were away. Let's just say it was a good thing for all concerned that I tackled that job while they were in another state.
I need to tackle my in-box next. It has moved from embarrassing to downright shameful. If I owe you a reply, please know that I'm working on it. Trouble is, I need to be upright to type. Rassafrassin' laptop battery gets too hot for me to recline with the computer on my lap. Especially with someone trying to, you know, develop organs and limbs and things in the vicinity of my middle. And these days, the vertical position simply does not agree with me.
Fortunately, experience has taught me that one can remain a decent mother while sprawling on the couch for much of the day. No, really. I've already read the boy's beloved Octopus Book aloud six times this morning. (Then dad got up and mom became chopped liver. Who can blame the kid? I'd rather hang out with Scott too.) So I'm sitting up for a while, balancing the laptop on the arm of the couch. It's 7:30 a.m. and all four of my daughters are still asleep. Smart girls.
Now if you'll excuse me, I have to go over to Herding Turtles and feast my eyes on Sarah's beautiful new baby some more. Have you ever seen anything more scrumptious? I'll take one of those, please.