October 17, 2008 @ 6:11 am | Filed under:
Food
Apple cider donuts, gritty with granulated sugar, crisp outside, soft and warm on the inside.

It's Uncommon Grace's fault.
From here would be best (sniffle: October = Blue Ridge Mountains homesickness), but I bet we could find some in Julian.
Aha. I knew it.
Can you believe we've been in California for two years now?
(Almost. This date two years ago was the day the kids and I reached Phoenix, thirteen days after we left Virginia in a minivan stuffed to the gills—mostly with children—and picked up Scott at the Phoenix airport for the last short leg of the trip to our new home. The next day, October 18th, was the day we rolled into San Diego to begin our new life.)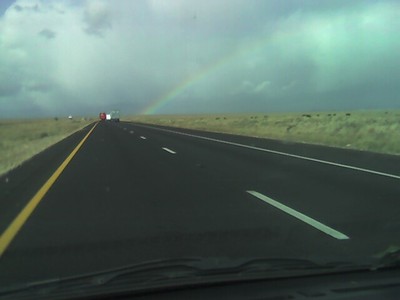 Phoenix ahead. Carter Mountain apple cider donuts behind us.
Comments
Jeanne says:

O! Lissa, we just went to Carter Mountain on Tuesday. Two of us who have lived in the Charlottesville area previously told the rest of our homeschool group here in southern VA that apple picking HAD to be done at Carter Mountain. We drove nearly three hours each way, but it was worth it! Within moments of hopping out of the car, my 10 yo son and his friend were on the hillside with their sketchbooks, unbidden by moms.

We did the hay ride, which was cool because a bunch of homeschoolers from Orange joined us, unplanned. We picnicked there in back of the apple barn, surrounded by the beautiful mountain views. We picked Stamen and Granny Smith and Rome and Golden Delicious — the Pink Ladies need some colder nights to ripen, which they should get this weekend.

And, yes, we had apple cider doughnuts.

Yesterday we made baked apples using Oak Meadow's "My First Cookbook" recipe – Stamens with hollowed-out cores filled with raisins, butter, cinnamon, brown sugar, syrup — oooo — the taste of the Virginia mountains with a little sugar and cinnamon is mighty good.

I spoke with a woman who lives there about how much I miss Charlottesville. "I know what you mean," she said. "It's the promised land."

Sigh.

Sorry. Didn't mean to make you more wistful. We are where we are, and there are good things about being where we are, even if there are no apple cider doughnuts.