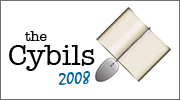 The winners of the 2009 Cybil Awards have been announced at the Cybils blog. Congratulations to all the winners!
As a member of the first-round judging panel for Fiction Picture Books, I was happy to see that my favorite title from our shortlist, How to Heal a Broken Wing, won in that category.
And I'm tickled to see that the winner of the Nonfiction Middle Grade/Young Adult category is a book by a friend of mine: The Year We Disappeared: A Father-Daughter Memoir by Cylin Busby and John Busby. Cylin and I were lowly editorial assistants together at Random House many years ago. I'm so proud of her. (Good thing I wasn't a panelist for that category—I'd have had to recuse myself.)  I've been dying to read her book: I finally have a copy on the way, so more on that later.
While you're over at the Cybils blog checking out the winners, don't miss Easy Reader winner Mo Willems's illustrated thank-you note!