March 1, 2009 @ 7:53 pm | Filed under:
Books
Washington Square
by Henry James. Library book. Another read prompted by Reading Lolita in Tehran (blogged about last month). This was my first time for Washington Square and I loved it. Loved Catherine, the unconventionally plain and stubborn heroine.
"The Curious Case of Benjamin Button" by F. Scott Fitzgerald. The short story that inspired the movie, though I hear the movie diverges from the book quite a lot. I was poking around at DailyLit and saw this talked up as their Big Read selection, and I read the first excerpt and then wound up sitting there clicking "send next installment now" over and over until I'd read the whole thing, one email at a time—which is really a very silly way to read a book. Strange, unsettling story. I liked it.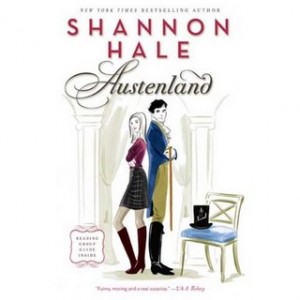 Austenland: A Novel
by Shannon Hale. This was a gift from my Secret Santa in the Book Bloggers Exchange at Christmas. Kelly had picked up on my love of Jane Austen's work and treated me to two Austen-inspired novels. (Haven't had a chance to read the other one yet.) Austenland is light and fun, a nice beach read, though the conversational prose style jarred a bit, kept me from sinking deeply into the narrative. The thirty-something heroine, a Manhattan career girl, has given up on ever finding true love because, let's face it, none of the men she meets can hold a candle to Mr.-Darcy-as-played-by-Colin-Firth. A rich and shrewd great-aunt gives her a three-week vacation at an English estate where everyone dresses in Regency garb and the guests are given psuedonyms like "Miss Erstwhile" and "Miss Charming." I sort of want to live there, except without the spoiled idle-rich guests and the strictures against WiFi. And they'd have to let my own personal Mr. Darcy come with me and bring his electric guitar. It's okay—he never gets to plug into the amp anyway.
Pride and Prejudice
by Jane Austen (yes, again). Well, obviously. After Austenland, what could I do? Had to revisit Eliza and Darcy for the umpteenth time. By golly, it never gets old, even now when I can practically recite whole chapters.
Murder on the Orient Express
by Agatha Christie. I mentioned that Jane is doing some Bravewriter stuff related to this book. She needed (desperately needed) me to read it myself so I could read her essays without any nasty spoilers. I love Poirot but somehow had never read this, one of his most famous cases. I'll always be partial to Miss Marple, but a dose of Poirot now and then is good for the little gray cells.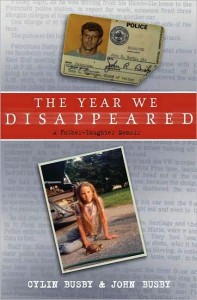 The Year We Disappeared: A Father-Daughter Memoir
by Cylin Busby and John Busby. I was so eager to read this book. Picked it up on Friday and couldn't put it down. Cylin and I were editorial assistants together at Random House in the mid 90s. We suffered through many a slush lunch together, but this was a story I never heard. (I don't think it was a story she could tell at the time without blowing her family's cover.) My goodness. Her father, a police officer, was shot by a criminal when Cylin was nine years old—shot in the jaw, very nearly fatally. The saga of his facial reconstruction alone would have made a gripping tale, but this raw and candid account of the anxiety and emotional distress suffered by the whole family in the months following the shooting elevates the tension to nail-biting levels. I should show you a picture of my fingers as proof. The town of Falmouth arranges for 24-hour police protection for John and his family, for it is believed (with good reason) that the man behind the failed murder attempt will try again. Both Cylin and John recount their memories of this rocky period in their lives with a straightforwardness that often made me wince in sympathy and dismay. This is a YA book and there's some rough language in John's narrative, but not so much that I'd be uncomfortable letting my 13-year-old read it. Highly recommended.



Books purchased in February:
Fire Baton: Poems
by Elizabeth Hadaway
The Collected Poems of W.B. Yeats

Opened Ground: Selected Poems, 1966-1996
by Seamus Heaney

Review copies received:
Lucky Girl
by Mei-Ling Hopgood (ARC)