(Updated.)
Little Brother
and Down and Out in the Magic Kingdom by Cory Doctorow. (Blogged about Down & Out here.)
"The Sisters" by James Joyce.
Damosel: In Which the Lady of the Lake Renders a Frank and Often Startling Account of her Wondrous Life and Times
by Stephanie Spinner.
The Film Club: A Memoir
by David Gilmour.
Stolen
by Vivian Vande Velde. (Notes.)
Secret History of the Authority: Hawksmoor
by Mike Costa and Fiona Staples.
Coraline
by Neil Gaiman. (Notes.)
Rules
by Cynthia Lord. (Notes.)
The Plain Princess
by Phyllis McGinley.
The Sherwood Ring
by Elizabeth Marie Pope. (Review.)
The Polysyllabic Spree
by Nick Hornby.

Hmm, almost all fiction this month, except for Film Club and the Hornby book. I knew it was a mistake to pick up the Hornby; The Polysyllabic Spree is a collection of Nick Hornby's monthly books column for The Believer. Nick writes exactly the kind of essays I love to read—and write, for that matter—conversational ruminations on the books he has read, or purchased and not read, or thought about reading, in the previous month. Here I am already with a house full of books whispering my name in rustling voices, and a list of ooh-gotta-score-a-copy-of-that-one titles gleaned from sources like last year's favorite book-essay collection, A Reader's Delight, and now, stupidly, I've gone and let Nick Hornby get me all fired up to read a bunch of the books he read in 2004.
Even worse, there are two more volumes of these Hornby columns, and of course I'm dying to read those too. And the library doesn't have them. If I spend money (or even Amazon gift certificate dough) to buy more books about books I'll then want to buy, somebody please hit me over the head with a copy of Home Comforts.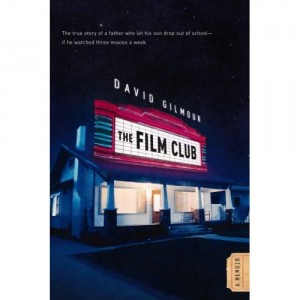 I enjoyed Film Club but I think I had a hard time letting it be the book it IS instead of the book I thought it was going to be (or the book I wanted it to be). It's the true account of how film critic David Gilmour made a deal with his teenaged son: Jesse, a 10th grader, could drop out of school on the condition that he'd watch three movies a week with his dad. I heard about this book and immediately pegged it as kind of unschooling manifesto, full of anecdotes about the amazing learning experiences and deepened relationships that grew out of this family's unorthodox decision. And the book IS about learning and about deepened relationships, but not at all in the way I imagined; it isn't waving a banner for autodidactism or alternative education. It isn't putting forth a thesis or advocating a philosophy: it is exactly what it claims to be: a memoir, a true account of a few years in the life of a father and son. Gilmour recognizes that these years with Jesse, the last years of Jesse's residency under his father's roof, are a treasure to be cherished, and his movie-viewing plan is more about spending time together than education. Both father and son DO learn a lot, of course. David chooses the films carefully, sometimes focusing on landmarks of cinematic history, other times riffing on the dramas of Jesse's personal life. (Lots of girl stuff going on with the boy, to put it mildly.)
Once I got a handle on what the book was and let it be itself instead of the unschooling celebration I expected it to be, I enjoyed the book a whole lot (though Gilmour and I come from very different places regarding certain moral issues). Mostly I wanted to hear more about the films: the best parts of the book are the conversations between David and Jesse about the films, and most especially David's commentary during the films. I am now dying to see James Dean in Giant.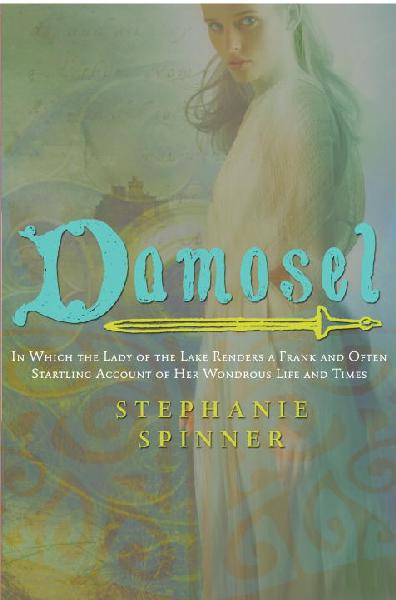 I've already written about most of the fiction I read in March. It was a great month for fiction. I really enjoyed Damosel, an Arthurian romance by my former boss, Stephanie Spinner. Stephanie has kindly agreed to let me interview her here on the blog and I'm pretty excited about that. Damosel is lyrical and lovely, and I love the way it takes a minor figure from the Arthurian legend and expands her, lets us look at some old familiar tales from a completely fresh perspective. (I don't think I've ever felt the tragedy of Merlin's fate quite so keenly.) Who was that mysterious Lady presenting Excalibur from the murky depths of the Lake? In the legend she is little more than an arm. Stephanie made her a whole person, a complicated person with conflicts and yearnings, powers and limits. There is such an air of wistfulness about the book, as the fairy Lady looks upon the intrigues of mortals first from a cool distance, and then increasingly with an emotional connection to the people she once regarded with comfortable detachment. But it's a funny book, too, very wry, and the Lady's innumerable Rules—the Rules governing the behavior of Ladies of the Lake—made me laugh out loud more than once.