April 25, 2009 @ 1:05 pm | Filed under:
Art
"What brand are your sketchbooks? They look wonderfully sturdy and kid-friendly. I have never thought to take watercolors outside, your pictures make it look so simple (much simpler than inside painting) I must try it."
We're using these 8×8″ recycled sketchbooks from Stubby Pencil Studio. We like the small, square shape and the sturdy cardboard covers (plain brown, easily decorated). I bought them to give the kids for Christmas and forgot about them. I remembered I'd also bought and forgotten these neato-bandito "Smencils"—#2 pencils with yummy scents like cinnamon, orange, and root beer—and when I dug the box out from under my bed where I'd hidden it, the sketchbooks were there too, a nice surprise.
This is the same place I got the Crayon Rocks that so delighted Wonderboy on his birthday.
As for our outdoor painting supplies, the watercolors are just the cheap Crayola sets.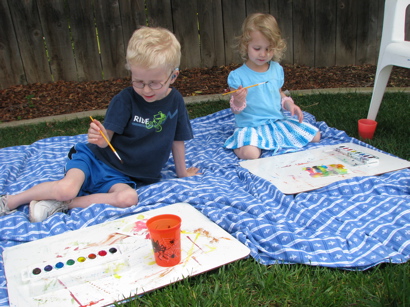 When my older kids were little, I read lots and lots about the benefits of providing children with really high quality art supplies. In some cases, I still agree: Prismacolor colored pencils are worlds better than your drugstore variety. The lead is so creamy and blendable. They're expensive but they last a long time—we're on our second set of 72 colors in over ten years.
But watercolors? Real watercolor paper makes a huge difference, but it's expensive; that's one reason I was so taken with Jenn's idea to cut it into smaller, postcard-sized pieces. But when it comes to the paints themselves, well, I've been the high-quality route, absorbed the persuasive literature that talks about rich pigments and translucent hues; bought the pricey tubes of red, yellow, blue; collected jars for mixing colors; watched my children squeeze out too much paint and gleefully swirl it into an expensive puddle of mud-colored glop.
Lesson learned. The 99 cent Roseart or Crayola sets work just fine. In fact, dare I say I think my preschoolers like them better? Mixing colors is fun, but there is nothing quite so appealing as that bright rainbow of pretty paint ovals all in a row. When Wonderboy and Rilla make a mess of their paints, Jane cleans them up with a rag and they're practically good as new.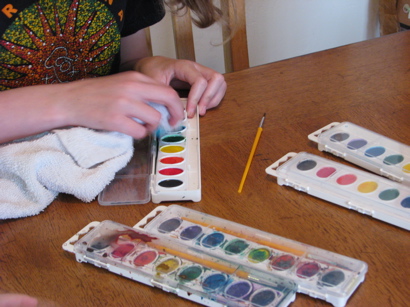 Jane's taking a watercolors class herself, and for that I was happy to buy nice quality paints. But for casual backyard painting for my other five kids? No more tubes.
One last note—we really like to use painting boards under our paper. A long time ago I bought a box of dry-erase markerboards very cheap. They were scratch-and-dent discount items. I wish I could remember the website. Anyway, these make fabulous painting boards. They clean up easily, if you're inclined to wipe them down. We usually aren't.