April 26, 2009 @ 7:55 pm | Filed under:
Gardening
This post is for me, just so I'll know what was blooming when. Also I think my mother will like to hear how fruitful her labors were this winter and spring.
I'm laughing at the bare mulch behind the children in the pictures on my last two posts. That's the only part of the yard where things aren't awash in flowers, but it's where we sit in the afternoons because that's the only bit of grass with shade. And the mulch bed is bare for the same reason there's shade: the neighbor's pepper trees tower over the fence, blocking all afternoon sun. I've tried some (shade-loving) impatiens there but they didn't amount to much.
The rest of the yard, though, oh my. An abundance of bloom.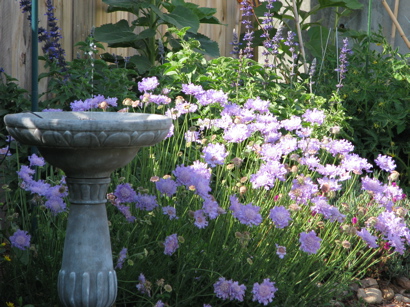 Currently in flower:
scabiosa
sunflower
jasmine
ice plant
cranesbill
salvia (red and purple)
columbine (fading)
moss roses
Mexican sage
um, those little white flowers
African daisies
yellow daisies
nasturtium
thyme
freesia
lavender
snapdragons
petunias
geranium
stock (not looking good though)
those purple things, nemesia maybe? pink ones too
strawberries
alyssum
bougainvillea
cape honeysuckle
cosmos
the pansies are on their last legs
oh the lovely poppies!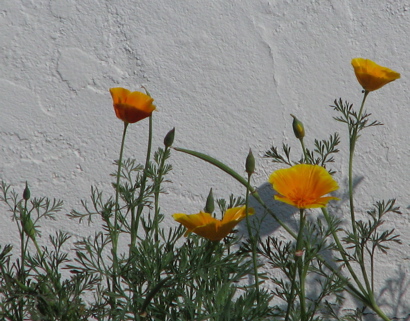 Comments