Convention center.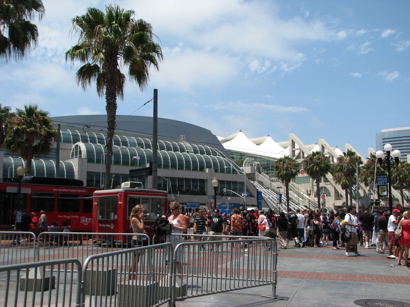 Crowd.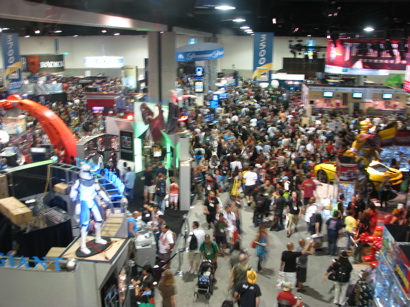 Color.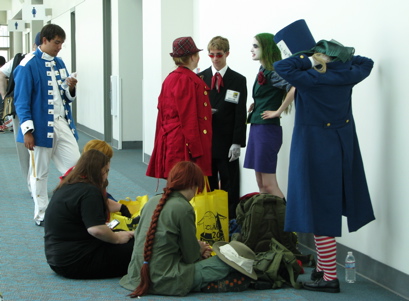 Zombie.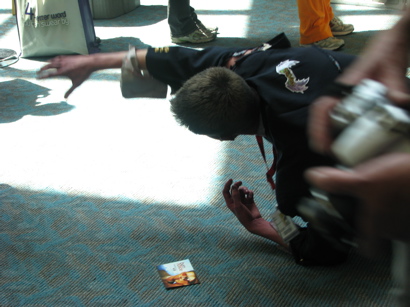 Panel: Wonder Women—Female Power Icons in Pop Culture.
"They say there aren't enough good roles for women. That's because Eliza Dushku is playing them all." (On Dollhouse.)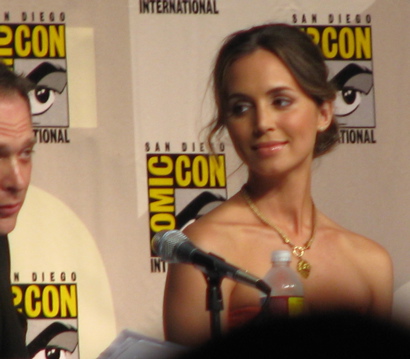 Sigourney Weaver: "Ripley could take Clint Eastwood in a fight."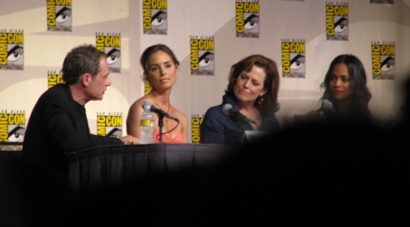 Will Juliet return to LOST this season? Says Elizabeth Mitchell: "That depends on whether or not Jack's plan worked."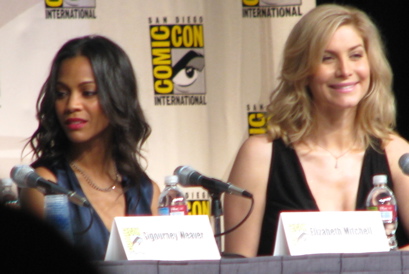 Zoë Saldana (Avatar, Star Trek) on women in action roles: "We fight against a room full of men over why we can't wear pants for all the running, the fighting…They think I can do it in a skirt and Gucci boots."
Missed the end of the panel because the baby, who'd been an angel up to that point, had had enough. Had strategically placed myself on an aisle seat next to an exit just in case I needed to slip out. Slipped out. Headed down to the mad crush of the main hall and found—our favorite superhero of all.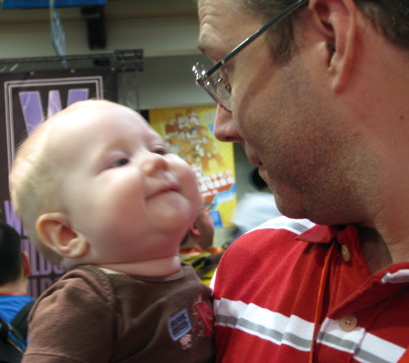 Comments
Jennifer says:

I'm so happy that you got some 'Lost' in! Love the end to this post – so sweet.

WendyinVA says:

That last picture is my favorite. :o)

Beth says:

Love the quotes but oh! the baby-dada love. *sigh*

Cheryl M. says:

That precious baby boy doesn't adore his dada too much eh?? 🙂 I love the look on his little face. 🙂

Theresa says:

What fun! Great pics, esp that last one.

Hannah says:

Re: Elizabeth M. That's a tease if I ever heard one!

kort says:

we happened to be at the Padres Park in the Park as evening fell and all the ComicCon people headed from the Convention Center back to their cars…i had everyone on the look out for a woman dressed like a Catholic homeschool mama of six! sounds like you had a good time. and that boy with his papa! just lovely.

Christina says:

You are so lucky to have gotten to attend the Comic Con. We have a sci-fi based Dragon Con here in Georgia in the fall but it's difficult to get really good guests to attend. But they got Patrick Stewart this year!

Melissa Wiley says:

Dragon Con! I'd love to go—Paul Dini will be there, and our pal Bob Greenberger, and the incomparable Brian Stelfreeze (amazing artist and Scott's good friend). Fun fun fun.

Many years ago we got to visit Brian at Gaijin Studios on our way to a family reunion in south Georgia. (Gosh, only two kids at the time!) He was such a sweetheart, all the Gaijin folks were, showed the kids around, drew pictures, gave us Totoro dolls, totally spoiled us. I'd love to go back. (And would then like to continue on to south Georgia for another family reunion…)

scott says:

There is no finer, more pleasant or educational way to spend your time than talking about art with Brian Stelfreeze.

In fact, Brian says that the first person to mention Here in the Bonny Glen will get the Here in the Bonny Glen Special: a free Brian Stelfreeze sketch. Ask him for a sketch and prepare to be stunned by its gorgeousness. And challenge him: ask him to draw the undrawable and watch as the guy who calls 7-point-perspective "child's play" somehow manages to draw it anyway.