July 30, 2009 @ 7:34 pm | Filed under:
Comics
(Note: this is one of those uberlinky posts that takes forever to write. I'm going to eschew linking for now, for the most part, and add them later when I have time.)
There were two Graphic Novels for Kids panels on Sunday at San Diego Comic-Con 2009. I attended the first panel in its entirety, but I had to leave about 15 minutes into the afternoon session. The baby was feeling chatty again.
Both panels—the parts I attended—were excellent. Terrific lineups of writers and artists. I must have added a dozen new titles to my TBR pile, at least. I took scribbly notes while attempting to keep the pen out of the baby's grasp—note-taking is tricky when you're standing in the back of the room, bouncing an infant in a sling to keep him happy, trying not to poke the tip of your pen through the folded paper you're balancing on your hand because you decided at the last minute that your beloved notebook was one object too many for a shoulder already overtaxed with convention survival supplies and a 21-pound six-month-old.
You'll have to forgive, then, the sketchiness of my notes in some instances. I think my best bet here is to list the panelists and their books along with any remarks I happened to jot down, rather than making any attempt to chronicle the Q and A in order. Fair enough? Of the books I'm about to list, I have only read Jennifer Holm's Babymouse series and David Petersen's Mouse Guard: Fall 1152. I wholeheartedly recommend the former for young readers and the latter for all ages. And I'd venture to say that even non-fantasy-fans and non-comics-fans will be blown away by Petersen's gorgeous full-color artwork. (Edited to add: David Petersen was on the second panel, which I'll talk about in a subsequent post.)
All righty, then. My notes:
Comics and Graphic Novels for Kids Panel #1, SDCC 2009
First: a hearty note of appreciation for the work of the moderator, Robin Brenner of NoFlyingNoTights.com and author of Understanding Manga and Anime. Her questions were insightful and her handout was packed with information. (I'd love to see it online!) Fabulous resource and it's clear Brenner knows the topic well.
The panelists:
Gene Yang, author and illustrator of American Born Chinese (winner of Eisner and Printz Awards—the Eisner is the most prestigious award in comics, says the proud wife of an Eisner nominee) and writer of The Eternal Smile, illustrated by Derek Kirk Kim, who was also on the panel. (Many of my readers may also recognize Gene as the creator of The Rosary Comic Book, published by Pauline Books and Media, about which Gene wrote: "I've always struggled with how to incorporate my faith into my comics in an authentic way. One Lent, I decided to do a comic adaptation of the Rosary Prayer, rather than giving up chocolate or soda. The Rosary Comic Book is the result.)
Notes:
—Is a teacher, has young children, started writing comics because of dearth of kid-appropriate comic books in stores. Mentioned reading a Batman comic (years ago) in which the villain disguised himself with the skin of a victim's face, found that image terribly disturbing, it lingered, was not at all appropriate for children.
—During discussion of the responsibility of writing for kids, told funny story (at Derek Kirk Kim's urging) about a reader who tracked him down by calling the school where he works & left scolding message about a grammatical error in one of his books, and actually asked him to call back to discuss the matter. He didn't return the call, of course.
Derek Kirk Kim, author and illustrator of Same Difference and Other Stories (won Eisner and Harvey), a graphic novel (not for kids). As mentioned above, he illustrated The Eternal Smile, a collection of fantastical stories (fantastical, not necessarily fantasy).
Jennifer Holm, author of the Babymouse books (illustrated by her brother, Matthew Holm), and Newbery Honor-winning author of Our Only May Amelia.
—Grew up the only girl with four brothers, comics were everywhere, but she didn't connect with Wonder Woman and other female superheroes who seemed nothing like her. Babymouse springs from her desire to create a comic book character other young girls can relate to. (It tickled me to see Jenni up there on the panel, the only female surrounded by half a dozen men, talking about growing up with a pack of brothers.)
—Went with traditional children's book publisher rather than comics publisher for Babymouse because the book publishers know how to get books into schools and libraries. Comic book shops are not places frequented by mothers of small children (as she knows from experience, as the mother of small children).
—Fun connection: during conversation before the panel began, we discovered a mutual affection for Ginee Seo, who was Jenni's editor at one point, and my boss for a short while years earlier. ("For a short while" because then Jane was born!)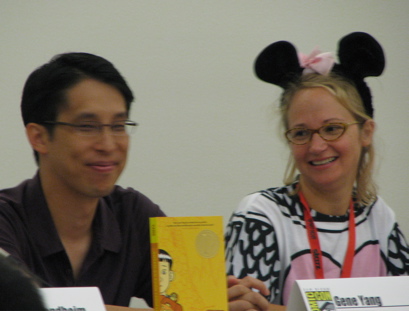 Gene Yang and Jennifer Holm.
Eric Wright, author and illustrator of Frankie Pickle (illustrated chapter book series for young kids), My Dead Girlfriend (teen graphic novel), and Amazing Adventures of Kavalier and Clay (comic book adaptation). Former animator at Disney, Warner Bros., Cartoon Network.
—Eric spoke earnestly about the need for kid-appropriate comics and graphic novels. (A drum I've been pounding for years.) Described becoming a father, having to shield his child's eyes in the comic shops.
—Told a great story about a library(?) signing for very young children. One child in the autograph line seemed a good bit older than the rest, turned out to be a first-grader who'd skipped school for the event. The boy's mother told Eric, "Meeting you was more important to him than going to school."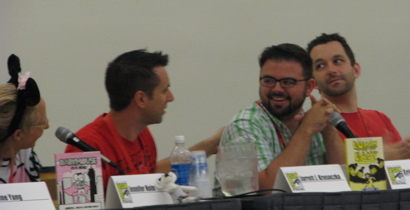 Jennifer Holm, Jarrett K. Krosoczka, Eric Wright, and Chris Schweitzer.
Lewis Trondheim, French comics superstar. Spoke about differences in France, where all ages read comics and prose with equal enthusiasm. Funny, wry; I wish I'd taken better notes about his contributions to the discussion. Blame my infant son.
Jarrett K. Krosoczka, prolific children's book writer and illustrator (Punk Farm, Bubble Bath Pirates, Annie Was Warned, and many others) and writer/illustrator of a graphic novel series called Lunch Lady, which I am eager to check out.
Chris Schweizer, author and illustrator of The Crogan Adventures, teen graphic novels about "an honest sailor who, through unfortunate circumstance, finds himself thrust into a life of piracy" (description taken from the author's website). You pretty much always have me at "finds himself thrust into a life of piracy," so I can't wait to take a look at Crogan.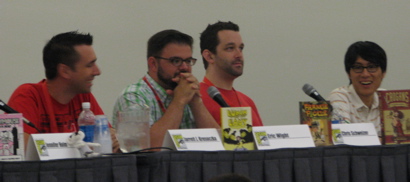 Jarrett K. Krosoczka, Eric Wright, Chris Schweitzer, and Derek Kirk Kim.
I'll have to write about the second panel in another post—this one is bursting at the seams as it is. But there are a lot of promising prospects for the TBR pile here. If you check any of them out, or your kids do, I would love to hear what you and they think!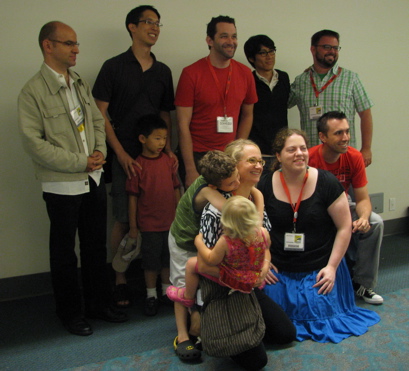 Group photo with moderator Robin Brenner. That's Lewis Trondheim on the left. I loved that Gene and Jennifer had their families with them, and I absolutely adore this photo of Jennifer with her two beautiful children making a rush for mommy during the photo shoot. I can't begin to count the number of times I have found myself in exactly the same position, with one child clinging to my neck and the another on my back threatening to topple all three of us over. Just fills your heart with warmth, doesn't it?
Post #2 on this subject is here—more graphic novel authors and titles.