Perusing my archives, I see the wonders of Balboa Park have inspired a good many posts. (And other creative pursuits.)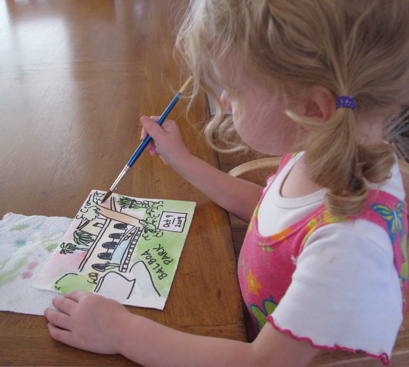 I draw (a little); she paints (a lot).
• Helixes (viewing mummies at the Museum of Man; visiting the Botanical Building)
We counted koi in the long lily pond outside the Botanical Building, their splotched orange-and-cream bodies undulating beneath spiky, ladylike blossoms and the notched round leaves that reminded us of Thumbelina's prison and Mr. Jeremy Fisher's raft. We peered inside the deep wells of pitcher-plant blossoms, angling to see if any hapless insects lay dissolving inside. How surreal, this eager scrutiny of death, the children chattering and lively in the moist green air of this palatial greenhouse, just as they had been in the domed, echoing hush of the museum.
• Got More Monet Than Time (Giverny exhibit at the art museum)
Giverny! The word is magical. It whispers: Monet, poppies, haystacks, light-streaked skies, picturesque laborers in wheat fields drenched with sun. We made a beeline for the visiting exhibit, a large collection of Impressionist works by the artists who congregated in the little French painters' colony during the late 1800s. They took their easels out to the woods and fields in a golden frenzy of plein-air painting. All right, the wall placard describing the exhibit didn't say anything about a frenzy per se, but it did talk a lot about plein-air painting, a term whose pronunciation I managed to fake quite passably but of whose definition I was ignorant until a kind-eyed Englishwoman explained it to Jane.
• Of Fowls and Fun (another art museum visit)
Yesterday my three oldest kids went to a workshop at the San Diego Museum of Art. A docent gave a short talk about elements of art—line, shape, color, etc—and then they split into small groups and went to look at four paintings up close. Afterward, they did an art project focusing on copying details from the paintings they'd viewed. I missed most of the workshop, because I was outside with the little ones. The girls had a splendid time, and Beanie was especially impressed by the dead chicken.
• Photos of the Japanese Friendship Garden (and other spots)

• And this month's photoessay (Natural History Museum, Botanical Building)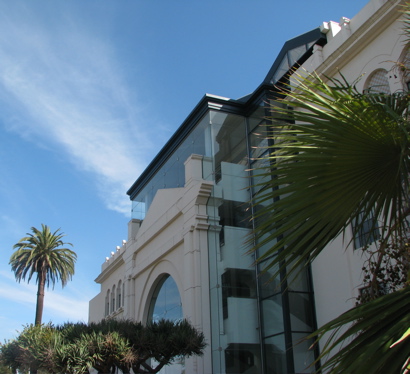 San Diego Museum of Natural History at Balboa Park.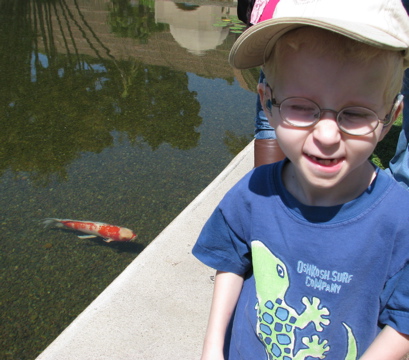 Lily Pond and lizard shirt