November 3, 2009 @ 9:32 pm | Filed under:
Family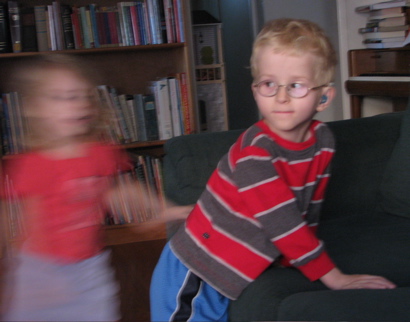 What I should probably try to chronicle tonight is how Jane, Beanie, and I came to the conclusion this morning that Plutarch is garlic. (That's a compliment.)
But it's late, and I only have a few minutes here, and the pieces of today that might disappear if I don't write them down are small moments, not big conversations.
Teenagers playing Rock Band in my living room with abandon and zest; I loved that.
Rilla screaming, squealing, shrieking, scurrying the loop of kitchen and living room, daring (begging) one of our visitors—a tender-hearted eleven-year-old who is wise in the ways of big-brotherhood—to chase and chase her but never catch her.
Wonderboy "reading" to Rose and me, ten minutes on a bare title page, a long story rattled so quickly we couldn't comprehend more than a word here and there: "letters," "fence," "tomorrow." Then suddenly, mid-sentence, the book is flung aside and his arms go around me, straw head pressing my cheek. "Mmmm, I wub you!" Oh, oh, oh, catch this moment and hold it forever.
And this one too.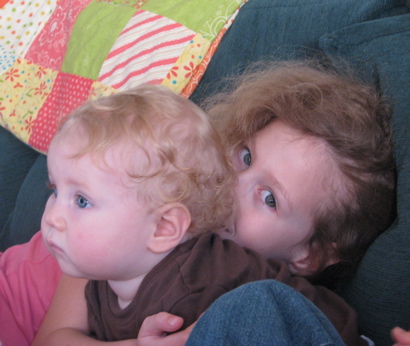 Comments
Penny in VT says:

What a joy filled post, love the photos, and the glimpses into your treasure filled world. Thanks for sharing. 🙂

Lisa says:

Love the garlic thing! I remember my daughter's first Plutarch: "It took them that long to tell us he's stuck up!" It's amazing!