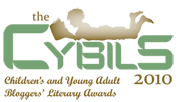 Regular readers of this blog know I am afflicted with option paralysis when it comes to Choosing the Next Book. For the next three months, that won't be a problem. Nominations for the Children's & Young Adult Bloggers' Literary Awards (CYBILs) begin at midnight Eastern time on October 1st—that's 9pm tonight for us West Coast folks! I'm a first-round judge for YA Fiction, which means that between now and the end of the year, my reading list will consist of the book you nominate in that category.
We're kicking off the two-week nomination period with a Twitter party tonight, 12am Eastern time. Follow @cybils on Twitter for more on that! (You do not have to have a Twitter account to follow to the conversation.)
So what am I reading first?