Bet I'm the eleven thousandth person to make that (very weak) joke. Ah well, it's Friday night after Shakespeare Club and my brain is off duty.
Anyhoo (<–further evidence my thinky parts have packed it in for the night), I'm popping in to say I've added a FAQ to my website, replacing the one that used to be part of my Books page. The new one is aimed more at kids, answering the most common questions I get in the mail (both kinds, e and snail), including "Are you related to Laura Ingalls Wilder?" and "Is Loch Caraid a real place?"
The Books page will be changing, too, in the months to come. I have three new books in the works: a beginning reader, a middle-grade novel, and a YA. The first two are written and with their editors now. The YA is in my head still, mostly, but is beginning to fall out onto the page. It's a stage of writing I enjoy very much (there are stages I don't like a bit, but they're usually where the best writing happens), the breathing-in part, that fraught moment just before you begin the long exhale.
Back to the FAQ (just the faq, Lissa, you promised!), if you have any Qs you would like me to A, fire away in the combox.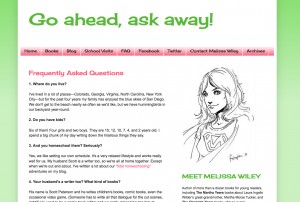 Comments
sarah says:

so exciting to think of new books from you!

tanita says:

WOOT! WOOT! New books! Quelle excitement!

coffeemamma says:

Cannot wait for your new books- how exciting!