May 3, 2011 @ 3:15 pm | Filed under:
Books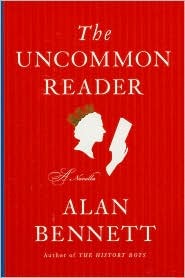 What she was finding also was how one book led to another, doors kept opening wherever she turned and the days weren't long enough for the reading she wanted to do. (p. 21)
***
'But ma'am must have been briefed, surely?'
'Of course,' said the Queen, 'but briefing is not reading. In fact it is the antithesis of reading. Briefing is terse, factual, and to the point. Reading is untidy, discursive, and perpetually inviting. Briefing closes down a subject, reading opens it up.' (pp. 21-22)
***
The appeal of reading, she thought, lay in its indifference: there was something undeferring about literature. Books did not care who was reading them or whether one read them or not. All readers were equal, herself included. (p. 30)
***
Authors, she soon decided, were probably best met with in the pages of their novels, and as much creatures of the reader's imagination as the characters in their books. Nor did they seem to think one had done them a kindness by reading their writings. Rather they had done one the kindness by writing them. (p. 52)
—from The Uncommon Reader by Alan Bennett
Comments
MelanieB says:

Oh I love that "untidy, discursive and perpetually inviting"!

The last bit about indifference makes me think about the difference between books and blogs. Blogs do care, most of them, very much about who is reading.