July 8, 2011 @ 4:45 pm | Filed under:
Poetry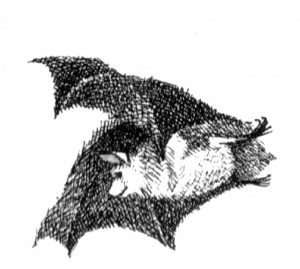 The bat-poet remembers his earliest days:
…And then the mother dances through the night
Doubling and looping, soaring, somersaulting—
Her baby hangs on underneath.
All night, in happiness, she hunts and flies.
Her high sharp cries
Like shining needlepoints of sound
Go out into the night and, echoing back,
Tell her what they have touched.
She hears how far it is, how big it is,
Which way it's going:
She lives by hearing.
More Poetry Friday posts: Wild Rose Reader
More Bat-Poet moments
Rose petal, rock, leaf, bat
Her bat mood
Comments
Cyndi says:

This poem reminded me of Stellaluna. Have you and Rilla already shared it?

Melissa Wiley says:

Not yet! It's actually what brought us to the Bat-Poet. She told me one day she was in a "bat mood"—she has a little stuffed bat she adores—so I went looking for our copy of Stellaluna. Couldn't find it, found this one instead: a gem of a book I'd long forgotten. So happy.