July 27, 2011 @ 4:17 pm | Filed under:
Events
Friday, July 22nd. Scott was still chugging toward his deadline and I spent the morning with the kids. I think it was close to 2pm when we headed downtown and found decent parking on 8th Avenue, several blocks from the convention center.
The street crowds were considerably thicker that day.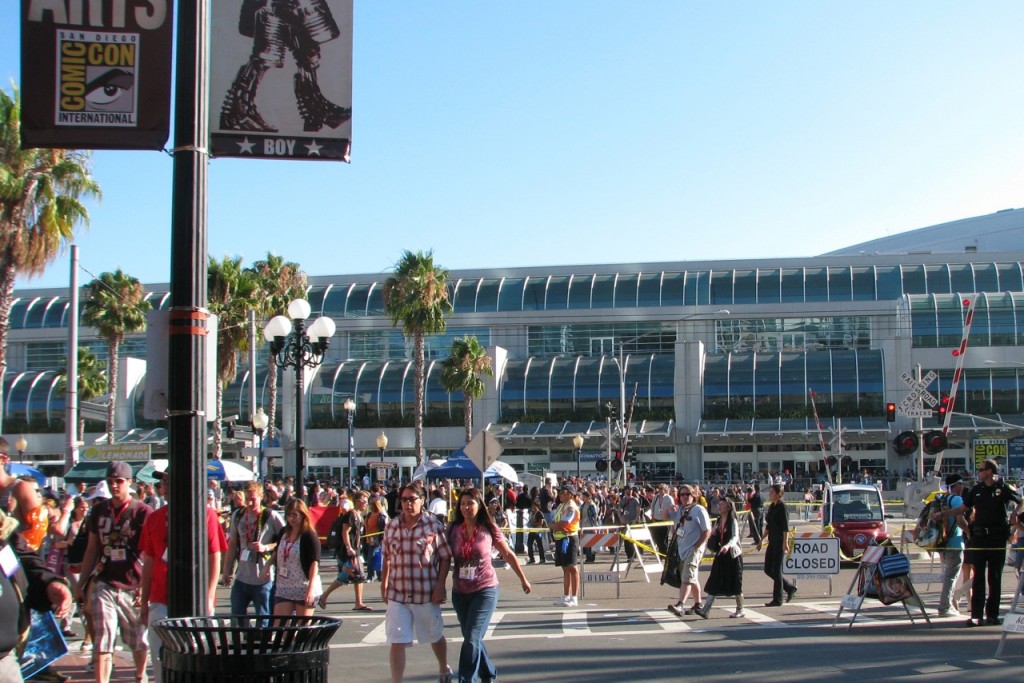 (Actually, in this pic it doesn't look so bad. Don't be fooled by that open space in the foreground. That's where the cars would have been, if anyone were foolhardy enough to drive that close to the convention center. OH WAIT THAT RIGHT, Scott had to do it about five times.)
I didn't take many pictures on Friday. This must be because I was with Scott, and therefore too busy talking to point and shoot. And really, Friday was more of a meetings-and-meals day than a seeing-the-sights day.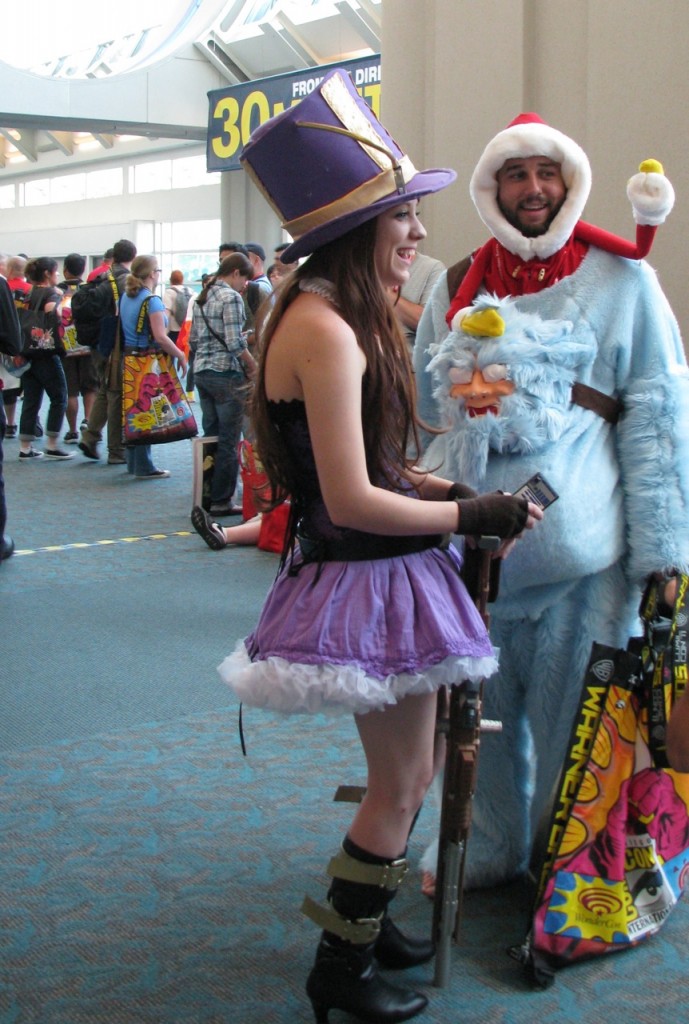 Of course, you can't help seeing some sights. That guy's big human head on a little Grinch body really wigs me out.
On Friday afternoon I went to the Comics in the Library panel, about which (I keep saying) MORE LATER. Then the evening was dinner with friends, drinks with friends, a party with friends. And home to bed, exhausted. Saturday morning had been supposed to be an early one, but…it wasn't.
Saturday, July 23rd. A big day for Rose and Beanie: THEIR FIRST TRIP TO COMIC-CON.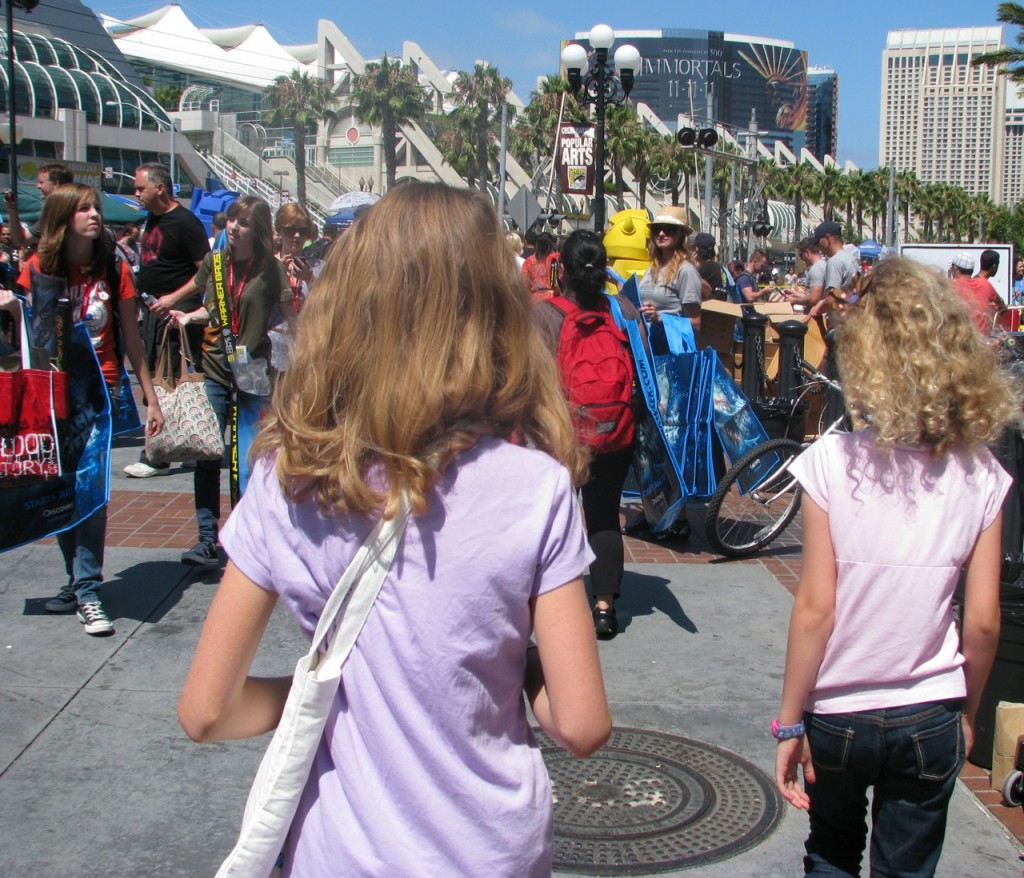 They each had a wish list. Beanie wanted to see as much Pokemon stuff as possible, and Rose was hoping to get her precious copy of Smile signed by Raina Telgemeier.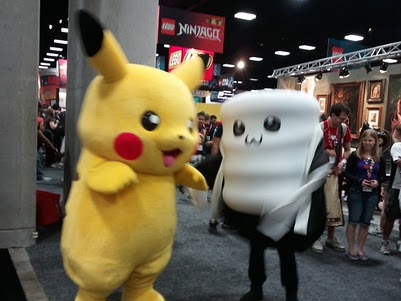 Check.
And…check!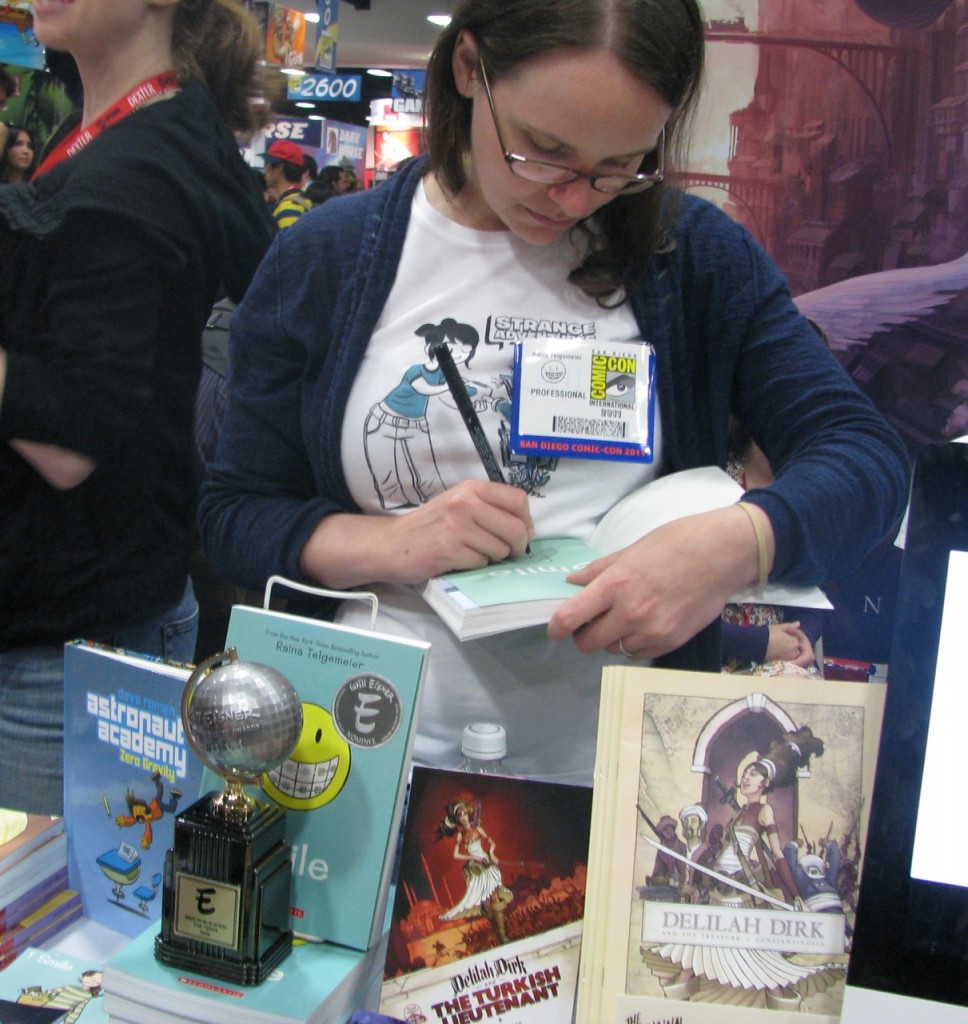 Speaking of check…check out that big ole Eisner Award, which Raina received for Best Teen Publication the night before!
(You all know Smile, right? Such a great book. Rose rereads it every six weeks at a minimum—after each orthodontist appointment. "It's what gets me through," she says.)
Missions accomplished, we explored the hall from top to bottom, finding plenty to gawk at along the way.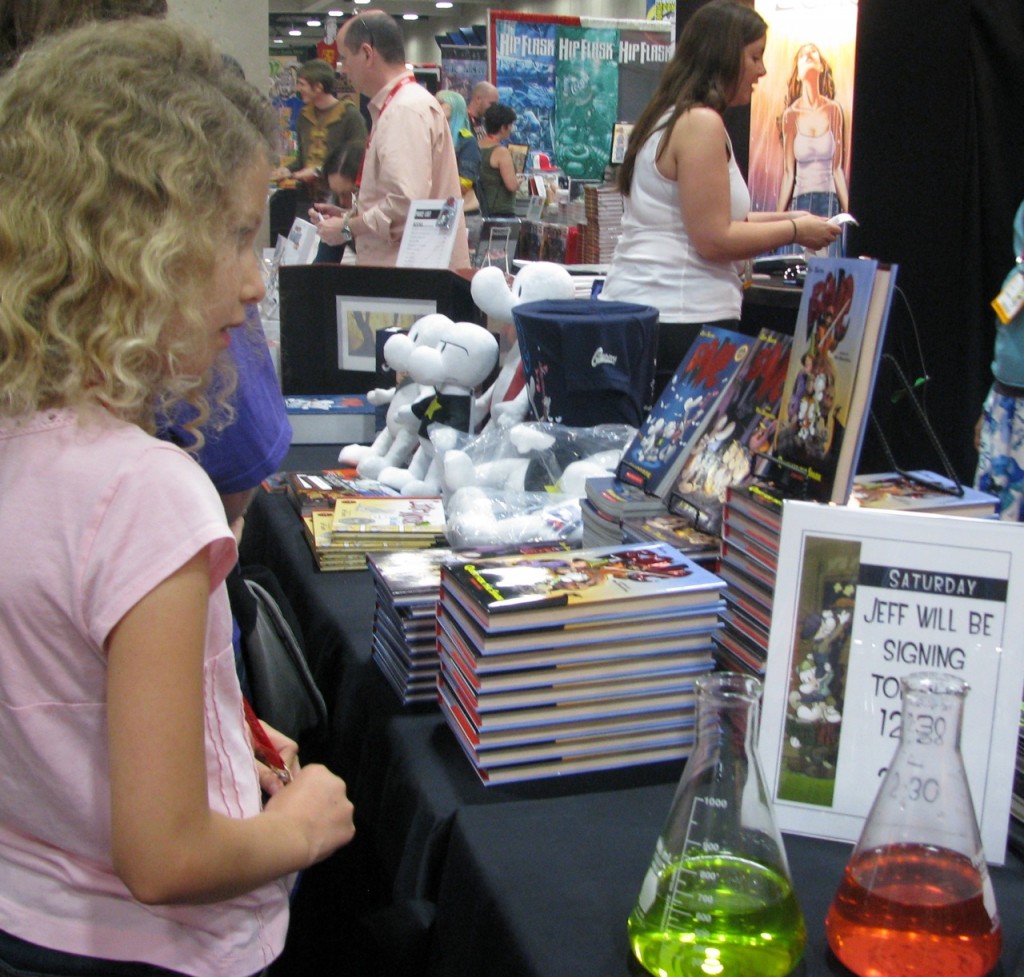 The Bone display was a hit, as I'd suspected.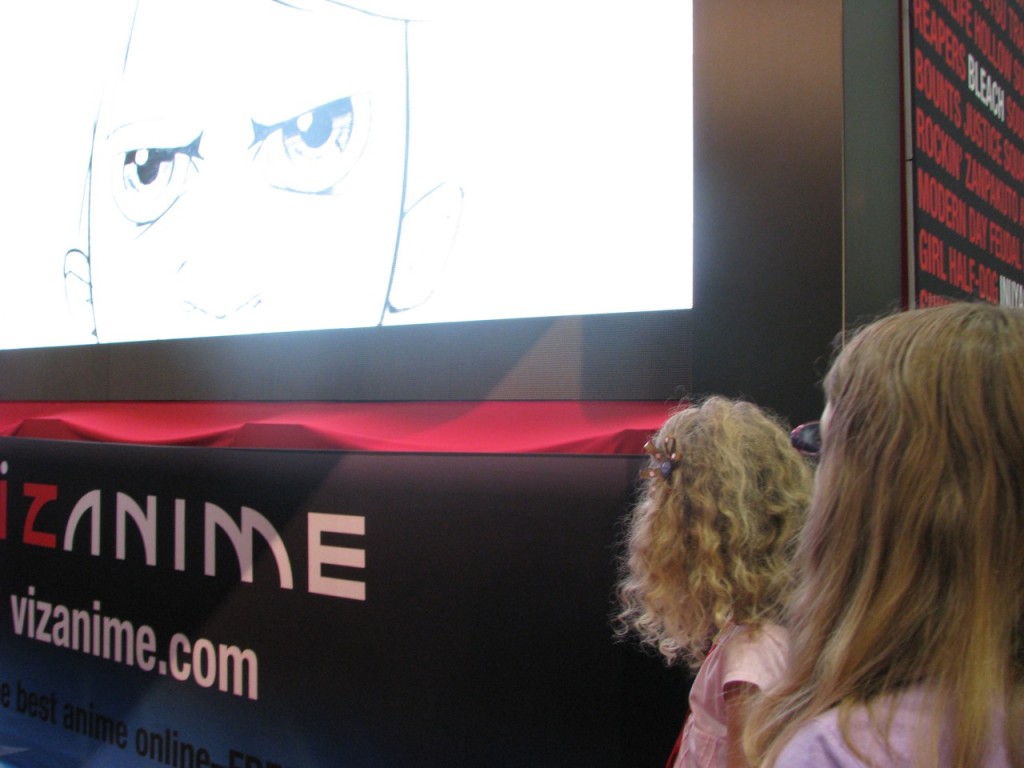 Everywhere you go, people are drawing intriguing things on large screens.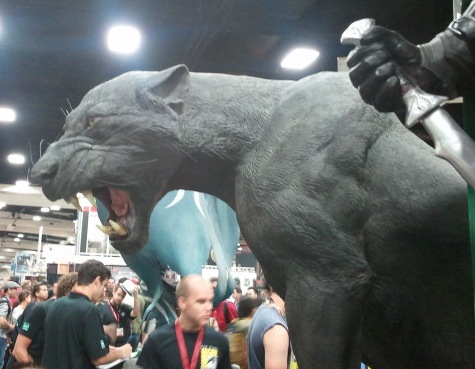 Larger than life.
Two hours in those crowds feels like a full day. By 1pm, the girls were ready to venture out for some lunch. Of course, the fact that we were going to be lunching with my friend Kristen and my little goddaughter, Vivi—two of our favorite people in the world—might have contributed to their eagerness. We moseyed toward our meeting place and did a lot of squealing at the sight of one another.
And then Kristen handed me a Giant Bag of Chocolate.
So, yeah, a pretty great day.
After a very long lunch, Kristen and Vivi walked us back to the spot where Scott was picking us up. I tried to smuggle Vivi home with me but her mother was wise to my tricks, drat her.
Back at home, I may have taken a wee nap. Scott and I returned to the con around six. He had to meet with someone, and I had a Kidlit Meetup to go to—a wonderful bunch of children's & YA authors, illustrators, and publishing folks who were in town for the con, gathering for food and talk.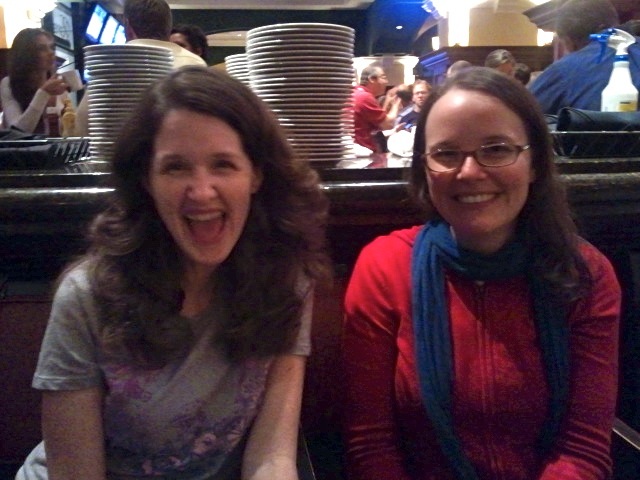 Raina's company makes me SMILE.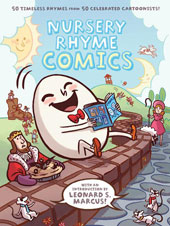 It was there that Raina's hubby, Dave Roman (author/illustrator of Beanie's current compulsive re-read, Astronaut Academy), gave me a peek at the book that most enchanted me at SDCC this year: the upcoming Nursery Rhyme Comics, published by First Second. Every rhyme is illustrated by a different artist—cartoonists, picture book illustrators, an incredible assortment of talent. Jules Feiffer, Gene Yang, Vera Brosgol, even our beloved Marc Rosenthal, illustrator of Peterson family favorite Peter and the Talking Shoes! I was blown away. The humor, the range, the sense of fun that leaps from every page: I really think kids (and their grownups) are going to find it irresistible. I can't wait to get my hands on one. It doesn't pub until October. I may die.
A bunch of us moseyed over to Buster's for a late dinner. (I had the Bangkok pizza. Winning.) If you want to know why I get so fired up about Comic-Con every year, it's evenings like this. Dinner with Raina, Dan Santat, Matt Holm—and fireworks over the harbor. I ask you.