July 29, 2011 @ 7:15 pm | Filed under:
Events
Sunday was Jane's turn. There was a manga-drawing workshop at 11 a.m. she was keen to attend, and I was hoping to get into the 10 a.m. Jim Henson panel. We arrived at the latter about two seconds after the room reached capacity, so we trekked to the other end of the convention center to see what was going on in the manga-panel room during the 10:00 time slot.
This turned out to be one of the most serendipitous events of the week, because what was going on in that room was the fantastic Teen Comics Workshop I blogged about at GeekMom.
After the workshop, I left Jane to enjoy her manga panel and I scurried off for a brief meetup with my pal Kristen and our fellow GeekMom Nicole Wakelin.
Then I ran back upstairs to get Jane, who had enjoyed the manga workshop but said it wasn't as cool as the other one. And then back downstairs to con floor—Jane's turn to explore it from top to bottom. The whole time we were there, we were texting Kristen, who was also braving the crowds. Jane wanted her turn to see Vivi. We're all a little Vivi-mad in this house. Alas, we never spotted each other, despite series of texts like: "We're at the G4 booth RIGHT NOW." "Great! We're at Dance Party, be right there!" (These two booths were next door.) "Augh, we're at G4, did we miss you???" (Later we discovered that we were at the G4 booth at the exact same time—but Kristen & Co. were right above us on the upper level.)
But Jane did get to meet up with someone very special. I took her to the booth of Daxiong, an artist Scott discovered in portfolio review two years ago. Daxiong was a highly acclaimed comics artist in China when, in 2008, he was imprisoned and tortured for illustrating a book called Nine Commentaries on the Communist Party. After two months he was rescued by friends and came to the States.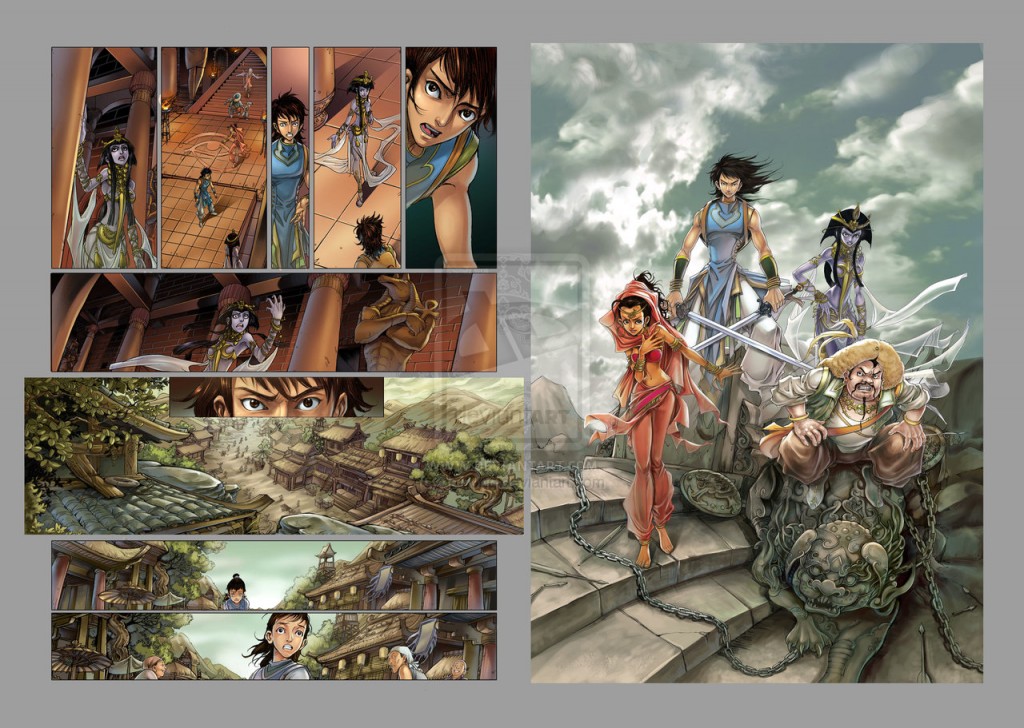 As a WildStorm editor, one of Scott's Comic-Con duties was to meet with artists who submitted portfolios, offering them advice and critiques of their work. When he looked at Daxiong's work, he had only one thing to say: "When can you start?" Daxiong is now drawing comics for DC, Marvel, and other publishers. He and his translator, Mike Chen, are two of the nicest, most generous people I've ever met, and it was an honor to introduce my girl to them.
::kicks self for not getting a picture::
After that came my Biggest Doofus Moment of the year (so far; still time to beat it): we were wandering the floor and I found myself practically on top of the entire cast of The Guild. I'm a huge fan. They were sitting at a table, and what I realized later is that there must have been a line snaking away on the other end of the table. At my end, there was a little pocket of space right behind a security guard. I mean, I know this now. At the time, it was like this: I was browsing along one booth, and I kept right on going to the next booth, which was just the other side of a divider. In my periphery there was a person with her back to me on my right (the guard) and the corner of a table, and someone sitting at the short end of the table with her back to me also, beside a whole row of people behind the table. And I suddenly registered that one of those people was Robin Thorsen. Clara. She must have seen the shock dawn on my face because she gave me a very sweet and amused smile. And then I saw Jeff Lewis—Vork—beside her, and I realized, with a total fangirl gasp, that this a Guild signing, and the person sitting at the short end of the table inches away from me was Felicia Day.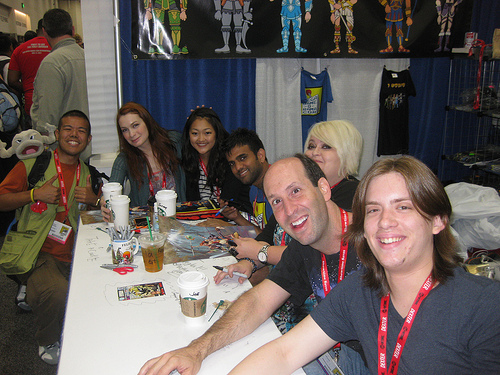 Photo nicked from the Guild blog. Picture me where the guy in the chartreuse vest is, only uninvited.
I may have squealed a little. I most certainly babbled. Squee squee squee big fan squee squee, and Felicia was so kind, murmuring apologetically that they were finished and had to leave, and the guard turned around which is how I found out she was a guard, and I realized suddenly that I had stumbled, quite by accident, into sort of restricted space and was basically cutting in front of this huge throng of people who'd been waiting in line on the other side of the guard, and Felicia was being so nice and polite about the signing being over now, and in my flurry of embarrassment and horror at having inadvertently become a linecrasher, I found myself actually patting her on the shoulder, saying, "Oh that's all right!"
So, yeah, I'm that obnoxious fan who invades a celebrity's personal space and touches her. MORTIFYING.
What's a little funny about this is that I'd had my own small celebrity moment an hour earlier, at the manga panel. A really nice woman saw me waiting for Jane, and she came over and whispered "Are you Melissa Wiley?" and said she recognized me from the blog and her daughter's a big fan of my books. I got to chat with them both a bit, and the girl was super smart and funny and sweet, and it was an incredibly nice moment, and nobody pawed at my shoulder because sane fans don't do that.
WELL. After the goofy fangirl moment, Jane and I wandered on down the con floor in search of a couple of booths she particularly wanted to visit. One of these was the Girl Genius booth. You may recall that we encountered these folks at the Steampunk/Victoriana convention in May. Jane went home from that encounter and promptly read all eight and a half YEARS' worth of the Girl Genius webcomic archives. She is a huge fan and keeps telling me I need to read it myself. Which I surely will, at some point!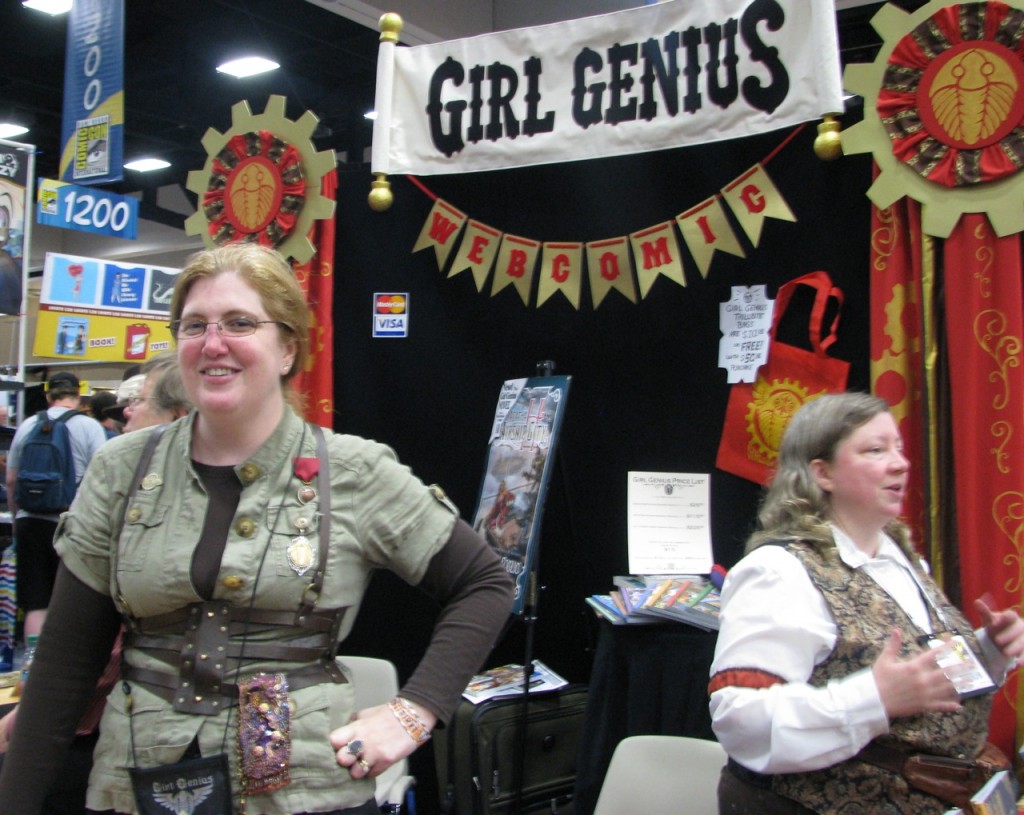 The webcomic has been collected into several volumes of trade paperbacks, and like good, supportive fans we bought a few and had them signed by artist/writer Kaja Foglio (pictured on the left). We oohed and ahhed over the cool trilobite pins but restrained ourselves and walked away only with books—and a giant Jane grin.
Oh, and I got a picture of another Girl Genius fan in an excellent costume.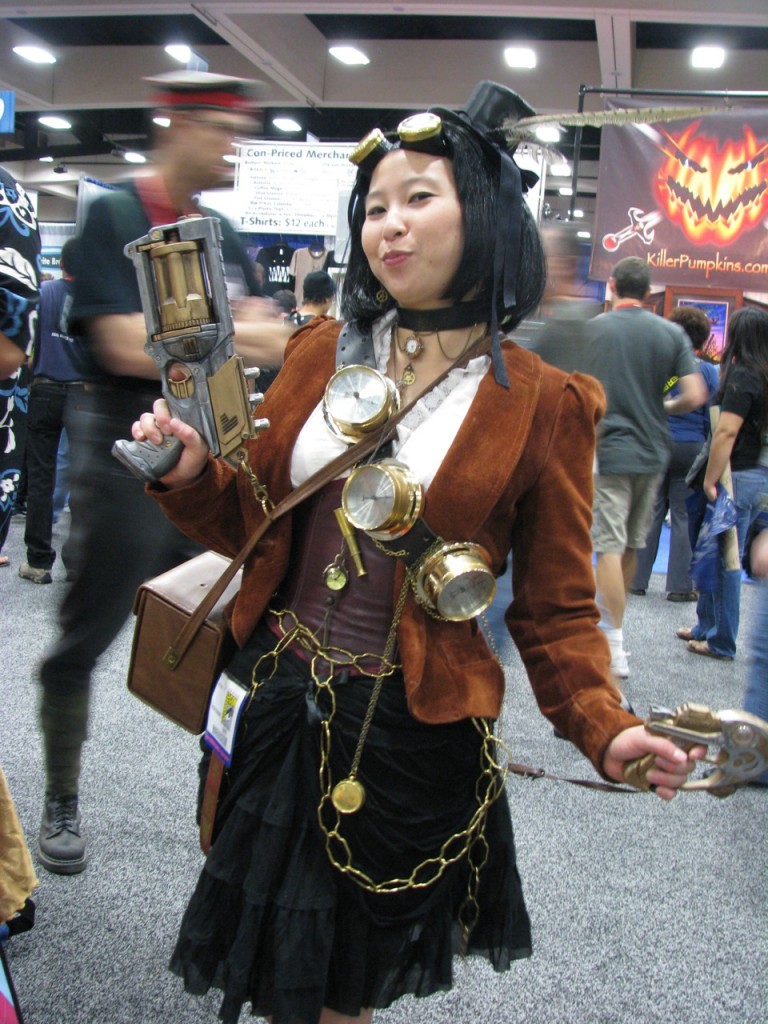 ("Don't get my shoes," she murmured. "Flip-flops aren't steampunk!")
Then Jane and I betook ourselves aaaaalllll the way down to the bottom end of the hall to scour the manga booths for a certain series she is hooked on, Case Closed, which can be quite hard to find. She found two of the issues she is missing, so it was one happy teen who left the con that day.
Just then we heard from a writer friend, Kelley Puckett, who was exploring the con with his own daughter. Our girls had never met each other, so we texted back and forth a dozen times in an attempt to find a meeting spot, and after some wild goose chasing, we caught each other. In those crowds, this is almost a superhuman feat. But before long, we had to dash off again to the last panel on my list: the Disney/Marvel preview of the new superhero storybooks and chapter books (some of which Scott is writing).
I couldn't stay for the whole panel, because Scott had a 4pm meeting, and Jane and I needed to get to our appointed meeting spot so he could hand over the minivan (and the other children) to me. We made it with five minutes to spare. The kids and I headed home, and Jane disappeared with her Girl Genius books, and I made a pitiful excuse of a dinner, and in the blink of an eye it was time for me to head back downtown, leaving my older girls in charge of the littles.
I caught up with Scott and some friends at the Marriott's outdoor lounge, and we spent an hour or so rehashing the weekend and being divebombed by little (angry?) birds. Our friend Jordan took this picture of us.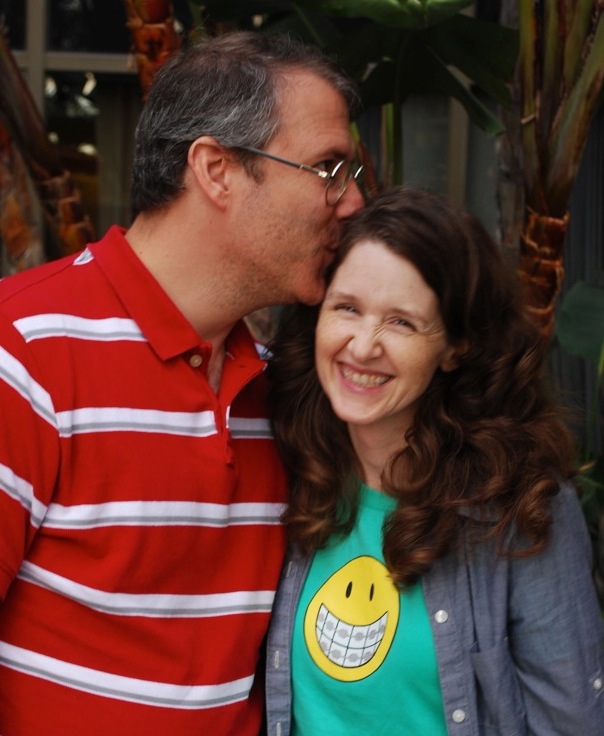 And then we walked the long, long expanse of Harbor Drive to the Hilton, where Kristen and Vivi were waiting for us. You know I have to squeeze in as much goddaughter time as I can! A hotel employee saw us heading for the firepit on the terrace, and he came and lit it just at the moment we arrived—and so Comic-Con ended with two hours of fire-devils swirling over the coals and harbor lights sparkling on the Pacific and Vivi playing peekaboo with me behind her mama's chair.
Next year's con will have to work pretty hard to top an evening like that.
************************************************************************************
My SDCC 2011 roundup:
Day 1: Quick Peek
My favorite costume: Neo-Victorian biologist (at GeekMom)
Day 2: Again with the Quick Peeks
Things My Kids Can't Wait to See at SDCC (at GeekMom)
The Streets of San Diego (at GeekMom)
SDCC Day of Recovery
SDCC Diary: Thursday
SDCC Teen Comics Workshop (at GeekMom)—emphasis on art
SDCC Comics for Teens Recap (at GeekMom)—emphasis on writing
SDCC Diary: Friday & Saturday
Comments
Elenatintil says:

You visited Girl Genius!!! Hurrah! Yes, you absolutely MUST read them!

Ellie says:

::sigh::

Just ….

::siiiggghhhh::

…. from afar. 🙂

Eli says that a couple of characters on The Guild are exactly, scary exactly, like a couple of his long-time D&D fellows. ::bemused::

Will look up Girl Genius for Calli …

sarah says:

What an amazing story Daxiong has. It must've taken incredible courage to write such a critical story in China.