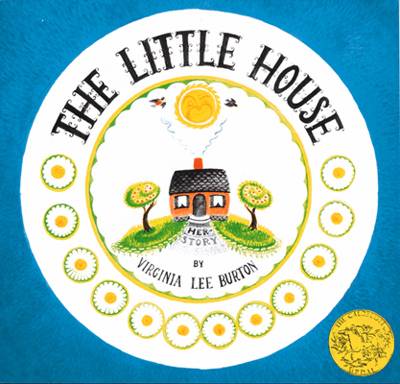 Rilla isn't sure she likes the look of Virginia Lee Burton's The Little House. "Hmm." She eyes it skeptically. "It doesn't really look Intresting."
"I think you'll like it," I say. "It's about a big city growing up around this little pink house."
Pink is the key word in that sentence. She'll give almost anything a chance, if there's pink involved.
"Hot pink," she murmurs approvingly, studying the cover. There is no higher praise.
"Let's give it a try," I suggest. "We can read something else afterward."
"Roxaboxen."
"Again?"
She has a laugh her sisters call the Evil Chipmunk. "Of course! It's my favorite book."
Huck climbs half on top of me and begins to count the trees around the little pink house. He's very into counting, these days.
I love quiet books like The Little House, the kind that tiptoe their way into a child's heart. The house is built, the countryside blooms, the seasons change. The sun arcs across the page and this must be pored over, wait, Mommy, don't turn the page yet. And then the next spread, the calendar of moons. We must pause while Rilla touches each crescent and disk, naming the days. The road comes rolling out from the distant city; that's Huck's page to study. Steam shovel, big rocks, little rocks, tar, steamroller. He could stay there all day. But the city is encroaching, surrounding, swallowing the little pink house, and Rilla has picked up the urgency. We have to read quickly now; she needs to know. Trolley line, elevated train, subway, skyscrapers, you can hardly see the poor house.
It's magical, you know, when the movers come to carry it away. A house on the back of a truck! Both children are astounded at this marvel. They'd have taken unicorns and dragons in stride, but a house riding along the road to a new hill in the countryside: clearly this is a wonder of the world.
Later, when Huck is napping, Rilla pounces on me, brandishing the book. The pink house winks from the cover.
"Again?"
"Yes. It's my favorite book."
Comments
MelanieB says:

I love the way you catch the magic of her as reader falling in love.

Michele Q. says:

Totally there with you. LOVE The Little House.

Phoebe says:

This is in high favor here these days as well; Sean has read it three times for the Bedtime Book for Gilbert, age 7, in the past week.

sarah says:

Don't you think there are few nicer sentences than, "wait Mummy, don't turn the page yet." ? It makes my heart sigh with soft happiness, remembering those days. And of course we grow up and give ourselves the gift of lingering, tracing beauty with our fingers or eyes across the page. Thank God for Mummys who know how to teach not just reading but experiencing books.

Allison says:

Oh, swoon! One of my favorite books ever. I'm glad your little gal loved it too.

maria says:

"They'd have taken unicorns and dragons in stride, but a house riding along the road to a new hill in the countryside: clearly this is a wonder of the world."

I love this. 😀

tanita says:

Aww. I drove my mother nuts with Marvin K. Mooney when I was about four – by the time I got to quieter books, I could read myself, so she never got these moments, I don't think. Although, occasionally I read to her. But, she just didn't sit still long enough…

How lovely that you can both sit still. And let Huck climb you.

sashwee says:

We just discovered that book this week!
I look forward to reading it again after reading your description.

monica says:

I love that one too. All Virgina Lee Burton books have a soft spot in my heart. She was a great artist and story teller!

sarah says:

Burton books are favorites here. The Little House is the best of all. Great post. I feel like I'm right there beside the kids on the couch.

Hannah @ Lovely Woods says:

Oh, that Rilla has excellent taste in books. Wishing I could come read both of her current favorites to her. 🙂

Kimberlee says:

Of course Rilla has excellent taste – she is fed on the good stuff. Like Melanie said, I love how you describe the falling in love.

Kathleen McDade says:

This has been one of my favorites since FOREVER, and Virginia Lee Burton is one of my heroines. I loved this biography of her: http://www.goodreads.com/book/show/710951.Virginia_Lee_Burton

Jenn says:

The Little House is a family favorite at our house. I remember loving it when I was Rilla's age!! My poor Mom must have read it out loud a hundred times or more.

Beth says:

Love this book. And love this post. It makes me miss having a really "little little" in the house.

Jeanne says:

Love, love, love The Little House and all the Burton books. They were big hits with my three sons. I remember so clearly the day my oldest (now, ahem, 23! but then a tot) looked out the window as we were traveling the Virginia countryside and said, "Mom! We're in Popperville!" That was during the Mike Mulligan years. His blond curls were so much like Huck's, and I love knowing you have a tree counter on your lap. But does Huck know Mike Mulligan yet? Or Katy and the Big Snow?

And how charmed all my kids were with Life Story – and "intrested." I love how Virginia Lee Burton understood that the kids would GET it!

Thanks for the trip down book memory lane!

yvonne says:

One of my favorites, too. I need to pull it out for my youngest. Thanks for the reminder. 🙂