June 6, 2012 @ 6:07 am | Filed under:
Books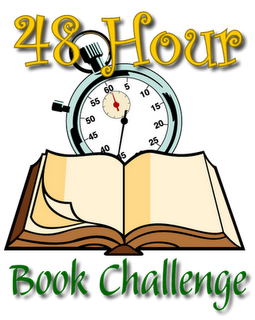 Seventh Annual 48 Hour Book Challenge | MotherReader.
Every year, I pine to take part in this community reading binge. I've done my bit as a cheerleader on the sidelines, but "I have six kids" and "I'm going to do NOTHING BUT READ for two solid days" tend to be mutually exclusive assertions.
June 8th, the start date, is rather an eventful day for my gang—we're seeing Jane off on her Texas adventure that day HOLY COW THAT IS TWO DAYS AWAY HOW DID THAT HAPPEN???—but the rest of the weekend may allow for some bookbingeing. Perhaps I'll aim for the 12-hour level. Poring over Brambly Hedge with Rilla counts, right?
There will be fun, booksy prizes, as always, and this year organizer Pam Coughlan (aka MotherReader) has added a worthy cause:
New this year, we'll be making ourselves a real readathon with a dedicated beneficiary. For the last few years we've been able to connect the 48HBC to charitable causes, while not officially being a fundraiser readathon. I would like to do so now with a pledge to Book People Unite and collect money for Reading is Fundamental. All participants should sponsor themselves with a pledge for the number of hours spent in the 48HBC and donate that amount directly through Reading is Fundamental This donation is on your honor and at your financial comfort level. You many also look for additional sponsors in your online and "real" life, which if nothing else, promotes the ideas of us book people, you know, uniting. While there are many great libraries and literary causes that need help in these difficult times, I think the timing of the Book People Unite is perfect for us to join forces for the greater good.
How about you—planning on participating? Occurs to me this would be a fun way to kick off Girl Detective's aforementioned Summer of Shelf Discovery.
Comments
Katya says:

This is the first year I've been able to squeeze in enough hours to make it worth doing. I'm so excited!

Liviania says:

I'm participating for the first time! I think it's tough and I don't even have kids.