January 31, 2013 @ 7:24 pm | Filed under:
Books
First Jane got sick, then I got sick, then Scott got sick. I'm waiting for the next domino to topple…waiting in my bed, all bundled up and aching, reading a little, playing that art puzzle game, which is very soothing. I wasn't up to our usual morning read-aloud time (no Winter Holiday, alas), but we had a tall new stack of picture books come into the library the day before, a bunch of Dan Yaccarino and Bob Staake things I'd requested, Boy + Bot, (art by Yaccarino, written by Ame Dykeman), The Donut Chef (Staake), a bunch of others—go look at their sites; they have so many good books. You may recognize Dan's art from the Oswald show, which my littles love. (Though I think possibly it's Scott who loves it most of all.)
Rose did all the reading. Huck loves loves loves Hervé Tullet's Press Here.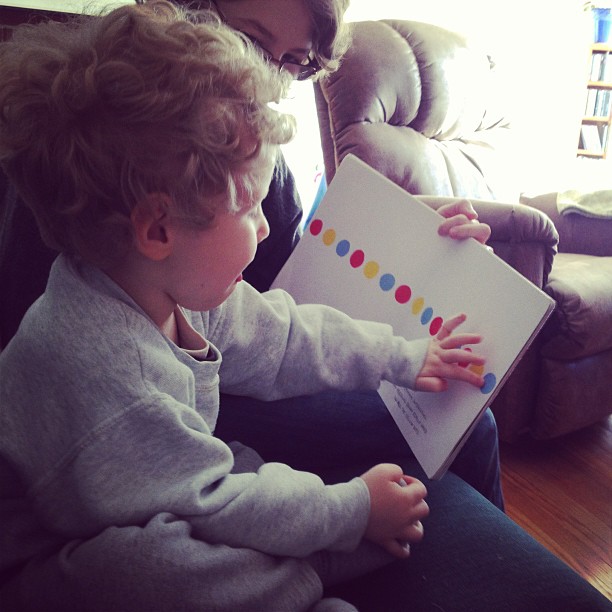 Also, she did all the dishes.
Then Rilla and I listened to a couple of chapters (somewhat abridged, I realized later) of The Wind in the Willows, magnificently narrated by Sir Derek Jacobi . I picked up this edition, a BBC Radio dramatization, on sale years ago, and we'd never listened. The voices are splendid.