January 2, 2013 @ 8:52 pm | Filed under:
Books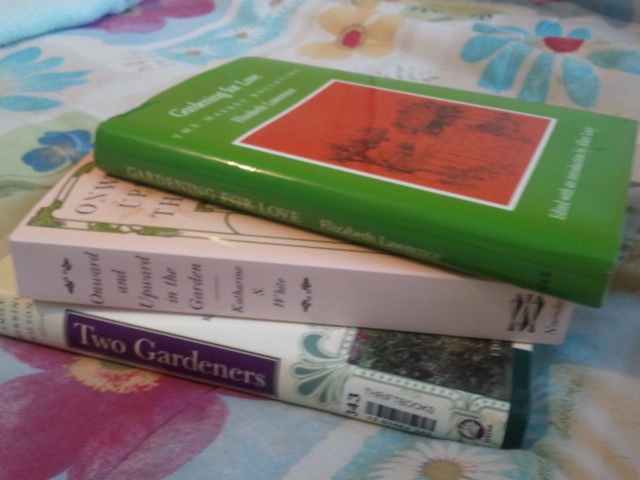 My 2012 booklist is still incomplete…I didn't log as faithfully this year as in years past. It was a strange reading year for me…lots of old favorites revisited, lots of memoir, and an unusually low total number of books read, even allowing for entries I haven't remembered yet.
Notable reads:
The Scent of Water by Elizabeth Goudge
Ready Player One by Ernest Cline
The Bell at Sealey Head by Patricia McKillip
The Prime of Miss Jean Brodie by Muriel Spark
That enthralling collection of gardening letters between Elizabeth Lawrence and Katharine S. White, editing by Emily Herring Wilson, which makes me want to take up old-fashioned letter-writing again; not necessarily the pen-and-paper kind, since I so loathe writing by hand, but the kind of long newsy epistles I used to exchange with a few friends, ages ago. And probably it was the Lawrence/White correspondence that put me in the mood to revisit 84 Charing Cross Road (yet again) and, more recently, The Guernsey Literary and Potato Peel Pie Society.
This year I greatly enjoyed The Year of Learning Dangerously: Adventures in Homeschooling by Quinn Cummings and Welcome to Lizard Motel: Children, Stories, & the Mystery of Making Things Up by Barbara Feinberg. Bringing Up Bebe was fun and made me want a total redo on introducing food to my offspring. Speaking of food, I salivated through American Terroir and found myself craving oysters, sourwood honey, and maple syrup—and once again recommending a Rowan Jacobsen work to everyone who happened to cross my path.
I revisited some old favorites: Wise Child, Rilla of Ingleside, Linnets and Valerians, Possession, The Blue Castle, All Creatures Great and Small.
Rilla's favorite read-aloud of the year was Brambly Hedge, which occupied much of our fall.
I ought to link to posts I wrote on some of these books, but I don't have time right now. Maybe later?
Comments