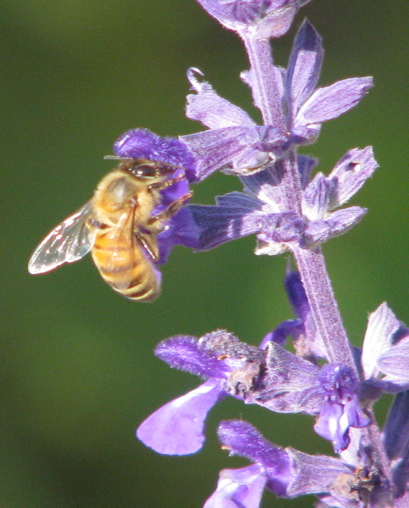 I know I've been singing this song for a long time, y'all, but it's bad, bad, bad and getting worse.
Soaring Bee Deaths in 2012 Sound Alarm on Malady – NYTimes.com
"They looked so healthy last spring," said Bill Dahle, 50, who owns Big Sky Honey in Fairview, Mont. "We were so proud of them. Then, about the first of September, they started to fall on their face, to die like crazy. We've been doing this 30 years, and we've never experienced this kind of loss before."
When beekeepers and scientists first starting investigating colony collapse disorder, causes were uncertain. Rowan Jacobsen's excellent book, Fruitless Fall, explores possible reasons. (Here's one of my many posts about the book.)
Five years later, we have a much clearer idea of exactly what is happening, and it's very bad news.
But many beekeepers suspect the biggest culprit is the growing soup of pesticides, fungicides and herbicides that are used to control pests.

While each substance has been certified, there has been less study of their combined effects. Nor, many critics say, have scientists sufficiently studied the impact of neonicotinoids, the nicotine-derived pesticide that European regulators implicate in bee deaths.

The explosive growth of neonicotinoids since 2005 has roughly tracked rising bee deaths.

Neonics, as farmers call them, are applied in smaller doses than older pesticides. They are systemic pesticides, often embedded in seeds so that the plant itself carries the chemical that kills insects that feed on it.
The pesticide is embedded in the seeds. I posted to another piece on this topic this last week, and these are just a couple of the many anxious reports I've picked up on my bee wire (Google Alerts, when they're working) in the past few months. I know I'm probably preaching to the choir here, but I implore you to read up on this issue, if you haven't yet, and to spread the word far and wide. If we lose the bees, we lose the world as we know it.