March 6, 2013 @ 10:27 am | Filed under:
Books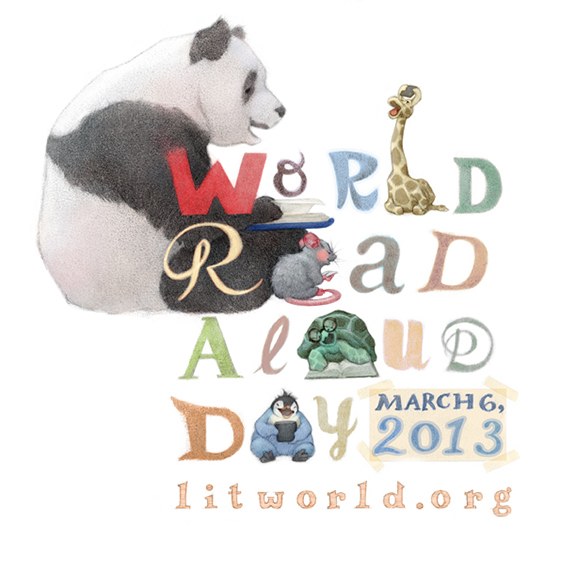 What are you reading aloud today, and to whom?
This morning I had the fun of visiting a 2nd-grade class in West Salem, Wisconsin (via Skype), to read Fox and Crow Are Not Friends and answer lots of great questions. In a little while, I'll be zipping down to Gainesville, Texas (virtually, of course), to share Inch and Roly with a pre-K/kindergarten class.
After that? I have an Elephant and Piggie date with Huck, and Rilla's been asking for Brambly Hedge again. I've been wondering if Freddy the Pig would be up Wonderboy's alley…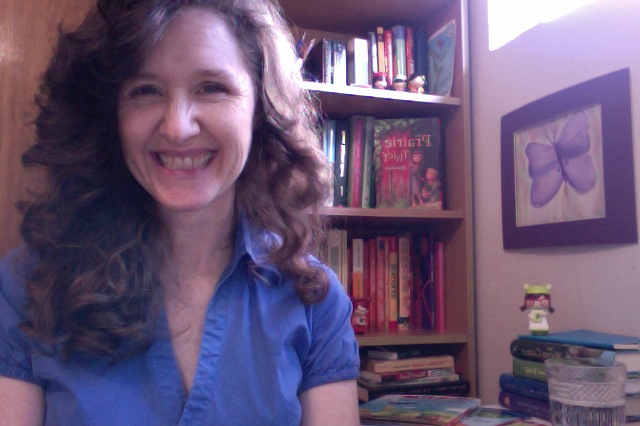 Ready for the next Skype visit
Special thanks to author Kate Messner for her efforts in connecting authors and classrooms.
P.S. Have you rustled up a copy of Ballet Shoes for our Noel Streatfeild read-along? We'll start gabbing about it later this week. (But you can join in anytime, if it takes you longer than that to find a copy. That's the beauty of a blog discussion. No expiration date!)
Comments
Melanie B says:

Oh such lucky children! I want to hear you reading Fox and Crow. You should post a video of you reading aloud.

patricia says:

Reading your book aloud to a class via Skype? How wonderful! Now you've got me thinking about approaching a writer for my writer's workshop kids…

Melanie B says:

Oh and here so far we've read a chapter of The Miraculous Journey of Edward Tulane. In the future are The Long Winter, Brambly Hedge, and perhaps Five Little Peppers and maybe some First Words in French too.

patricia says:

P.S. Am reading The Expeditioners and the Treasure of Drowned Man's Canyon by S.S. Taylor to my 11yo. He is smitten with the notion of previously undiscovered parts of the world suddenly found. A fun one for map-loving kids!

Charlotte says:

What fun. Right now, my oldest son is reading the Lord of the Rings aloud to the 8 year old. WE'll have to see what else we can find to enjoy today. (Gainesville is ONLY about an hour north of here. I'd be seriously jealous if you were visiting in person.

Jen Robinson says:

We read "Mia: The Easter Egg Chase" aloud right after breakfast, at child's request. I'm sure there will be more reading later on, too…

Harmony says:

_Little House on the Prairie_, to my 3 yo! He loves it and asks to read "Laura and Mary" most days. Probably some Dr Seuss as well, and maybe some Winnie-the-Pooh or Beatrix Potter, also favorites of his. (Thanks for your "Read-alouds for 3-year-olds" post–if only I had enough reading hours available to cover it all! When I can't read to him he has enjoyed listening to Just So Stories and Rikki-Tikki-Tavi on Storynory.com, so Kipling was a great suggestion as well.) We are also pulling out the board books again and he helps me read them to the 5 mo. Not sure if she will love Byron Barton (Machines at Work, Trucks, Planes etc) as much as he did, but there's also Sandra Boynton and our favorite, Jamberry!

maria says:

Well actually, we are reading The Prairie Theif. :0 I had read it myself but my kids were in the midst of Lord of the Rings and thus lost in another world at the time, so I'm just getting to read it aloud to them. It is such a fun book for a read-a-loud. There is some poetry to choose from as well.(that has been in a stack to read since Sunday evening) Since you have made me aware that it is World Read Aloud Day, I think I will ask the kids to pick something of their own to read aloud.

Love hearing about your Skype visits/read-a-louds. Makes me wish I could be five again. 🙂 I'm sure you made those little wee ones day!

maria says:

(Okay, that 😮 was supposed to be a very happy smiley face such as this 🙂 or this 😀 …….bother and apologies. Insert blushing smiley icon right about here.)

Fanny Harville says:

Sunday I finished reading The Big Six (Swallows & Amazons series) aloud to my 8-yr-old son and now we're deep in Nesbit's The Enchanted Castle. Both highly recommended!! Love the idea of World Read-Aloud Day.

Dianna says:

I didn't know it was such an auspicious day, but I was just heading to finish reading the last chapter of Raggedy Ann Stories to my three-year-old daughter before her nap.

Monica says:

When my son was small, we read aloud every day. But you can also have fun reading aloud when kids get older. We read a great sci fi book aloud once as a family when my son was in 7th or 8th grade. Don't give up reading aloud just because they grow…

Carly says:

I had no idea there was a Read Aloud Day! Read a chapter of Nesbit's Story of the Treasure Seekers to 8 yo this morning. In a couple minutes my girls and I will be reading Prairie Thief. I was greatly amused in yesterday's chapter by the judge's reflection on the perils of having had a classical education !

Constance says:

I'm reading The Secret Garden to my boys and my husband is reading them the latest How to Train Your Dragon book. Next, they've requested the "Almonzo" book again:) Everyday is Read Aloud Day around here!

PragmaticMom says:

What a lovely day you are having and what lucky kids to have you reading to them! I will be reading The Red Pyramid with my youngest. We just finished 8 Percy Jackson books so we are on the first chapter of the Kane Chronicles and digging into Ancient Egypt. And I'll try to sneak in a picture book or two too!