I'm all Hooray, my blog is visible again I can write stuff yippeeeee! And then crickets. That kind of week. In a good way, I mean. I mowed the lawn the other day and it mousecookied into a massive backyard/frontyard/sideyard cleanup, and now I'm itching to overhaul the indoors. But! I'll be posting the Ballet Shoes post this afternoon.
And for now, here's this week's Thicklebit—I'll save you the clickthrough. (But if you're new to Thicklebit, do click through and enjoy the other strips. I've said it before and I'll say it again: Chris Gugliotti is an artistic genius.)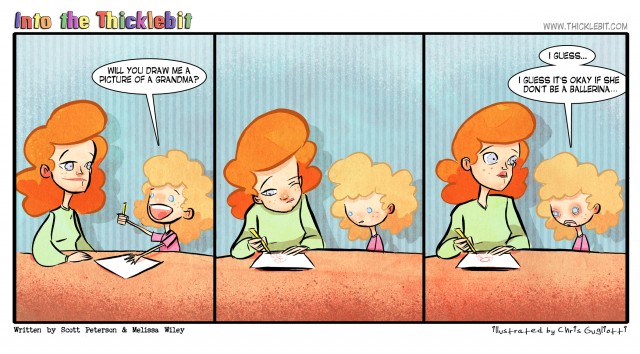 This morning we're all in stitches over this post at Flavorwire: 20 Embarrassingly Bad Book Covers for Classic Novels. The horrific Anne of Green Gables is there, along with some genuine howlers. Did you know there were fighter jets in Oz? The Huck Finn is priceless, and that Cranford cover! I'm crying laughing.
Comments