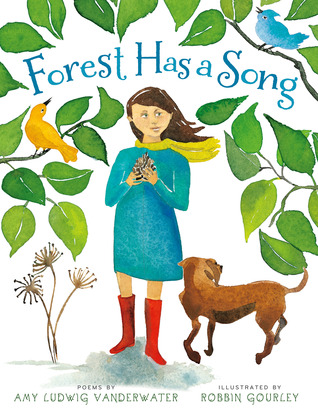 Forest Has a Song by Amy Ludwig VanDerwater, illustrated by Robbin Gourley.
Dear Amy,

My name is Rilla. I am 6. Mommy read Forest Has a Song to me. I think that It Is really pretty poetry and i also think that deer are pretty too. I really love nature. And deer are one of my favorite animals and it said a lot about deer. In the picture of the fiddlehead ferns, I really like the pattern of the colors. And the fossil looks so realistic. When I grow up i want to be an illustrator like Robbin Gourley. And also, i love the Spider poem and the Dusk poem. I love the never-tangling dangling spinner part. And I love baby animals. They're so cute and fluffy when they're birds at least.

One of my favorites is "Farewell." How it says "I am Forest."

Love,
Rilla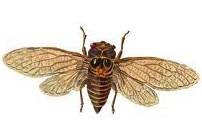 (Doggone spellcheck. She made me correct all her invented spellings—the red dots under her words tipped her off. Then again, "rhille priddy powatre" might have been hard for you to parse. Also, of course, recognizing that a word just looks wrong is a big step toward learning to spell and I can't very well stand in the way of that progress just because the invented stuff is adorable.)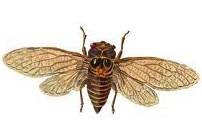 As for the book, I wholeheartedly agree with Rilla's review. What a gorgeous, gorgeous volume. The poems sometimes wistful, sometimes whimsical, always lyrical. Beautiful for reading aloud, full of delicious internal rhyme and alliteration. And infectious: I predict a lot of original nature poetry in our future. This collection begs you to take a fresh look at the world around you and see the magic of the curled fern frond, the mushroom spore. Of course I've been a fan of Amy Ludwig VanDerwater's work for years.
I can't imagine a more perfect pairing for Amy's poems than Robbin Gourley's art. Lush watercolors, rich and soft. I kept coming across pages I'd like prints of. Actually, this is exactly the kind of book where you want a second copy for cutting up and framing. (If you can bear to. I always think I'd like to do that, but the one time I actually bought a spare copy for this purpose—Miss Rumphius—I couldn't, in the end, bring myself to dismantle it.)
Beanie's favorite poem was "Forest News"—
I stop to read
the Forest News
in mud or fallen snow.
Articles are printed
by critters on the go…
—which she loved for its intriguing animal-tracks descriptions, its sense of fun, and its kinship with her favorite Robert Frost poem, "A Patch of Old Snow." ("It is speckled with grime as if / Small print overspread it, / The news of a day I've forgotten — / If I ever read it," writes Frost, perusing a somewhat more somber edition of the woodsy chronicle.)
Wonderboy's favorite was the puffball poem, and he later wrote (in his customary stream-of-consciousness style) this string of impressions the book made on him: "dead branch  warning and woodpecker too  dusk  burrow in a burrow chickadee sit on my hand  and come fly here"…
Truly beautiful work, Amy and Robbin.
Related post: The Poem House
Comments