I'm reviewing some new apps for GeekMom, including one I think is going to be quite popular: Mystery Math Town from Artgig. You may recall that I gave high marks to Artgig's Marble Math & Marble Math Jr. over at Wired a while back. I'll link to my Mystery Math Town review when it goes live, but I thought I'd give you a heads-up. Fun, absorbing, and is proving an engaging way to slip in some math-fact practice for my Beanie-and-under crew. Including Huck. You can customize for addition, subtraction, multiplication, single digits, double digits, etc.
Yesterday Rilla and I needed to choose our next read-aloud. We decided to spread all the contenders out on my bed. Turned out there were a lot of contenders. I see a couple of repeat-requests snuck in there. (Odd Duck, for example—a graphic novel by Cecil Castellucci, art by Sara Varon. Rilla adores it.)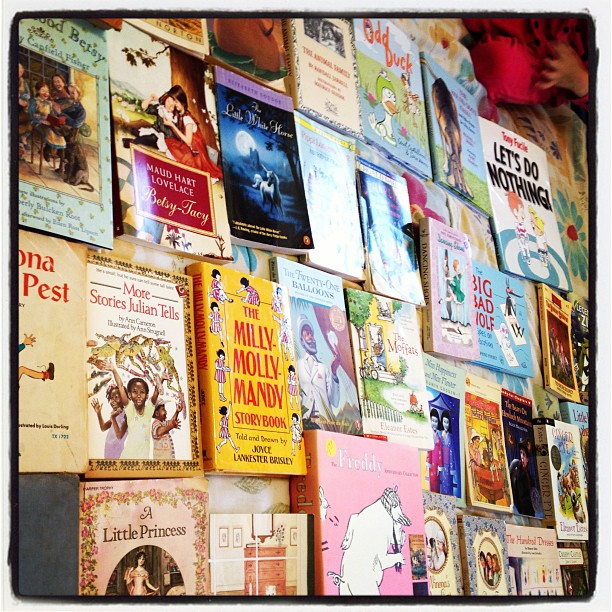 (I rotated the photo so the titles would be easy to read, and Facebook friends thought I was displaying a giant wall display. I wish!)
After much deliberation, Rilla chose a new arrival, The Big Bad Wolf Goes on Vacation (which I've now read aloud three times in two days—once each to the 9yo, 6yo, and 4yo), and then settled in for Ramona the Pest. Her first acquaintance with Ramona. That perfect first sentence—"'I am not a pest,' Ramona Quimby told her big sister Beezus."—had her at hello.
Comments
Sarah says:

I'm using your photo to add a few others to our own next-read-aloud pile (how could I have forgotten to pull out the Hundred Dresses??) — thank you!

My six-year-old daughter and I just finished Ramona the Pest, and the instant we set it down she immediately ran to pull Ramona the Brave from the bookshelf. I hadn't read them since I was close to her age and had forgotten just how absolutely fantastic Ramona is. (And personality-wise, my daughter and I are much closer to Beezus — oldest sisters both — which has made reading these books together a lot of fun!)

tanita says:

Oh, my gosh. Don't you sometimes wish for a life do-over? Just so you could "meet" Ramona, and others, for the first time again?

Oh, wait. That's a good reason RIGHT THERE to have kids (or to teach school – you do one, I'll do the other, 'kay?). It's just so much fun to experience these things all over again! Enjoy.

Louise says:

FREDDY!!!!!!!!

I still remember reading my first Freddy book – Freddy the Cowboy. Followed promptly by Freddy the Detective, and then Freddy goes to Florida, which were all our library had but more than enough to get my sister and me hooked. I am beyond excited for my kids to get old enough for reading those books.

Never got into the Ramona books myself, but my sis loved them, so I will definitely be giving them a try with my kids, see if they capture my imagination any better as an adult than they did as a kid. If not, I'm sure the littles, at least will enjoy them!

mamacrow says:

I vote for Milly Molly Mandy! and then The Little Princess! and ooo, there are ones there new to me…

Ellie says:

The Twenty-One Balloons!!! I **loved** that book when I was a girl. Gracious. I wonder where it got to ….

Carly says:

What are the titles down on the right between Ginger Pye and The Moffats? And the row below as well?

Melissa Wiley says:

Carly:
Miss Happiness & Miss Flower by Rumer Godden;
Henry Huggins by Beverly Cleary;
The Bears on Hemlock Mountain by Alice Dalgliesh.

All so good!

Karen Edmisten says:

Swoon.
Falling for Ramona all over again.
(Yes, Tanita, a great reason to have kids. Or to homeschool. Or to teach. Or just go grab it off the shelf.)