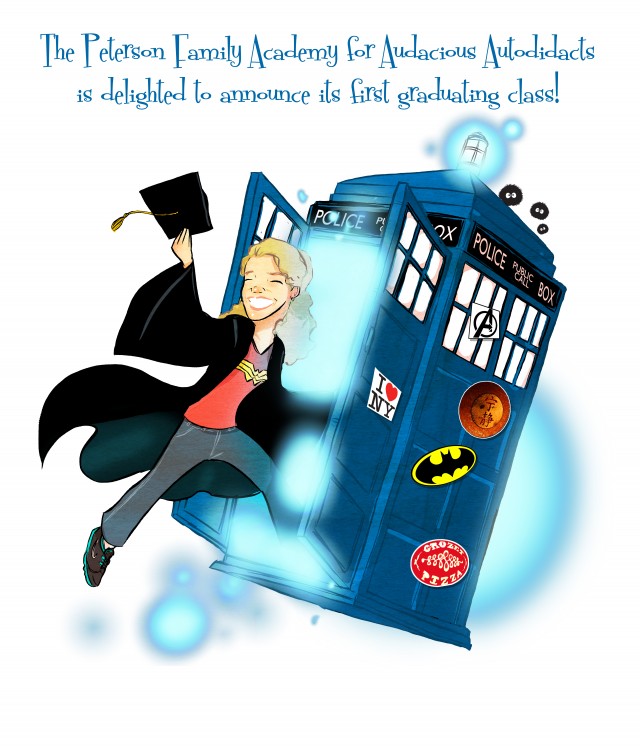 Comments
turtlemama says:

Best. Homeschool. Name. Ever.

Congrats, Jane!

Ellie says:

Ok that's …. That art is just …. **speechless**

Congratulations to you all and to Jane — so many adventures to come, how far this journey has taken you, and her, already!!

xoxo

Lori B says:

Congrats to Jane, Mom, and Dad!

Our Gracie is graduating on Saturday (she was homeschooled K- gr. 10), then turns 18 on Sunday. I've stocked up on the tissues 🙂

monica says:

I am still confused, as she is just A LITTLE GIRL!!! I think you people dont know how to do math over there.

sarah says:

So wonderful!!

Penny says:

That's spectacular. Congrats to Jane and best wishes for a very merry future!

Anne V. says:

Love the stickers on the phone booth. All the best to Jane. We are right behind you and a tad nervous 🙂

GailV says:

Congratulations! And that is an AMAZING illustration — I dearly wish this were a card we could purchase.

Karen Edmisten says:

LOVE it. Congrats to Jane! And to her parents! 🙂

Maria says:

Congrats!!!! Fantastic!!!! Brilliant!!!! Graduates are cool! 😀
BEST graduation announcement EVER!

With best wishes from three fellow Whovians,
😀 maria and kids

tanita says:

HUZZAH!
Congratulations to your girl.
And, three cheers for the shortest graduation ceremony on record: even better.

Joann says:

Congratulations, Kate! Brains in your head and shoes on your feet!

Erin says:

Congratulations!! How did you celebrate? Were there papers or exams to complete or did you just look at the calendar and say, "Oh, it's June! You are a graduate!!" I often wonder what it will be like when we get to this point.

Elizabeth says:

Awesome! Congrats!!