August 5, 2013 @ 7:53 pm | Filed under:
Books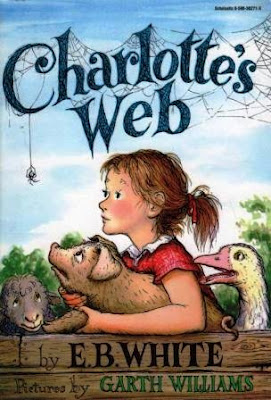 One of the best opening lines ever. How many times have I read it, I wonder? And how many times aloud? This morning it was to my three youngest, all of us smushed together in a heap on the bed. We'd surprised a hundred tiny spiders in the garden just a little while earlier; an egg sac must have hatched only moments before I happened to rip out the weeds hiding it against the garden wall. Wee spiderlings scattering in all directions. "They're jumpers!" cried Rilla, watching them leap into the breeze.
Of course we had to come in and begin Charlotte's Web after that. How could we not?
That first concise chapter: a marvel. The jolt of that opening. A father going to kill a baby pig. Fern standing up to her parents, first her mother, then her father—pulling at his ax, even. And—he listens to her. Is moved by her passionate plea for justice. Gives in. And then the magic of a piglet you can cradle in your lap like a baby and feed a bottle to. Even an obnoxious older brother getting a mild comeuppance. Utterly satisfying. And all in seven pages, before breakfast.
Comments
tanita says:

*sniffle*
Sometimes you wonder why we ever bother trying to write anything else; that first chapter is indeed, what is next to the word CRAFT in the writer's dictionary.

monica says:

you have to hear EB White talk about making an audio book of CW. He couldny even get through parts of it. its on NPR

Mama Squirrel says:

Those wee spiderlings are not so cute when they're scattering all over your bathroom ceiling. Just saying. (Happens a couple of times a year here–old house.)

shonda says:

@Monica- thanks for mentioning about E.B. White and NPR. I couldn't find what you mentioned, but did find this and thought it was really interesting! loved the end of the article. I didn't know there was a book on the making of Charlotte's Web. E.B. White sounds like a dear man.
http://www.npr.org/2011/07/05/137452030/how-e-b-white-spun-charlottes-web

Jennifer says:

I just saw the title in Feedly and it brought it all back. That was THE book of my childhood.

Wendi Gratz says:

My daughter found a bunch of newly-hatched spiders the other day and called me out to see them. "Just like Charlotte's Web," she said. *pause* "Only kind of creepy. They may be small but that's a LOT of spiders. I think I want to go somewhere else now." 🙂

TLynn says:

And some people think writing for children can't be fine literature!