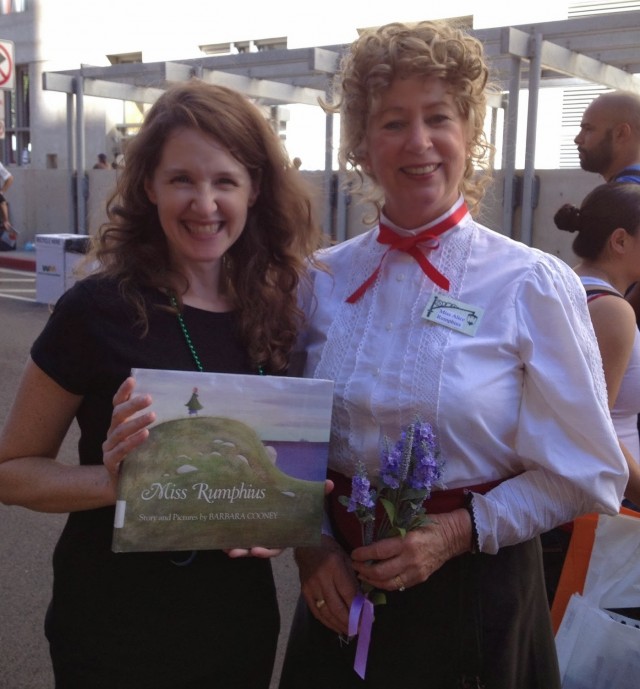 She passed by the SCBWI booth at the San Diego Central Library grand opening celebration where I was signing books, and I dashed down the street after her, hollering "Miss Rumphius! Miss Rumphius!" like a loon. Because I was Just That Excited to see her, lupines and all! She's my role model, after all.
(Instead of lupines, I plant milkweed.)
The library celebration was marvelous. I never actually made it into the new building for the sneak peek! The line was four blocks long when I arrived for booth duty at noon. But I had a wonderful time visiting with Edith Hope Fine, Cindy Jensen-Elliott, and my other fellow local children's authors at the SCBWI booth and chatting with our friends at Yellow Book Road on one side of our table and the very nice Mysterious Galaxy folks on the other—along with author Mary Pearson, whom it's about time I met in person after all this time being Facebook friends, and YA author Kiersten White, whom I know from Twitter, and whose new book sounds very much up Rose's alley. (Human daughter of ancient Egyptian gods: you have her at hello.)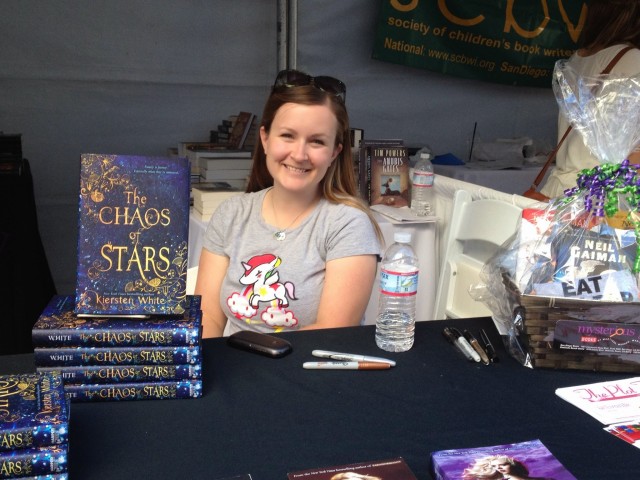 (Isn't that the most gorgeous cover?)
The street fair covered many blocks and was one of the best I've ever been to. San Diego Mini Maker Faire was there—I'm counting the days to the December event (December 7th, Del Mar Fairgrounds; spread the word!)—and lots of other interesting artisans and entertainers.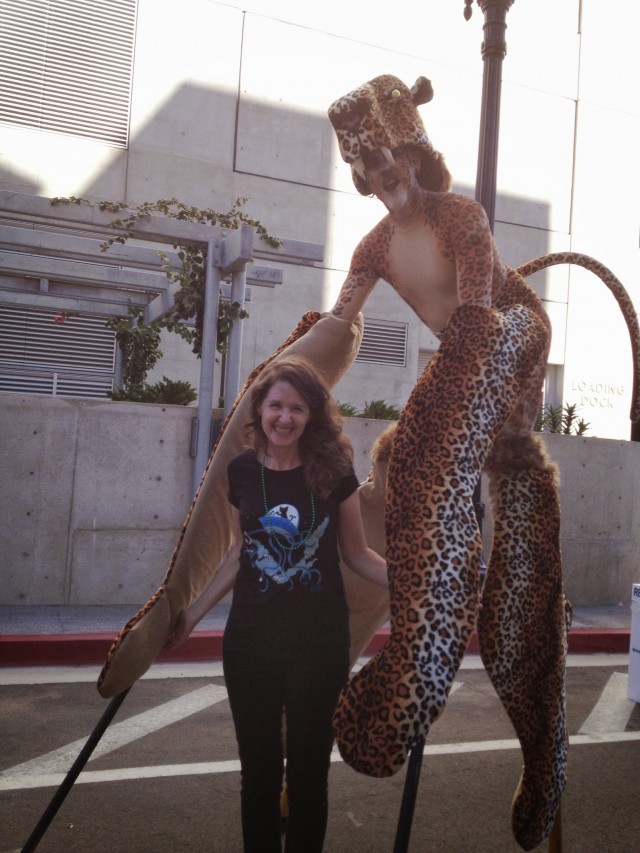 Not Miss Rumphius.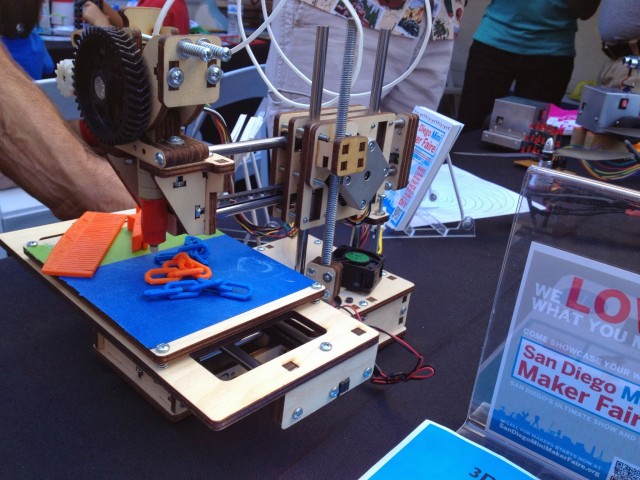 The Maker Faire booth. I finally got to see a 3D printer in action! It made that orange comb right before onlookers' eyes. At least, I think it did. I wasn't there for that part.
Happy to say I signed many copies of The Prairie Thief! And perhaps my favorite sight of all (after Miss Rumphius, of course) was this mother and son who sat down to read Fox and Crow on the spot. 🙂
I'll have to make another pilgrimage downtown soon (with the kids, this time) to see the inside of the beautiful new library that was thirty years in the making.
Comments
Melissa H says:

Sounds like I need an excuse to get back to the San Diego area and check out this new library–post photos when you get inside. I grew up going to the Escondido Public Library (part of the same system) every week for years. I can still picture the children's librarian and the library although I can't for the life of me recall what street it was on. Fond memories 🙂

Penny says:

Now that's my kind of party!

I love the t-shirts you and Ms. White are wearing. Seriously fabulous.

Enjoy that library 🙂 I'm off to ours in about 5 minutes – yay!

tanita says:

I think that kid stole Huck's hair. I had to look twice at that to be sure it wasn't him!
The whole weekend sounds just fab.

maria says:

"I dashed down the street after her, hollering "Miss Rumphius! Miss Rumphius!" like a loon. Because I was Just That Excited to see her"

Yet another reason I dearly love you and another example of how you make me feel so very normal. 😀

Oh and you had me at "new library"…….new, old and in between I do love a library and/or bookstore. 🙂