January 8, 2014 @ 6:09 pm | Filed under:
Television
This two-hour episode took me a few nights to get through. All the time I was watching it, I was thinking, am I going to recap it this year? I've recently stepped away from GeekMom to take a new position as editor at DamnInteresting.com (a site that more than lives up to its name, and one Scott and I have enjoyed for years), so I won't be recapping over there this year. I loved writing those posts last season, but I admit it's a bit of relief to let go of the self-imposed pressure to get a recap up the night an episode airs. Those were some late nights I was pulling, for a while there!
But I'll miss the conversation, and since I've been getting a lot of email inquiries about the recaps, I thought I'd open the topic for discussion over here. As always, this is an open thread, not a sequential play-by-play of plot points. So I'll throw out a few things, and you can all chime in as you wish.
OBLIGATORY SPOILER WARNING
Once again PBS is conflating two one-hour British episodes into one long one for the American audience. Honestly, I don't think this serves the show very well, nor will, I'd hazard, binge-viewing it on DVD. We have too many repetitive conversations in these two hours. A week's space between them would have rendered the repetition less obvious. How many times must we listen to Lord Grantham orate that Mary must be kept wrapped in cotton-wool? How many times must Mrs. Hughes harangue poor Carson in one night of television viewing? It's rather amazing, actually, that with the quantities of plotlines being unfurled here (I'll attempt a tally in a moment) we wound up with so many repeated conversations. By the end, my head was smarting from all the hammer-blows.
Now, plotlines: let's see.
1) Mary is very sad, and not terribly interested in her baby.
2) Lord Grantham wants to sell land to pay the death duties on the estate, and while he's at it unravel most of the work Matthew did to save said estate's bacon.
3) Tom and the Dowager Countess are united (among others) in wanting Mary to play a more active role in estate decision-making, and they're annoyed with Lord Grantham's reluctance. (See above, cotton-wooling.)
3b) Matthew left a will of sorts after all! Should we let Mary read it?
3b.1) Also, the stuffed doggy. ::sniffle::
3c) Mary owns half of Downton. Stay tuned for epic showdowns. Will there be anything left for wee George but rubble?
4) Carson's shady old theater chum wants to see Carson to set things right, and also wants help climbing out of the pit he's in. From the moment Mrs. Hughes digs through Carson's trash, this becomes her mission in life.
4a) Said mission dovetails nicely with a push to snap Isobel out of her own grief-induced apathy. (I enjoyed that bit very much.)
5) Everyone's got a Valentine! Who gave whose?
5a) Belowstairs love triangle continues from last season with no apparent progress. Daisy likes Alfred likes Ivy likes Jimmy likes messing with people.
6) This week's special guest: new-fangled electric mixer, aka the worst thing to happen to Mrs. Patmore since presbyopia.
7) Nanny DARES to tell Thomas not to touch the baby? Beware his diabolical machinations.
7a) Oh but wait! Turns out Nanny's a horrible person. Hooray, Thomas!
8) Boo, Thomas. Saucy former-housemaid-turned-lady's-maid Edna fills all vacancies left by O'Brien's departure, especially Co-Conspirator of Thomas. Watch your back, Anna. That'll learn you to be nice.
8a) Really? REALLY? Lady Grantham is that ready to believe Anna would vandalize a garment out of spite? Has she MET Anna? Not buying it. Nor the dispatching of Lord G. to have Mr. Bates bring his unkind wife in line. I MEAN COME ON. (Sorry, that was the one that really got to me.)
9) Young Rose wants adventure, and what's more adventurous than posing as a housemaid and half-falling for a winsome young under-gardener or whatever he was. Sorry, it was noisy in that dance hall.
10) Oh, Molesley. Poor Molesley. Chucked out of Downton, no new prospects. Pounding tar. Racking up debt. Pitied by all.
10a) Just because the Dowager Countess thinks highly of her butler doesn't mean he is above petty jealousies and sabotage. Sorry, Mose.
10b) But if your plight makes Anna sad, you'll be okay, because Mr. Bates won't stand for that. In prison they teach you how to sneakily give money to people.
11) You didn't think I'd forgotten Edith, did you? What am I, her mother? I adore Edith. She's blooming with love, wearing fabulous garments, and gearing up to shock the bluebloods with her impending nuptials to a divorceé and (even worse) voluntary German national.
Plotlines I'm really invested in: 3c. I'm sorry Lord Grantham has become so insufferable, but in a way I think his character arc is the most realistic. A decade-long series of tragedies, shocks, and disappointments has left him insecure, vulnerable, and obstinate. He has felt powerless ever since losing his wife's fortune and imperiling the estate, and his WWI chapter (here, be a jolly good figurehead, old sport) didn't help. The more the women and former chauffers in his life berate him for his bad behavior (and it IS bad), the more stubbornly he digs in. He's the 85-year-old who refuses to give up his driver's license even after the fourth time he's backed into the mailbox.
So I may not like his character, but I buy it, and I buy Mary's too. She prophesied her position at the end of last season and reiterates it here: Matthew brought out a side of her (I smiled at "soft"—not a word that describes even happy-bride Mary) that was buried deep before, and has gone more deeply dormant now. What she needs is a good fight, and who better to clobber than Papa? Much better him than poor old Carson. The scene between Mary and Carson when she chided him for his familiarity broke my heart—and that's how I know it was a good scene. It was one of the few where I had a genuine emotional reaction instead of a distanced, analytical one. And the thing is? I'm a viewer who wants to be drawn in and emotionally manipulated. Really. If I'm outside the story, picking, then your story hasn't swallowed me. And I'm sorry to say that very little in this two hours truly swallowed me up. But it's early days yet. We'll see where things go.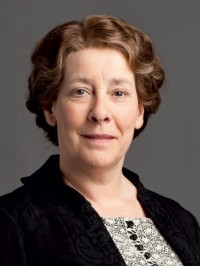 What did you think? Favorite & least favorite bits? For once I'm not giving Best Line to the Dowager. It's Mrs. Hughes, in response to Isobel's "It's none of my business": "I never thought I'd hear you say that!"
Related: my Seasons 2 and 3 recaps at GeekMom