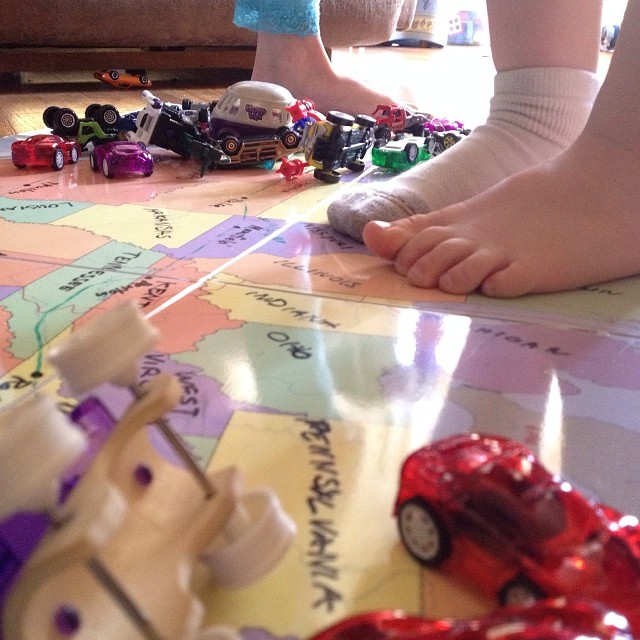 Some quick notes on things we're using a lot lately:
• Spellosaur app (Rilla and Huck). With the paid version, you can enter lists of spelling words for each kid. They both ask to play it daily, which is fine by me. 🙂 Huck's favorite part is recording his own audio for the words, which he then laughs at on playback during the activities. I wouldn't normally be working on spelling with a five-year-old but he enjoys the app so much, it isn't work. For Rilla, I've been entering word lists from an old copy of Spelling Power. She also created a second user account to use for French words. Here, too, she loves recording the audio herself.
• I couldn't find our Chronology game (I know it's around here somewhere), but Rose and Beanie have been absorbing a lot of history this year, in a jumble of time periods. Science history in the Renaissance, American history between the Revolutionary and Civil Wars, medieval English literature (now heading into Renaissance there too), all sorts of non-coordinated reading going on. We took our old timeline down last year—it was up too high and we weren't really adding to it anymore—and I wanted some way to make chronological sense of all these events they're soaking up. So I had a brainstorm and made our own custom Chronology set, sort of. We got index cards and wrote various key events and people on them, with a little stripe of colored highlighter on one side to indicate science, literature, arts, or political history.* They put the dates on the back of each card. We play the game just like Chronology: I put down one starter card and then they take turns picking another card, taking a stab at the date, and putting it down in a row in chronological order. If we can keep it up, we'll build a nice collection of the main points of our history/science/literary studies this year. They get pretty giggly and competitive in the game, so it's been way fun so far.
*A fifth color denotes fictional works related to a period we're studying. There are certain novels and films that will always represent a particular time and place—Betsy in Spite of Herself, for example, popped immediately into the girls' minds when we read about German immigrants building a home away from home in Milwaukee.
• The other thing we do quite a lot in our history studies is link whatever we're reading about to our own family history, as far as we're able. This applies mostly the 18th century and on, of course (although we do have a couple branches on the family tree traced back to the 16oos). I like to pull up our tree on Ancestry.com and take a look at who among our ancestors was living in a particular area at a given point in time. The big waves of Irish and German immigration in the first half of the 19th century, for example, became much more vivid to the girls when they got a look at the names and disembarkation dates of their forebears who were among those masses.