February 9, 2014 @ 9:03 pm | Filed under:
Television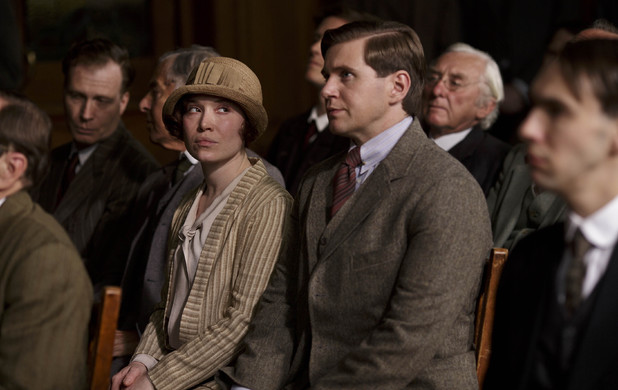 "You do realize even Alfred gets more screen time than you do?"
(UK / DVD  episode 7. Also, spoilers below.)
Telegram! Robert has been summoned to America by Cora's Horrible American Mother to assist Cora's Impossible American Brother. There's a scandal involving oil and a Senate committee who may or may not be favorably impressed by a titled brother-in-law, because nothing says respectable like an impoverished English earl who snaps up an American heiress to save his estate, and then loses her fortune on bad investments.
Bit of a flurry over the notion that Bates must accompany Lord Grantham to America. (I love how it's always "America." Last season, when Shirley Maclaine arrived to out-shout the Dowager, she referred to her home as "America" 100% of the time. You have to wonder if Julian Fellowes has ever chatted with any Americans long enough to discover that if you ask us where we're from, we don't name our country; we name our state. Unless you're a New Yorker, in which case you name your borough.)
Anna puts on a brave face for Bates but sobs in the hall. Mrs. Hughes takes the case to Lady Mary, who puts on her best stone face and insists she would like to help, but she "must know the facts." What is Mrs. Hughes to do? She reveals Anna's secret, and Mary marches straight to her father and orders him to take Thomas to America instead of Bates, wearing that exact same stone face and saying, "I can't explain it. If I could you'd agree with me." I actually burst out laughing at this, despite the graveness of the subject matter. It's so Mary. She expects her father to jump when she says jump and take her word that jumping is the gentlemanly thing to do in this circumstance. But by golly, nobody'd better expect her to take any request on faith.
All right, then, it's settled, Bates stays, Thomas goes,  Mary has a moment with Bates ("It wasn't your fault, Bates. It wasn't Anna's, but it wasn't yours, either"), and—HOLD ON EVERYONE, THE PIGS ARE COMING!