February 16, 2014 @ 9:31 pm | Filed under:
Television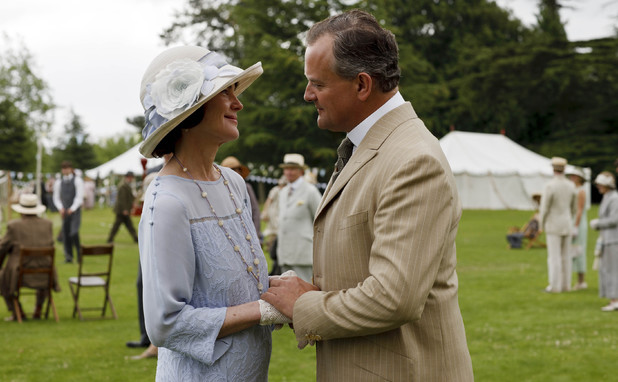 Darling, I'm so glad you survived your time in the land of Prohibition.
(UK / DVD episode 8. Also, spoilers below.)
Proving it has its priorities firmly in place, this episode starts with the VIPs: the Very Important Pigs. Look at 'em, up and drinking, fat and sassy! Oh, what a relief. I'm only sorry we never got to meet that dastardly fellow, the Negligent Pigman. After the great trough catastrophe, Tom and Mary have decided to offer sturdy Mr. Drew, whose devotion to Yew Tree Farm has proven his mettle, the job of Keeper of the Pigs.
Let's just take a moment to savor this: Downton Abbey is full of grown men and women who require another adult's help to change clothes three times a day, but Mr. Drew can be trusted to tend these somewhat delicate Pigs and FARM AN ENTIRE FARM. In fact, he's so reliable that Edith is eyeing him as a potential foster father for her child. (She'll be talked out of that by Aunt Rosamund, but that comes later.) For once I'm not making fun of the show; I think this is a pretty realistic depiction. I have no doubt that Mr. Drew is fully capable of running his farm and tending the Pigs. And while Mary has shown that she can do a hard night's work in an extraordinary circumstance (and even elegantly scramble an egg afterward), it's amusing how different the family's definition of "farming" is from Mr. Drew's. When Mary and Robert speak of "farming Downton themselves," they mean making plans and hiring people to carry them out. When Mr. Drew speaks of farming, he means getting up at 4:30 in the morning to check on the Grantham Pigs before milking his own cow.
A recurring theme throughout the four seasons of this show has been how much happier the upstairs crowd is when they have some real work to do. During the War, we saw Edith blossom as an aide to the recovering soldiers (and, later, as a newspaper columnist), and Sybil grew from a restless cause-seeker to a woman who found real satisfaction in her nursing duties. We began this season with Mary and Isobel in zombie states, six months after Matthew's death. The spark came back into Mary when she was nudged into taking an interest in the management of the estate, and Violet basically applied a bellows to Isobel, dumping the problem of Carson's down-and-out former friend in Isobel's lap, fanning the embers of her do-gooder zeal back into the fire she runs on.
We've seen it with Cora, too, this season: so many scenes in which she looks absently up from a book, smiles benignly, and does nothing of consequence—she has seemed more like an amiable ghost than a person whose actions have any effect on the world. This week, Cora was zooming around in a whirl of bazaar preparations, and although her somewhat vapid remarks seemed designed to elicit eye-rolls from her family as well as the audience, the truth is that organizing an event on the scale of that one is a mammoth undertaking. If you tried to assign me that job, I'd run away with the Pigman. I appreciated Tom's insightful "beast of burden" remark near the end of the episode, his recognition of how hard Cora had toiled over the bazaar. I still found myself wanting to roll my eyes at everything Cora said—I'm serious when I say I think the script wanted me to—but Tom's right. We very seldom see Cora at work, but she does work. There are parts of her job she could do a great deal better; she's been only superficially aware of Edith's misery and Rose's mischief all season. But she organized a mighty impressive bazaar, and I'm glad Tom gave her her props.