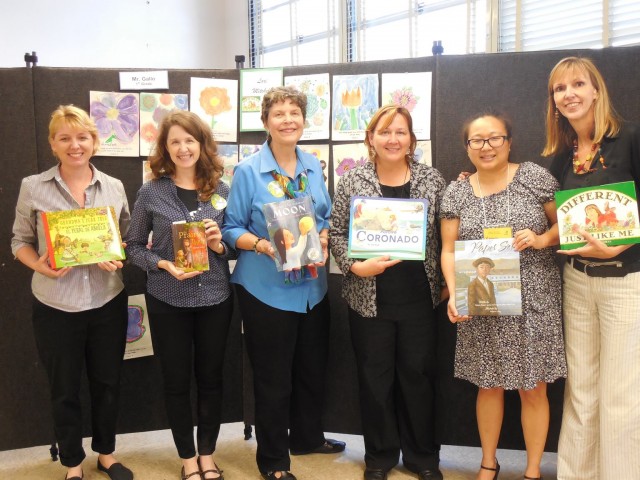 From left to right: Suzanne Santillan, me, Edith Hope Fine, Joy Raab, Virginia Loh Hagen, and Lori Mitchell at last week's Greater San Diego Reading Association Authors' Fair, held at Pacific Beach Elementary School. Photo shared by Lori Mitchell on Facebook. (Thanks, Lori!)
It was a pretty incredible day. I had sessions with two classes and then a booksigning. Both classes have been reading The Prairie Thief aloud, and it just so happened that the 5th-grade class was up to the Big Reveal chapter near the end of the book. I've never gotten to read this to a group of kids before! I usually read a section near the beginning, so as not to give away any of the book's surprises, and when the class told me where they were in the book and asked me to read the next chapter, I was over the moon. Their reactions at the moment of the reveal were delightful and immensely gratifying. They jumped and and cried out in surprise. It was exactly the sort of reaction I hoped for when I wrote the book. What a treat for me to get to experience that moment with them! And then we had a nice long Q&A and they asked fantastic questions, really thoughtful stuff. Love love love.
The second class, a 4/5, blew me away with the papers they had written about Prairie Thief! And what timing, coming right after our conversation last week about how authors feel about critical approaches to their work. These kids did some serious analysis and I was very impressed by the quality of their writing. They, too, had a million questions for me about craft (seriously—they are studying it) and reading and lots of things.
Huge thanks to all the folks who helped put the fair together. A splendid day all around.