It is Wednesday, isn't it? I'm off kilter somehow.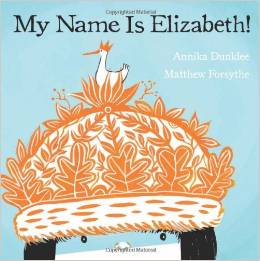 Every now and then one of my littles will shout "ELIZABETH!"—I would say 'for no apparent reason,' because it's always a non sequitur, but there is a reason and it's very apparent: what they mean is "I want to read My Name Is Elizabeth!" Elizabeth doesn't like being called Lizzie, Liz, Beth, or Betsy, and although my two youngest children have short names that don't lend themselves to nicknaming, they wholly sympathize with Elizabeth's plight, and approve of her insistence on proper nomenclature.
(They also approve—heartily—of the exception she makes for her little brother.)
Whenever this book is rediscovered, I seem to be called upon to read it several times a day for a week or so. This has been one of those weeks. I'm not complaining. 🙂
 ***
Just finished e. lockhart's We Were Liars. Utterly unsettling. I mean that in a good way. More on it later.
***
And a heads-up for you.
FINALLY SOMEONE WHO UNDERSTANDS ME. Literature of the English Country House—University of Sheffield/FutureLearn http://t.co/EP0jAsBTyJ #mooc

— Melissa Wiley (@melissawiley) May 8, 2014
I got an email from FutureLearn about this upcoming course—Literature of the English Country House—and I honest-to-God squealed.
We'll be using a wide range of texts spanning the history of literature from Thomas More's 'Utopia' to Oscar Wilde's 'Canterville Ghost'. Along the way we will examine sections from a play by Shakespeare, poetry by Margaret Cavendish, and brief passages from novels by Jane Austen, and Charles Dickens. We will even look at fiction by a country house resident Georgiana, Duchess of Devonshire.
Starts June 2. Thought you might like to know.