Post #2 in this series: italki.com.
Note: this is not a sponsored post and I'm not affiliated with Memrise in any way. It just turned out I had quite a lot to say about it!
To follow up on my post about memorizing monarchs and presidents, I thought I'd elaborate a bit further on how we're using Memrise to learn languages, along with some other resources like Duolingo, iTalki, and Earworms, which I'll talk about in subsequent posts. It's kind of amazing how much you can do from your couch. 🙂
MEMRISE. Free for computer, iOS, Android. Excellent for building vocabulary, not so much a grammar tool. (But read on.) You pick any of a multitude of courses in your target language. In small batches, words appear on your screen along with "mems," mnemonic devices created by other users to help you remember the word. The best mems create some kind of visual image that helps fix the word in your mind, the way I was taught as a kid in the 80s to remember that Caspar Weinberger was Secretary of Defense by picturing Caspar the Unfriendly Ghost defending a bottle of wine and a hamburger. I don't remember which teacher planted that image, but the picture is still vivid. That's what the Memrise folks call a mem.
You can scroll through all the existing user-created mems for each word or phrase, and if you don't like any of the choices you can create one of your own. The interface makes it easy to select a public-domain image, and then you add whatever text you want. Here's a mem I made to help me identify Chad on a map of the Countries of Africa: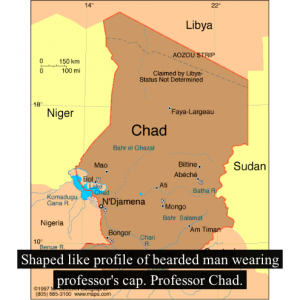 It's corny but it works. Not all mems have an image attached; a good word-picture can help just as readily. I remember Ceuta on the map (a place I'd never heard of until taking this course; an autonomous Spanish city on the North African coast across the Strait of Gibraltar from Spain) by thinking of the Spanish pronunciation —thay-uta—and using the mem "they oota be in Europe but they're in Africa instead." Again, not exactly the height of cleverness but it was the hook I needed to remember how to spell the name of the city.
As this image suggests, and as I described the other day, you can use Memrise to learn a lot of things besides foreign languages. Other topics I'm studying include British and English Monarchs, U.S. Presidents, and the World's Tallest Buildings. (What can I say, I'm a junkie.) But foreign language is where Memrise really shines. The selection of languages is breathtaking in its scope. Lingala, anyone?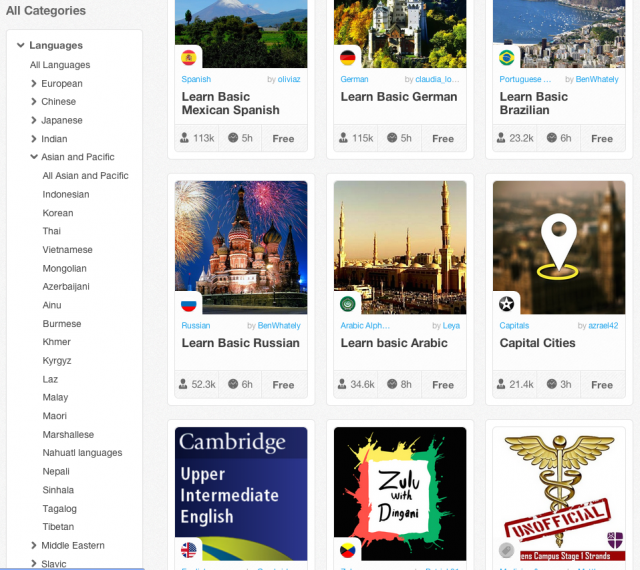 Rose, whose favorite pastime, I kid you not, is learning the first chunk of a new language, has absorbed beginner vocab in Dutch, Welsh, Russian, Hungarian, Italian, and who knows what else, in between her longer-term progress through a 1000 Spanish Words course. I'm taking several different German courses simultaneously—you can move as quickly or as slowly as you want. I too have a "1000 Words" course I use as my primary focus to add vocabulary, but there's a "German Conversation" course as well that has lots of useful longer phrases like "I couldn't care less," "I completely agree with you," and "he's so reliable you could build houses on him." Then there's the short course on prepositions I whisked through as a review, and a challenging one on verb conjugations. And then—slowly, oh so slowly! probably only a hundred words over the course of a year!—I'm using the vast and comprehensive 5000 German words course which is packed with upper-level vocabulary.
But then, I thrive on variety. Other users might prefer to move steadily through one course at a time. There's a fair amount of overlap in my assortment of courses, which helps cement things in my mind, but I can see that it might feel redundant or confusing to others.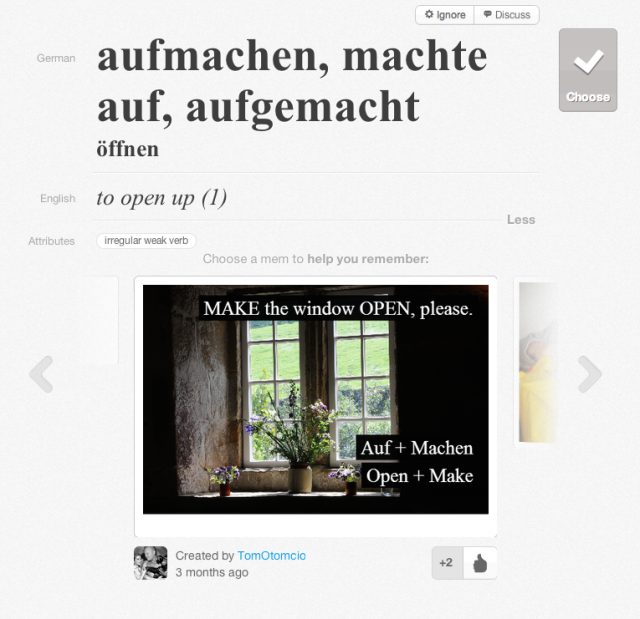 Regarding mems for language, I've found that the best kind are those that help me work from the English to the German. I can usually remember the English meaning of a German word after a couple of repetitions, but it's much harder for me to look at English and grope for its German counterpart. The majority of user-created mems seem to work the opposite direction—they'll start with the German and use English puns to link the word to the English. For example, here's a text-only mem I made for aufhören, German for "to stop doing something":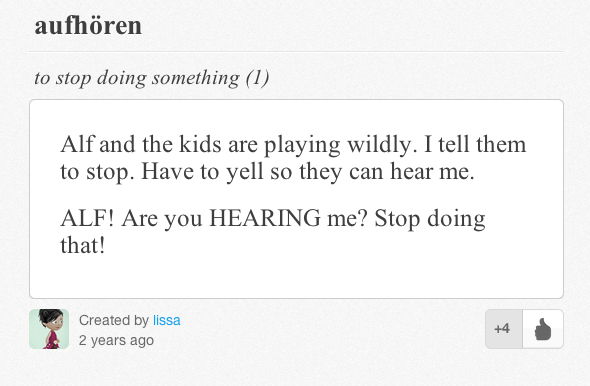 It didn't really work for me, not after some weeks away from the program. I couldn't look at the English definition and get to the German word. What I really needed was something that starts with "stop doing something" and gets to "aufhören." In this case, I tried to enhance the mental picture that goes with the above mem: I picture a Stop sign with Alf the TV alien perched on top holding a phone—the phone because the "hören" part reminds me of Auf Wiederhören, "until I talk to you again," which you say when getting off the phone. Now, this revised image is working pretty well for me—but it requires me to remember to use the "stop" in "stop doing something" as my jumping-off point for memory. Will I remember that if I come across the word in another context a year from now? I don't know. I do know that a vivid and specific mental image makes a tremendous difference in my ability to connect words in two different languages, and that after some repetition, the word is transferred to my permanent memory and I don't need to rely on the mnemonic device anymore.
This repetition is part of what makes Memrise so successful: the program works by giving you the words at ever-increasing intervals as you demonstrate mastery. First you "plant" the words, a few at a time, and they give you a lot of interactions with it in different ways—English to German, German to English, multiple choice, type it in. This process only takes a few minutes for each new batch of words.
Here's one example: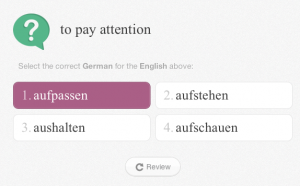 Here's another:
Now the words are planted in your short-term memory. Memrise locks them for a few hours (sort of—you can override the lock by clicking "overwater" for extra practice). After that, they are ready for "watering"—you come back and review them again. If you get a word right on the first attempt, next time there will be a longer interval before it's ready for watering. Eventually, as the words move from short-term to long-term memory, the intervals may be many days long.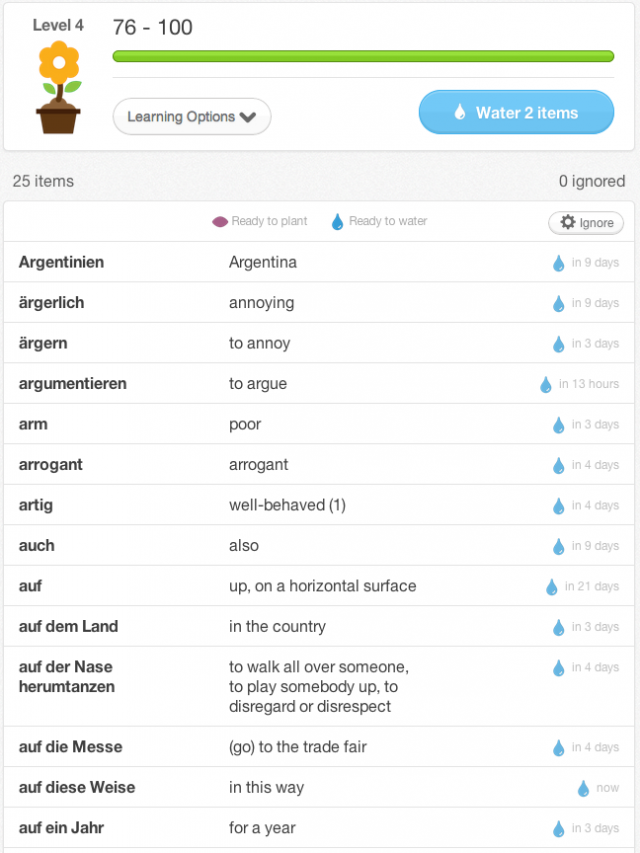 As you can see, most of the words in this lesson are in my long-term memory and don't need "watering" (reviewing) for several days or even weeks. A phrase I missed yesterday, "auf diese Weise," is ready for watering now. "Auf," a common preposition I learned decades ago, is (obviously) in my long-term memory and only comes around every few weeks. If I wanted, I could tell Memrise to ignore it altogether—there's a setting you can click that means I've got this one down and never need to review it again. I certainly don't need "auch," a word I learned on day one of German, popping up in my word list. I don't always bother to mark words "ignore," though, since it's an extra step.
I mentioned above that what Memrise excels at is teaching you vocabulary, but it's not as strong at conveying grammar. You won't necessarily learn word order or grammatical cases from this program—for that we use other resources like Duolingo (about which, more in a future post). But what my kids and I have found is that Memrise is invaluable for building our vocabulary, and grammar is so much easier to nail down when you have a big word list to draw from. And when I was really struggling to keep straight which prepositions take which cases for object nouns, Memrise came to my rescue. I found a German course that focuses on that very thing—you have to enter +A or +D after each verb-preposition combo to indicate whether the noun will take accusative or dative. That's the kind of drill I need to take me to the next level of fluency. I've been stuck in the middle of Level B1 (going by the Goethe Institut's fluency scale) ever since college. My periodic reimmersions in German have prevented me from losing what skill I'd gained, but to move forward toward real fluency I need some more intensive drill. This course is helping shift my recall from groping to automatic.
How much time does Memrise take? It can be as little as five minutes a day, if you want—plant a couple of new words, maybe water some of your older ones. I tend to go in intense bursts of activity with long lulls between them—sometimes many weeks will pass without my checking in, and that's fine. The whole point of the program is to plant the words in long-term memory. If I've forgotten them—the app can tell by how I answer—they get pushed back into a more active, frequent rotation in the list.
During my intense bursts, I add new words, level by level. Then, when my focus inevitably shifts elsewhere, I stop accruing new vocabulary but the program is there to help me maintain the vocab I've got. "Watering" your words can be really relaxing and addictive. Some people play Candy Crush; I water my German verbs.
The iPhone app is pretty sharp. I like to check in last thing before I go to sleep and see if any of my words need watering. It's a good waiting-room activity, too, since the courses I'm taking work fine with the sound turned off.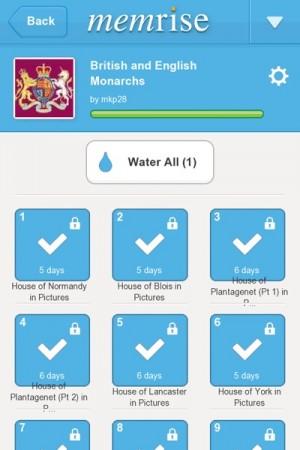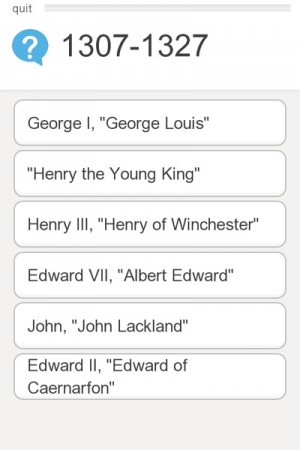 Okay, I've talked a lot about how I use Memrise for my own learning. What about the kids?
My younger kids are very interested in it; Rilla begs to use it for French, but it's a skitch above her level. Her spelling isn't strong enough yet for her to be able to easily enter answers in English, let alone French. Also, and significantly, Memrise is designed for adults, and the mems are created by adult users, which means that occasionally you come across one that's a bit off-color. For these reasons, I think it's better saved for kids 13 and up, depending on your parental comfort level. For us, 12 or 13 is a good threshold.
For my younger set, we tend more toward apps specifically designed for children, like the ones I reviewed at GeekMom a while back.
Before heading off to college, Jane used Memrise to learn Japanese kanji. Rose, as I said, likes it best as a way to experience a wide variety of languages. She's very interested in language and linguistics, and Memrise has allowed her easily to explore the rudiments of more tongues than I can keep track of. Meanwhile, she's making steady progress through her Memrise Spanish course, which we supplement with a grammar workbook. (She's not keen on Duolingo. Beanie and I love it.)
Also, Rose doesn't bother with mems. She says she remembers better without them. What clicks for her is Memrise's repetition cycle, the way the words you're weakest on will appear more frequently in your practice sessions.
Beanie, like me, is into German. She does about 15 minutes of Memrise a day, 4-5 days a week. Her vocabulary is growing steadily and the program has the advantage of building excellent spelling skills as well.
There are also Memrise courses for the SAT and other college admissions tests, including SAT vocab builders. You can create brand new courses, too, and make them private or public as you choose. (Choose: wählen, she CHOOSES to wear a VEIL IN church. That's someone else's mem but it worked like a charm for me.) If I hadn't found a course with the verb-preposition-case info I wanted, I was thinking about creating my own. I'm always happy, though, when someone else does the leg work. 🙂
Now if you'll excuse me, I have 21 mems to water!