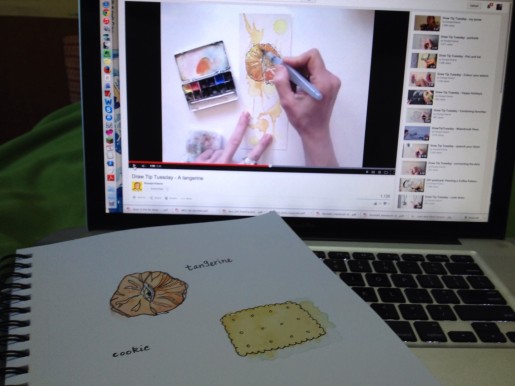 (Added the shadow color before the cookie was dry, and the yellow bled. Whoops!)
Saturday night, as I've mentioned, is one of the best parts of my week. My boys go to bed early these days—7:30, ever since the time change. (Ahhh…) Rose and Beanie watched S.H.I.E.L.D. with Scott. And Rilla and I cozy up on my bed to listening to our current audiobook—right now we're midway through Matilda, having had such a delightful time with The BFG—and our sketchbooks.
Sometimes we start off with a few short art videos on YouTube for warmups. Lately we've had some of our most fun bouts of clip-watching yet, because we have discovered Koosje Koene's Draw Tip Tuesday. Koosje is a Dutch artist who teaches online art classes at Sketchbook Skool and via her own site. Her clips are clear, fun, and super helpful. Rilla and I are having the best time making our way through all of them. I'm learning a lot!
I'll share only a few here. It was hard to choose which ones! You can click through to see the whole series. We have subscribed to Koosje's Youtube channel so we won't miss anything.
We had fun with this tangerine:

(direct link)
And this cookie quartet:

(direct link)
Of course we couldn't resist the one about popsicles:

(direct link)
This tip for how to draw both edges of a banner at once was new to me and is very cool:
Enjoy!
Comments
Penny says:

These look like great fun – thanks for sharing this resource!

tanita says:

Wow, LOOK at how good at this you are! That's awesome! Thanks for this – I have always wanted to improve my watercolor illustration skills, and this looks SUPER fun.

emily says:

I was wondering if you could share a list of good art supplies – my eldest (age 10) loves art, and I'd like to get her some really nice materials now that she's a little older vs. the usual Crayola that we have lying around the house, but I don't really know what's good and what's not.

Melissa Wiley says:

Emily, what great timing! I've been working on a post on our favorite art supplies for GeekMom. Hope to wrap it up this weekend. I'll share the link here when it goes up. 🙂