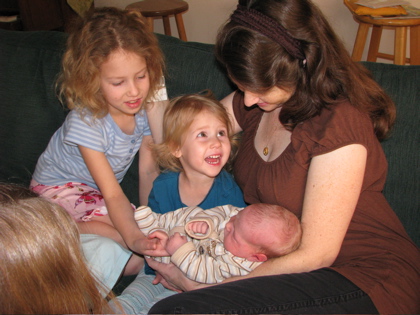 Six short years ago
A homeschooling friend who's expecting a baby asked for ideas for fun learning activities to do from the couch. Others chimed in with suggestions; here was my contribution:
I second Erica's Signing Time recommendation!

Jim Weiss CDs (holler if you want to borrow some of ours)

The Horrible Histories video for English monarchs—we watched it every day for a few weeks until we had them all by heart.

Look for Koosje Koene drawing videos on Youtube. (If the computer is accessible.) Short simple how-to videos that we have found quite inspiring.

Clapping games like Say Say oh Playmate, my kids love when I dredge these up from memory.

This silly parts-of-speech game we used to play in the car. 🙂

Plus other wordplay games like the one where you pretend you're packing for a trip and the first person packs an A thing (apple), second person adds a B thing (brush) + says the A word, and so on—see how far through the alphabet you can get. (I am blanking on the name.)

If you have cable you might have a karaoke channel, surprisingly entertaining.

Good time to work on a foreign language

Impromptu spelling bee

Round robin storytelling—one person starts and you take turns going around the room. I can see your girls having a great time with this!

For times table practice sometimes I make them run up and down the hall while I call out problems. For beginners you can give the problem and they give you the answer when they get back, it gives them time to think.

Count all the squares/rectangles/triangles etc in the room. This can get tricky! Doors and windows can have many subdivided rectangles, etc. (I remember once looking at a large window at our church in Virginia. Jane asked how many rectangles I could see. I counted something like 16. She then pointed out to me a total of 37 different rectangles!)

Book scavenger hunt: assign a subject, like a lion. Everyone goes off to look for a book with a lion in it.
Oh how this makes me miss our baby days! Huck turned SIX today, how can that be possible???