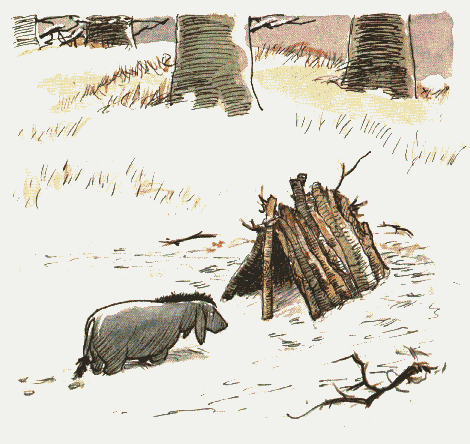 Small child straddling two barstools, running toy cars up and down the high counter. Another child sprawled on floor, drawing a picture. A third hovering by the cedar chest at the far end of the sofa, at loose ends. A leggy teenager spidering sideways in the comfy armchair. A perfectly typical scene of mild morning chaos.
I curl up in my rocking chair with House at Pooh Corner. The younger set hasn't heard it yet, in that way that shocks me. They are six, almost nine, and eleven, for Pete's sake! How could such a thing have happened? Answer: SO. MANY. BOOKS. With no fanfare, I open it and start reading.
The child on the floor flashes a starry grin and scoots closer, her pencils rolling under my feet. The child at loose ends looks up, ears perked. The small one zooming his cars around seems not to notice, but all the engines appear to have undergone sudden tuneups: their roars diminish to silky purrs.
It takes me a minute to find Pooh's voice. It's been a few years, after all. Piglet is easy and Eeyore—this revelation would no doubt astonish him—is a delight. It's snowing, tiddley pom, but at least there hasn't been an earthquake.
The cars have abandoned the counter and are crossing a bridge of air toward the Hundred Acre Wood. The teenager's limbs have been transferred to the sofa. The no-longer-hovering child has claimed ownership of the big brown armchair. Nobody knows, tiddley pom, how cold my toes are growing. The postman rattles the lid of the mailbox, delivering the day's contingent of recyclables. Pooh's voice has settled down, and the wind must have blown Eeyore's house over the wood because there it is, just as good as ever, and better in places.
It's a beautiful house, tiddley pom.