1. Piano recital: accomplished. And swimmingly, I might add. Particularly sweet this year because the music school divided the recital students into smaller groups (fewer classes lumped together into each recital), which meant our girls' three classes were part of a five-class recital consisting mostly of good friends, families in our homeschooling circle. Best part: the way Huck (not yet a student) gasped in delighted recognition at the songs played by the beginner class (a level below Rilla's group), because he recognized all the songs from last year when Rilla was learning them. Next year it will be his turn to begin! Hard to believe.
2. The drought, oh the drought, it has hit my garden hard. I've planted a lot of drought-tolerant natives over the years, so things are limping along, but still, it's pretty grim out there. As it must be: flower-gardening will have to be one of the indulgences we let go in the new normal that is our hot-and-getting-hotter world. At least here in this dry-and-getting-drier state. Some of my work this year has involved a lot (a LOT) of research into California's drying aquifers and the truly shocking lack of Sierra snowmelt and its impacts, and the sobering percentage of reduction of water deliveries to certain small towns from the State Water Project, and, well, you can't face those facts and go on lavishing water on delphiniums. I'm becoming something of a vicarious gardener once again—the way I was in grad school when I confessed to the poet Robert Pinsky, whom I was tasked with picking up at the airport for a reading, that my habit while driving around town was to re-imagine the landscaping of all the yards I passed. Only now I'm mentally tearing up all the thirsty lawns around me in this desert. But I may have to find room for an annual trip to Portland in the spring, to soak myself for a few days in the glories of lush blossom and unfurling ferns. For now I must apply the tactic I used with much success back in those garden-deprived grad-school days: houseplants require very little water. Rilla and I went to work this week, taking cuttings and clippings to bring a bit of the bright outside indoors. And (influenced by Anne Shirley, of course) I've always kept windowsill geraniums with their cheery blooms perched on my kitchen sink—you can never go wrong with good old pelargonium. Thus this item belongs on a happy list even though its genesis is a bleak climate situation.
3. Kate Winslet does a smashing job with the voices in the Matilda audiobook. Rilla and I have one chapter left. We may not be able to wait for our Saturday-night ritual (audiobook + sketchbook time while the older girls watch S.H.I.E.L.D. with Scott) to finish. Which means I'd better come up with our next listen before Saturday…
4. Broadchurch Season 2. Wow.
5. Last night we watched a movie called Begin Again. Mark Ruffalo, Keira Knightley, and yet I had somehow failed to hear about it until Scott queued it up. (He has unerring instincts for films that will delight me.) I loved it. A lovely, thoughtful piece by the writer/director of Once. I'll watch it again.
What I'm reading this week
To the kids: House at Pooh Corner (still)
Myself: Connie Willis's Blackout (Determined to finish this time! The other times I've begun and set it aside, it wasn't because I wasn't interested. Other things just kept crowding in. We'll see if this time around is different.)
Photo of the week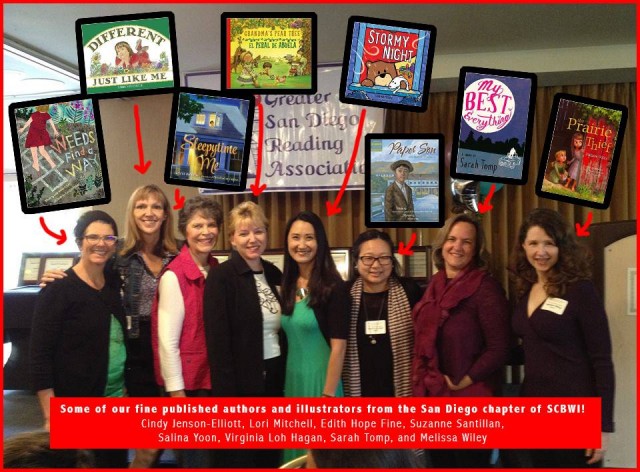 My friend Edith Hope Fine shared this photo, taken at last weekend's Greater San Diego Reading Association awards breakfast, on Facebook, and our pal Salina Yoon dressed it up with everyone's book covers. What a fantastic community of writers and illustrators we have here in San Diego! (Thanks, Edith, Salina, and—wait, who took the photo? I can't remember!)