I'm working on the big Huck-book companion to my Rillabooks post, but, well, you can fit a LOT of picture books on a shelf, see? So when I went around the house pulling things for Huck, I wound up with a mammoth amount of books. And of course we're reading them faster than I can get them catalogued. That Rilla post took me an entire weekend and I expect this one will be no different. In the meantime, here's a peek at things Huck has particularly enjoyed this week.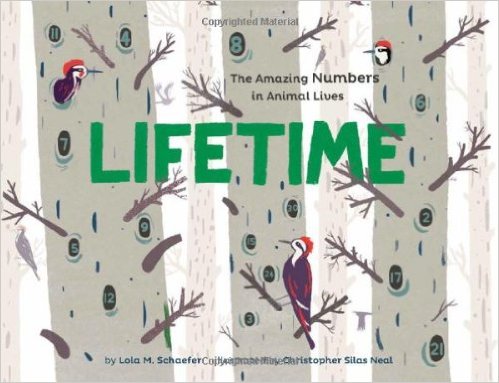 Lifetime: The Amazing Numbers in Animal Lives by Lola M. Schaefer, illustrated by Christopher Silas Neal.
This one landed on our doorstep recently from Chronicle for review. Huck claimed it right out of the package. The concept has fascinated both him and Rilla; it has been requested three times this week. "In one lifetime, this spider will spin 1 papery egg sac." "In one lifetime, this caribou will grow and shed 10 sets of antlers."—and on it goes, through many species and an ever-increasing, rather incredible range of numbers. (One seahorse! One THOUSAND babies! And here I thought I had a big family.)
I really love the art—bold yet simple colors against a black background. And you know we are suckers for good nature art around here.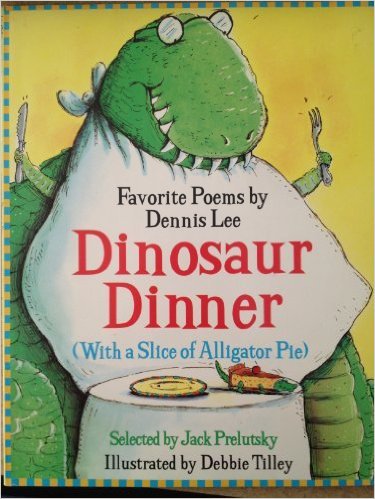 Dinosaur Dinner (With a Slice of Alligator Pie): Favorite Poems by Dennis Lee, illustrated by Debbie Tilley.
Looks like this one has gone out of print, more's the pity. But there are used copies to be found, or maybe you'll luck out and your library will have it. A giggle-inducing collection of nonsense poetry (arguably the best kind). I pulled this one out yesterday when a certain someone needed lifting out of a grumpy mood. I expected to read a sampling of the poems, but Huck begged for the whole book. No arm-twisting required.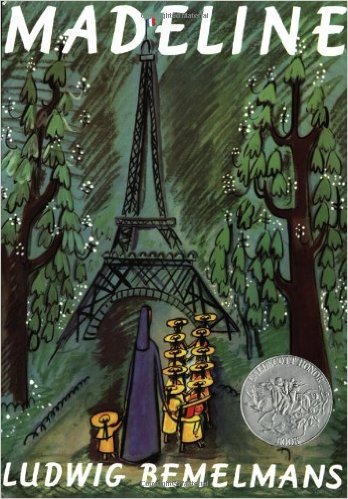 Madeline by Ludwig Bemelmans.
Sure, Rilla has heard this one so many times she knows it by heart. But somehow Huck had altogether missed it. This grievous oversight had to be rectified posthaste. He loved it, of course. Kept telling me to slow down so he could study the pictures. Especially "and frowned at the bad." And that tiger in the zoo, of course. Now, I know no one on the planet needs my recommendation of a book so tried-and-true, but I include it here as a reminder (much-needed in this household) to make sure the smallest fry don't miss out on all the gems you read one thousand times to older siblings. (Rilla very nearly missed Miss Rumphius this way!)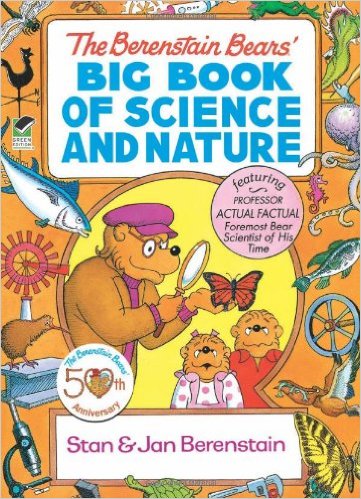 The Berenstain Bears' Big Book of Science and Nature. I thought for sure I'd written about this one at length before. Must have been on a message board, because all I found in the archives was this—from March, 2005! (Oh my heavens.)
Too chilly to stay long. Back inside, the 9yo copied out a passage from Mossflower (a la Bravewriter) while the 6yo practiced piano and I read to the 4yo. She is loving the Berenstain Bears' Big Book of Nature. Also the Lion Storyteller Bedtime Book (which we never read at bedtime.)
Oh, you guys. Ten years later, those little girls are now so OLD. And here I am still reading the same books to my younger set. Lion Storyteller is on Huck's shelf this very minute and is slated for my big post. And the paragraph right above the one quoted here, I talk about "our current read-aloud, Ginger Pye." When we conferred to select a new read-aloud today, that very book was Rilla's first choice—until she realized I meant a book to read to both her and Huck. For some reason (this comes up now and then) she has zoomed in on Ginger Pye as a book she wants me all to herself for. I grok that impulse. One-on-one time is important when you're one of six.
(Another tidbit from that old post: I'm giggling at the bit about Jane "settling in to watch a History Channel show about gasoline." As one does.)
But back to the Berenstains. This Big Book of Science and Nature is tremendously appealing to the four-to-seven crowd (judging by my kids). It explores seasons and nature in an almanac style and is full of the interesting facts. I pulled it out for Huck this morning and he fell into it immediately. I thought I was going to be reading it to him—or with him, at least—but he was so instantly and deeply absorbed that I wound up doing something else. Glad this one is still intact (and a bit surprised, given all the attention it has received over the years).
All right. Back to Giant List-Making.
Related post: