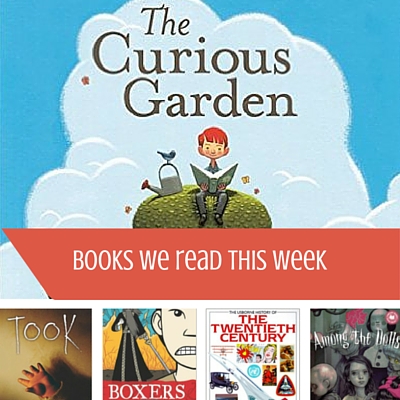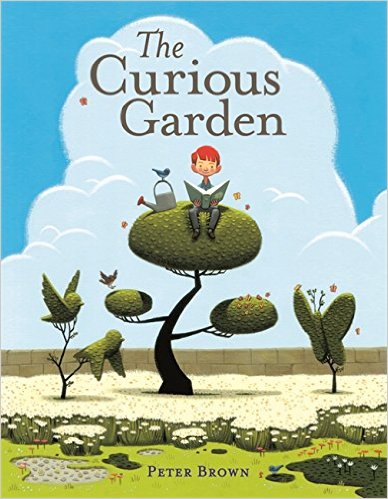 The Curious Garden by Peter Brown. Little Brown Books for Young Readers, 2009. Review copy received from publisher.
Read to: Huck.
Gorgeous art in this sweetly captivating tale of a boy who, wandering the sterile streets of a bleak city, finds a little outpost of thriving weeds and wildflowers on an abandoned elevated rail track.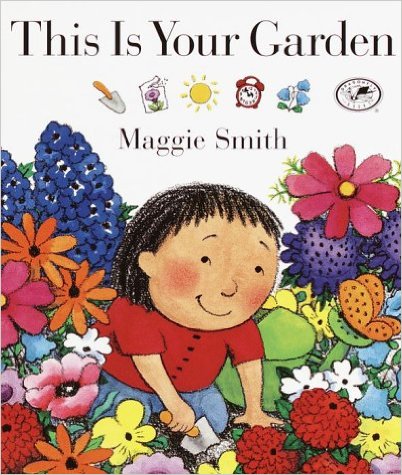 He begins quietly tending the green and growing things, and his found garden begins to spread, gradually transforming the city—and its people.
We've loved every Peter Brown book that has walked through our doors, and this was no exception. It's the art that makes it magical, the wave of vibrant green creeping across the city. Makes a lovely companion to an older picture book that has long been a favorite here: This Is Your Garden by Maggie Smith (now out of print, alas, but available used).
---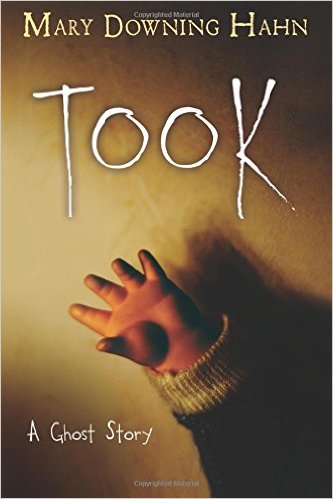 Took: A Ghost Story by Mary Downing Hahn. Clarion Books, to be published Sept. 15, 2105. Advanced review copy received from publisher via Netgalley. Read by: me.
Middle-grade horror story about a (formerly) wealthy Connecticut family who moves into an old West Virginia house near a haunted cabin in the woods. Every fifty years an evil, ancient ghost—known locally as Auntie—kidnaps and ensorcels a young girl. The main character is Daniel, a 13-year-0ld boy who doesn't believe the wild tales he hears from kids at school—until his little sister goes missing. A suitably creepy tale which will appeal to readers of Vivian Vande Velde's Stolen.
---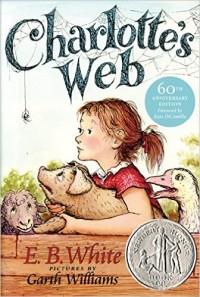 Charlotte's Web by E.B. White. HarperTrophy. My copy: purchased with my employee discount at the children's bookstore I worked at during grad school—with a dream in my heart of one day having children to read it to. Read to: Huck and Rilla (chapters 1-4).
After we finished Winnie-the-Pooh, my youngests picked this for their next read-aloud. Great joy is mine because they are the perfect ages (six and nine), just absolutely perfect.
*In related news, I need to add another row to my Rillabooks post. Conversations ensuing its publication resulted in the addition of four more books to her already overstuffed shelf:
Charlotte's Web (which it turns out she didn't remember hearing before—she was probably pretty little last time it came around);
From the Mixed-Up Files of Mrs. Basil E. Frankweiler (because OBVIOUSLY, and what was I thinking, leaving it off?);
The Mysterious Benedict Society (which I had thought to save for another year or two, but I am informed I was mistaken); and
The Two Princesses of Bamarre (whose appearance in a photo of books that almost-but-didn't-quite make the original list sparked a flurry of happy reminiscences among Jane, her 21-year-old cousin, and Alice's oldest daughter, aged 22, causing me to reconsider its omission).
---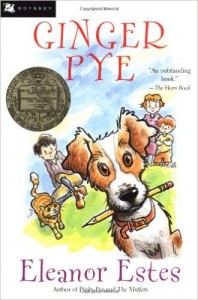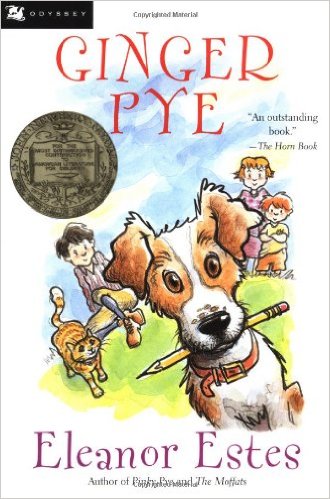 Ginger Pye by Eleanor Estes. Harcourt Young Classics. My copy purchased when Jane was about eight years old. Read to: Rilla. 
This was Rilla's first read-aloud pick from the Rillabook shelf. She was quite keen to have me read it just to her (no brothers involved). She giggled mightily over the meet-cute of Mr. and Mrs. Pye (with Jane popping in to shriek over the startling fact—which went over her head at age eight—that Mrs. Pye was just seventeen when she married. We began this book the day after Rose's seventeenth birthday, which put it into stark perspective). Methinks Rilla and I will have fun with this. I'm not sure I've read it aloud since that first time (gulp) twelve years ago.
---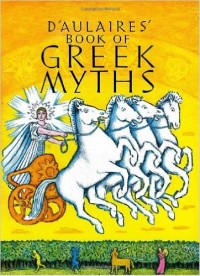 D'Aulaire's Book of Greek Myths. Read to: Huck and Rilla. Rose's copy, purchased some years ago to replace her first copy, which was read to tatters. Read to: Huck and Rilla.
Monday and Friday are our Greek Myths days. This week's selections were about Hera and Io, and Hephaestus and Aphrodite.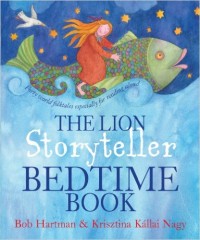 The Lion Storyteller Bedtime Book by Bob Hartman. Lion Children's Books. Our copy, purchased for Beanie at age four. Read to: Huck and Rilla.
Tuesday and Thursday are folk and fairy tale days.* This week, they picked "Tortoise Brings Food: A Story from Africa." A grumble with this otherwise charming book: that nonspecific from Africa. The other stories are "from Greece," England, Finland, Puerto Rica, Australia, Wales, Japan, and so on. How about "from Kenya" or Ethiopia or Nigeria? Native American stories get a similarly vague treatment: "from North America." I'd like a word with this book's editor. But the stories themselves are amiably written and a good size for reading aloud.
*Any day is a great day for a fairy tale or Greek myth. I just assign them days in my head to ensure that I make the time. The kids don't know about it.
---
Among the Dolls by William Sleator. Knopf Books for Young Readers. An old copy I brought home from work. Read by: Rilla.
Me: So how do you like it so far?
Rilla, emphatically: I DON'T.
Me: Too scary?
Rilla: It's terrible! She's trapped in the dollhouse and they're being mean to her AND HER MOTHER WALKED RIGHT BY WITHOUT EVEN HEARING HER.
Me: Are you going to keep reading?
Rilla: ::doesn't hear me, is already immersed again::
---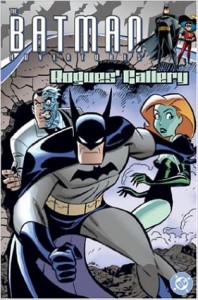 Batman Adventures: Rogues Gallery by the devastatingly handsome Scott Peterson (oh, fine, and Dan Slott and Ty Templeton too). Read by: Wonderboy.
This is a digest-sized compilation of several Batman Adventures stories. The Batman Adventures and Gotham Adventures comics of the 90s were aimed at kids, unlike most Batman comics. It's nice to see them a book-sized edition that can survive on a library shelf.
Huck enjoyed this collection too, and it only took him five times through to notice that his daddy was listed as an author.
---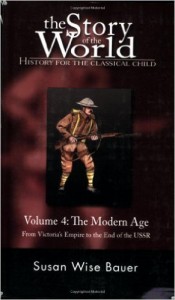 The Story of the World, Volume 4: The Modern Ages by Susan Wise Bauer. "The Boxer Rebellion" chapter. Read aloud to: Rose and Beanie.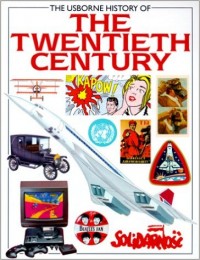 While aimed at slightly younger readers, I find the Bauer series to be useful in setting the stage for more advanced studies. We're doing the 20th century this year, my teens and I.
The Usborne History of the Twentieth Century. Read/explored with: Rose and Beanie. Again, for context. Mostly we just pored over the overview page at the start of the century. We'd read about Teddy Roosevelt last week in Landmark History of the American People, and this week we found a few videos about him.
---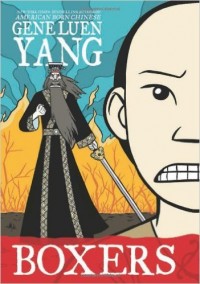 Boxers & Saints by Gene Luen Yang. First Second Books. Copies received from publisher. Read by: me. On deck for Rose this week. Bean has already read them.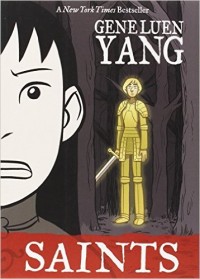 Gene is a friend of ours whom we see far too seldom (mainly at SDCC). He is spectacularly talented, but no one on the internet needs me to tell them that. I'd been meaning to read Boxers & Saints, his graphic novel duo about the Boxer Rebellion—told from two different points of view, thus the two books—since the day they were announced. Reaching this time period in my teen's history studies meant now was the perfect time. Deeply absorbing, unsettling, moving, and educational. I always appreciate Gene's thoughtful exploration of people's motivations, and the fearless way he unpacks his characters flaws along with their strengths. Beautiful, beautiful books. Highly recommended.
---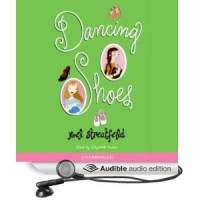 Dancing Shoes by Noel Streatfeild. Audiobook. Listened to by: Rilla and me.
The current pick for our Saturday night sketchbook date. After all the Roald Dahl we enjoyed all summer, this Streatfeild gem got off to a bit of a slow start for Rilla, but she's well and truly hooked now. Hilary is about to perform her Dulcie-Pulsie dance in the talent competition. Pulses racing. Delicious.
---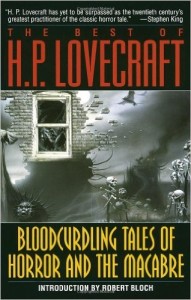 The Best of H.P. Lovecraft. Scott's copy. Read by: Rose.
Her first encounter with his work. I haven't heard her reaction yet—looking forward to it.
An Old-Fashioned Girl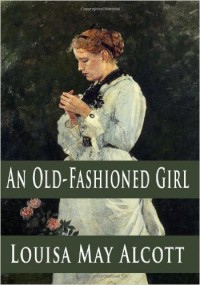 by Louisa May Alcott. My old copy. Read by: Beanie. (And I need to revisit it this week.)
A friend of hers is reading it for her homeschool program, so we and some other chums have joined in. We'll be discussing it soon. I'd better revisit it right quick!
---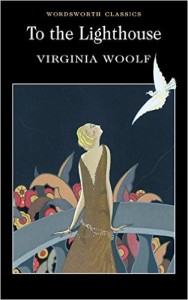 To the Lighthouse by Virginia Woolf. Kindle copy. Read by: me.
Woolf is one of my gaps, which is odd when I think of it—she's so right for me. I'm sure we did A Room of One's Own in women's lit, but somehow she never appeared on a syllabus after that. I've been determined to rectify this glaring omission and this summer I have finally found the time. And OH MY. She's just…she…I want to quote everything. Her prose—I mean, I knew that about her. But only from the outside. Now I'm inside and I can barely speak. I've highlighted so many passages, it's a bit ridiculous. I'll pull some quotes into a commonplace book when I can.
---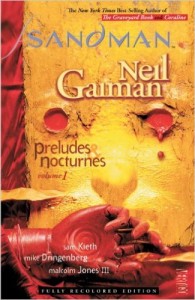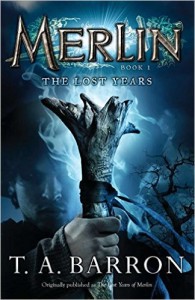 Scott is rereading Sandman, and I couldn't begin to tell you what my older girls are reading these days—I can only keep up with so much. Rose got a bunch of T.A. Barron's Merlin novels for her birthday, I know that. (Since I wrapped them.) 😉 Beanie pops up with interesting tidbits gleaned from National Geographic (her favorite magazine). Jane was toiling through some Kant in preparation for a philosophy class she'll take at school this year. I've also seen some Maggie Stiefvater in her library pile.
---
Do you know, I thought this would be a quick and easy post? I'd just dash off a list of things read around the house this past week. Turns out I am delusional. But it was fun!
Related: