September 16, 2015 @ 4:37 pm | Filed under:
Books
I'm taking Jane back up the coast to college this weekend, so I probably won't get my Sunday book recap posted. So here's a (less comprehensive) midweek update instead. This has been a week for finishing, it seems! Charlotte's Web, Dancing Shoes, and Vanessa and Her Sister.
Huck was furious with E.B. White over Charlotte's death. FURIOUS. "Why did he have to write it that way?" he stormed. "He could have made it go different."
In other words, to quote Annie Wilkes from Misery: Cockadoodie.
By the next evening, his ire had subsided a bit. I read the final chapter over dinner (I've been feeding Huck and Rilla before the rest of the family, netting a little extra read-aloud time). Listening intently while poking shredded carrots through his bread-and-salami—don't ask me, I'm just the narrator—he interrupted the penultimate paragraph to say, in a dreamy, Fern-like tone, "But this book should never end. It should go on forever."
I know that feeling, my boy. Not about this book specifically, I have to admit—knowing what was coming, and knowing that this would likely be the last time I read Charlotte's Web aloud to my own children, I had a lump in my throat through the final few chapters and it was something of a relief, albeit a bittersweet one, to make it through the Last Day and leave the fairgrounds behind. Goodbye, Charlotte, you good writer and true friend. Goodbye, Charlotte's daughters.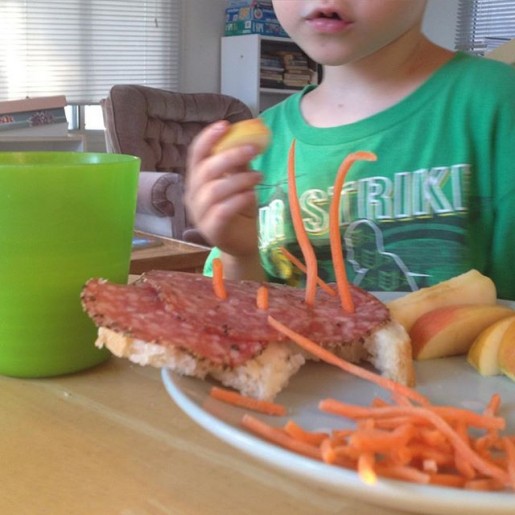 Goodbye, very odd open-faced sandwich.
The next day, yesterday, presented me with a grave decision. What, pray tell, is the right book to choose after the epochal experience that is Charlotte's Web? I pondered many options—the Rilla-shelf is, of course, full of possibilities. But this book has big shoes to fill. And a Huck-and-Rilla book is not the same thing as a Rilla-book. I pulled a dozen contenders off the shelf, considering.
At last I made a choice, and judging from the rapt reactions to the prologue and first chapter, it was a good call.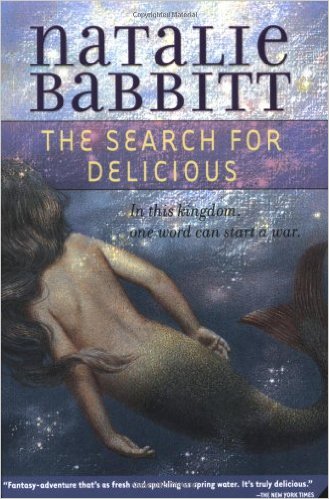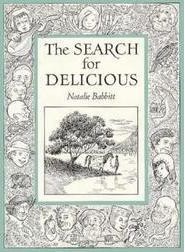 (current cover / proper cover)
The Search for Delicious by Natalie Babbitt.
Unlike many (most?) of the books on the Rilla-shelf, this isn't one I've reread a dozen times. In fact, I'm not sure I've revisited it since age eleven or so. But I've never forgotten it, the impact it had on me—Babbitt does that to one, of course. You never get over Tuck Everlasting. And I've never stopped thinking about conflicting perspectives and the strife that can result when people dig in too deeply to an opinion and don't try to see others' point of view. A thousand times in my life, I've taken a drink of cold water on a hot, thirsty day and flashed back to the cover of this book, or to an illustration near the end. It defined "delicious" for me.
(Hint: it does not involve a sandwich stuck full of carrot bits. But Huck may have a different perspective on that.)