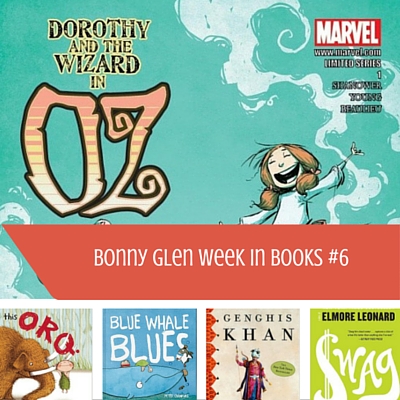 Happy November! Just a quick list (no commentary) for this week's books recap—my weekend is running away again.
Family Read-Alouds:
I finished The Search for Delicious. The kids were glued to every page. Stay tuned for a Periscope in which I will discuss what book I chose for our next read-aloud and how I arrived at this choice. I'll also talk a little bit about how I approach character voices.
Speaking of doing voices, Scott just started reading the first Harry Potter book to Rilla. His Dumbledore is magnificent.
Some of the picture books we enjoyed last week:
Ninja Baby by David Zeltser and Diane Goode
No, That's Wrong! by Zhaohua Ji and Cui Xu
Blue Whale Blues by Peter Carnavas (links to pdf)
The Berenstain Bears and the Spooky Old Tree by Stan & Jan Berenstain
This Orq (He Cave Boy) by David Elliott. We received a copy of this book from a friend at Boyds Mills Press and it became an instant hit. I booktalked it on Periscope on Thursday, if you'd like to hear more about why we fell in love with it. (The link will take you to katch.me where my scopes are archived, or you can scroll to the bottom of this post and watch the replay there.)
What Rilla read:
The Best-Loved Doll by Rebecca Caudill
Several Oz graphic novels (see this post for more about why they're her favorite books)
Rowan of Rin by Emily Rodda (in progress)
What I read:
"The Purloined Letter" by Edgar Allen Poe for a class I'm teaching
Around the World in 80 Days by Jules Verne (in progress), also for the class — this is Beanie's reading list, too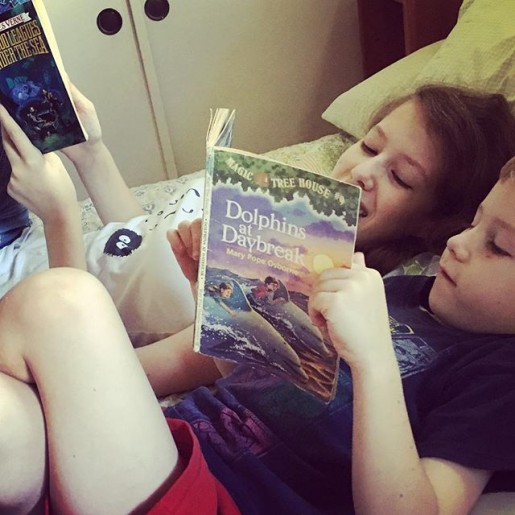 Beanie also read:
Genghis Khan and the Making of the Modern World by Jack Weatherford
20,000 Leagues Under the Sea by Jules Verne
I know I'm forgetting something. And I forgot to ask Rose for her list at all!
My boys are both enjoying:
The Magic Tree House books — they're both working their way through the series. It's such fun to see them side by side with their coordinating books. 🙂
Things Scott has recently read:
Light and Shade: Conversations with Jimmy Page by Brad Tolinski
Swag: A Novel by Elmore Leonard
Comfortably Numb: The Inside Story of Pink Floyd by Mark Blake
The Light That Never Goes Out: The Enduring Saga of the Smiths by Tony Fletcher
News!
I've launched a series on Periscope. I'm calling it "Something Old, Something New, Something Borrowed, Something True" — this will be a regular feature in which I do my favorite thing: talk about books. A family favorite (that's the "old"), a new gem, a library book, and a nonfiction title. I tried out the format last week and I think it's going to work nicely! Here's the first installment. I'll announce future editions here and on Twitter.
Related:
Would you prefer to receive Bonny Glen posts via email? Enter your email address below to subscribe: