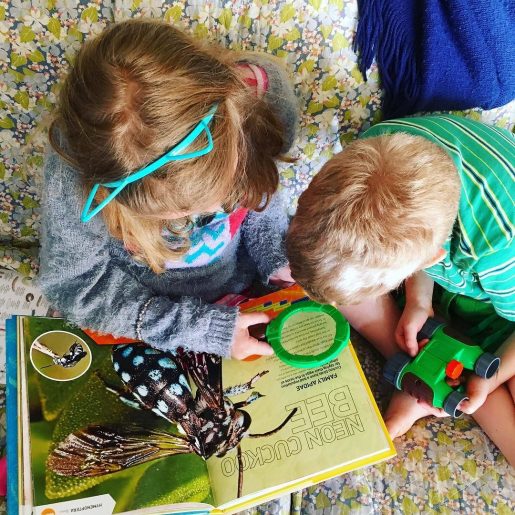 A lot of the replies to my blog-topics post asked for more glimpses of our tidal homeschooling days, especially how I work with my teens and my elementary-aged kids at the same time. So here's a peek at a fairly typical Tuesday morning. The broad strokes—the basic rhythms—of our days stay consistent, four days a week (with one morning given to group piano and [for Beanie] literature classes). The details (what exactly we read, do, discuss, sing) vary, but the shape is the same—sort of like a muffin pan. Yeah, that's it. Our days are like muffins, alike in shape, but we vary the recipe quite a bit. Make sense?
So—during high tide, we do lessons from 9 to noon, more or less. Noon to 1 is lunch and (often) a read-aloud. From 1-3 the younger kids get gaming time (iPad, Wii) and then they play outside most of the rest of the day. The older girls spend their afternoons reading, writing, gaming, walking, and whatever else they have on tap. I work (write) in the afternoons, and sometimes pop out to teach weekly classes to other homeschoolers. For example, I wrapped up a six-week poetry workshop yesterday with a lively group of boys who always keep me laughing. Love those kids.
Anyway, here's our Tuesday morning.
9 a.m.
Beanie is outlining her Tempest paper for the weekly literature class I teach to her and a few friends.
Huck is playing with refrigerator magnets.
Rilla has drawn a scene from the story of Elissa of Carthage, and is now writing a description under the drawing, complete with Phoenician letters for the names.
Now Huck is noodling around on the piano.
9:15
Read Stone Soup to Huck. Rose stopped unloading the dishwasher to come listen—she says it's one of her favorite stories from childhood.
While I read, Rilla finished her Elissa of Carthage passage. Beanie moved to another room for better concentration.
9:30
Rose finished the dishes and began making pretzel rolls for our teatime. Huck, Rilla, and I did our morning stretches and recitations. That word sounds so formal! What we do is quite casual. About four mornings a week, we gather in the living room for some singing, memory work, and movement games. It goes something like this:
—We move through a series of stretches (this is mostly for me) which include two planks. During the first plank, we skip-count by sixes; during the second, by sevens.
—Practice the Shakespeare speech or poem we are currently memorizing. Huck, Rilla, and I learn these all together, and usually the older girls wind up knowing them too, because they're hearing us recite them all the time. This year, I've been using Ken Ludwig's Midsummer Night's Dream passages from How to Teach Your Children Shakespeare. I had already had Pucks "merry wanderer" speech in mind for Huck and Rilla to learn this year—I earned a small scholarship for performing that one during college, so I'm extra fond of it—when I read the Ludwig book (last summer) and decided his approach meshes perfectly with mine. So: this year they've learned "I know a bank where the wild thyme grows," the merry wanderer monologue, the "Lord what fools these mortals be" speech, and now we're working on Puck's final speech ("If we shadows have offended").
—Then we sing an assortment of memory songs and folk songs. Today it was: U.S. Presidents song; United States song; Horrible Histories English Monarchs song. Yesterday was the same lineup plus Skye Boat Song—a family favorite. This is an informal (meaning not planned-in-advance) part of our day, and basically I just starting singing things and the kids join in. Our Presidents and States songs come from an old Singin' Smart cassette (cassette!!) I bought back when Jane was little, circa 1999. I wish I could find the booklet—there were some other useful tunes in there. I remember the melody for the U.S. Capitals song and have been meaning to print up a list so my littles can learn to sing along. I'm a big fan of music for anything requiring rote memory. We lean heavily on Schoolhouse Rock around here. Last year our mornings were dominated by French songs, as you may recall.
—This week I started Huck and Rilla on the Latin vocabulary chants from Latin for Children Primer A. We are not doing the workbook—just the rhythmic vocab chants: amo, amare, amavi, amatum and so on. Again, this was something that worked really well with my older set and is a solid, painless way to implant a bunch of Latin roots. We also enjoy my friend Edith Hope Fine's Cryptomaniacs workbook (Greek and Latin roots)—Rilla will be using that steadily next year.
10 a.m.
Rose's rolls are in the oven. She's playing piano. Beanie is doing German on Duolingo. I send the littles outside with a snack.
10:15
Rose heads to her room to maybe do some math? She's taking business math this year. Yesterday we slogged through the compound interest chapter together. I know you're jealous. Beanie's studying geometry, which I find much more entertaining.
I call Huck and Rilla back inside for some history. I read them the Elizabethan Era chapter from A Child's History of the World—Walter Raleigh, Roanoke, Shakespeare. Long side-discussion of tobacco was sparked by a mention in the chapter. Also a lot of discussion about Roanoke because who isn't fascinated by that story? I mention to Rose (who is back, checking on her rolls) that Gwenda Bond has a YA novel about Roanoke she might enjoy. This reminds us we need to return some books to the library.
10:45(ish)
Rilla has done a little Math-U-See, and Huck and I had an impromptu chat about the short E sound. He is reading incredibly well these days, devouring Boxcar Children books with ease. I picked up an easy spelling workbook a couple of weeks ago and pull it out occasionally to talk about sounds with him. Rilla is the first of my kids to need some deliberate, steady spelling instruction (she's using a Spelling You See book this year and really enjoying it because it came with a set of erasable colored pencils, which (art supply) is the key to her heart. With Huck, age 7, I'm now casually pulling out some light spelling games to help him start making those phonics-y connections.
Okay, so that was going on but only for a few minutes, and now Rose's pretzel rolls are ready. We hurry to the table to enjoy them while they're warm. Tuesday mornings are our Poetry Teatime—which for us generally means Something Rose Baked and a glass of milk. I usually grab our battered Favorite Poems Old and New and read six or seven poems. Not a week goes by that they don't beg for their favorite, "My Son, Aged Three Years and Five Months"…some days I have it in me, and other weeks I'm not up to the performance. When you do that poem, you gotta DO that poem. 🙂
11:10
Huck and Rilla have gone off to play together. This usually means I will find my bed turned into a fort later. Last week, it became some kind of Monkey Kingdom and I had stuffed primates hanging from the miniblind cords all week.
Time for some history with Rose and Beanie. Today was a selection from Don't Know Much About American History, one of several books we rotate through. Charles Lindbergh, mostly.
11:45
I go grab a sweater from my room. Sure enough, every pillow in the house is piled high. I send Huck and Rilla to get their shoes on. Rose and Beanie are at the piano again, working out a duet—Beanie began taking violin lessons a few months ago and likes to try to work out simple accompaniment to the pieces Rose is working on for piano class.
Everyone piles into the minivan for a quick library run. We have a million things to return. Rilla found a new graphic novel, Jellaby: The Lost Monster, that looks fun. Rose recommended Sarah Zettel's Palace of Spies for Beanie—a YA historical novel I read for the 2014 CYBILs and passed along to Rose when I finished.
12:30
Home for a late lunch. I forgot to read our chapter of From the Mixed-Up Files of Mrs. Basil E. Frankweiler! I'll have to try to squeeze it in after dinner. This is because—in an unprecedented development—I went into Scott's office (aka our boys' bedroom) to give him a package that had arrived, and I stretched out on the bed just for a second and fell asleep. I never nap.
1:05
I guess I napped. Scott is amused. I'm totally discombobulated. Wonderboy is just arriving home from school and the littles are already deep into Terraria. Jane is pinging me from college. My afternoon has begun.