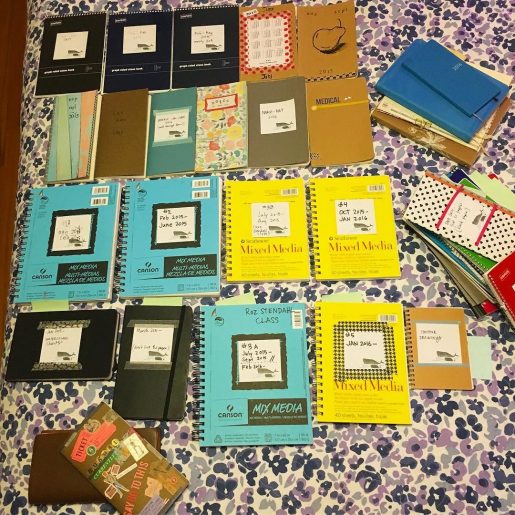 So this is not a great photo but the sight of all these books spread out on the bed delighted me. And also caused me not a small amount of chagrin—mainly that toppled stack of half-filled notebooks on the far right. This is the past two years in paper: August 2014-2016. I hadn't realized how many sketchbooks I have filled since I started my daily drawing project two years ago this month!
The top two rows are my notebooks, about which I've written much in the past. They contain a hodgepodge of notes, task lists, doodles, and sketches. I used to always use small, lined spirals like the red one leaning against the stack on the right, but a couple of years ago I shifted to the black steno books up top because I like gridded paper better. Then I switched to Moleskine's Cahier size with the kraft covers—and those are perfect little everyday scribble books, in my opinion. There are three completely filled ones in this photo (one has a gray cover, second row) plus the one I use for all our family medical notes. There's another gray one in the only-partially-filled stack—I used about a third of it on sketches and notes at the Brave Writer Retreat last month.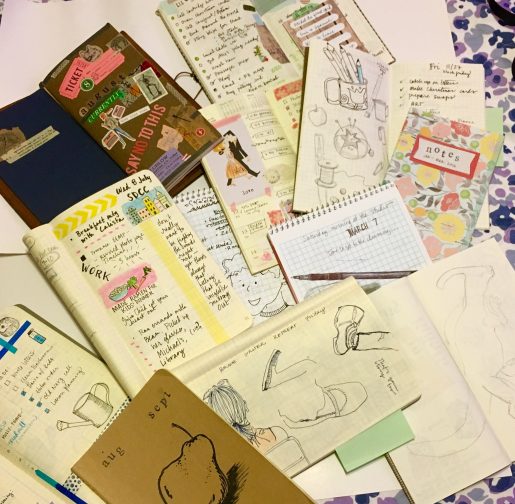 The four skinny books in row two are Midori Travelers Notebook inserts. When my pal Kristen gave me a Midori last fall, I abandoned the Moleskines (for the most part—I do grab them occasionally, as with the Bravewriter one). On the bottom left is my current Midori insert. I remain as fervently in love with my TN as ever, although I have scaled down the number and type of inserts I tote around in it. Right now I just have the gridded catch-all (collaged cover, pulled out of the cover for this photo) and a zipper pouch containing washi samples, stamps, and ephemera.
The lower two rows are my sketchbooks—although as I said, the notebooks are also crammed with drawings. In fact, I find I often prefer sketching on gridded notebook paper—I feel freer, less fussy, less concerned with getting things right. The stakes are somehow lower.
But I do love working on good sketchbook paper. The blue Canson Mixed Media books are probably my favorite type—I have learned that I prefer spiral bound sketchbooks, and I like paper with a little bit of tooth. The smaller yellow Strathmore books are also great. In fact, their paper quality is probably better and the smaller size is good for carrying around. I have completely filled two of each, and I'm working simultaneously in the ones on the bottom row. Not really any rhyme or reason to which one I pick up on a given day. Whatever's closest to hand, usually.
The black Moleskine sketchbooks on the bottom left see a lot less use. The horizontal one contains watercolor paper and is quite lovely, but I mostly only use it for color charts. (A semi-obsession.) The vertical one is Moleskine's standard sketchbook and it took me about twenty pages to realize I kind of hate the paper. Too smooth. I like texture and skritch. I was excited to discover I have a preference! It's too bad, because I love the compactness of that book. It would be much easier to carry around than the Canson or Strathmore spirals.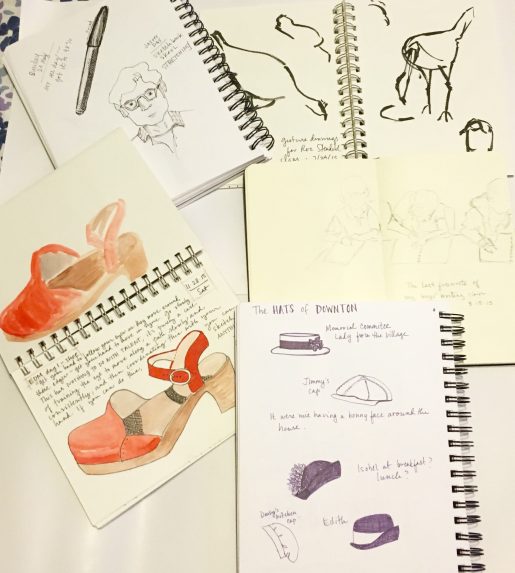 I've realized, though, that I don't—at this stage, at least—do a lot of sketching or painting out in the world. When I do, it's in one of my grid notebooks. I like the real sketchbooks for working at my desk, on my bed, or on the kitchen table. I have another big one with watercolor paper that isn't in this photo. It doesn't have much inside it just yet—mainly just the paintings I did at Jane LaFazio's watercolor workshop last spring.
Middle right of the photo: my little stack of planners. Wild Simplicity Daybook, Hobonichi Cousin, Hobo Weeks. The Daybook is for homeschooling notes; the Cousin is my current bullet journal/daily calendar/scrapbook; the slender Weeks is my go-everywhere appointment book. I've done plenty of chattering about them before so I won't elaborate here.
And then there's the pile of Incompletes. I thrive on change, what can I say? Some of those books were begun for specific projects—many have to do with grants I worked on this past year. I'll fill up the extra pages with sketches and doodles. Eventually.
Related:
2015, Year of Paper
Planner Love
Notebookery
Unearthed: the Notebooks