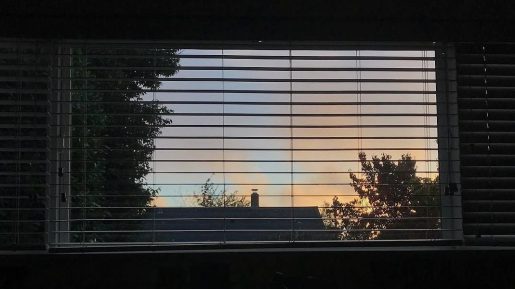 My morning view is changing. From the reading chair in my studio I look out upon my backyard neighbor's roof, and my next-door neighbors' trees. This photo was taken on October 25th or 26th. Two weeks later, the trees on the right and the ones behind that chimney are bare. The robins that hopped in and out of that big magnolia on the left all day long seem to have moved to warmer quarters. I was surprised by how long they stuck around!
I worked a lot this weekend, so this morning I feel like I could use…a weekend. 😉 Instead, we have a full day in store: an audiology appointment for S, and then some lesson time with Huck and Rilla, and then I have another issue of The Arrow to wrap up.
But I feel like the major task I want to accomplish today is deciding what book to read. My option paralysis has hit again, something awful. I've read about twenty beginnings since the last book I finished. It's maddening. I think what I'm wanting at the moment is a book both absorbing and stirring, with humor and local dramas…like Guernsey Literary Society or Where'd You Go, Bernadette?
Maybe I'll just reread The Blue Castle for the four thousandth time while I make up my mind on something new.