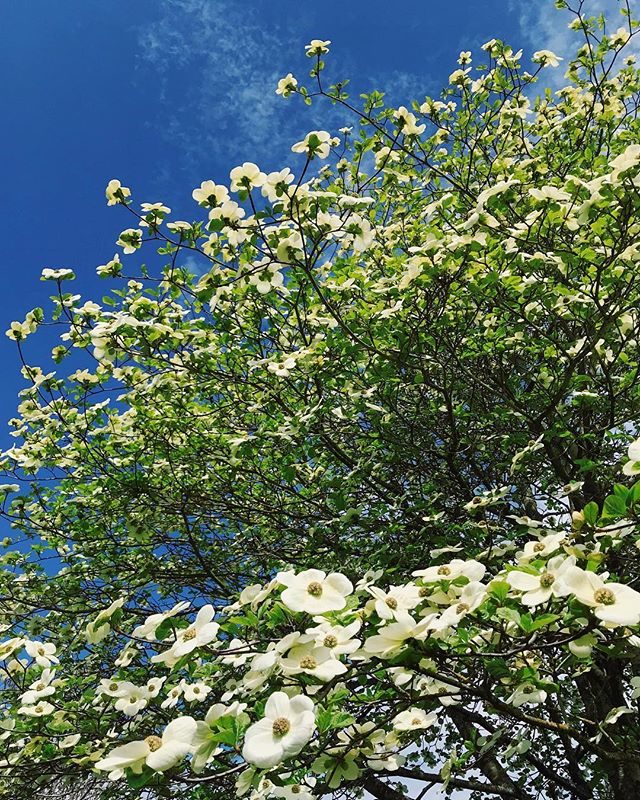 It's Saturday morning and I'm lazing in bed, drinking cocoa and dipping lightly into social media, which I mostly ignored this week. Saturdays are the only mornings my alarm isn't set for 5:45. I could sleep later on weekdays but my two boys get up around 6:45 and I really love having that quiet hour to read and write. I'm committed to the practice of poetry before screens, even if some days it's a bit of a wrench to drag myself out of bed that early. This week was extra challenging because I take allergy medicine at bedtime, and its soporific effects last into the morning. Portland's spring is spectacularly lovely but it also wants to kill me a little.
I could take the meds earlier but I'm equally time-greedy about my evenings. I try to use 7-9pm as another block for creative work, with a break in the middle to go tuck in my Huckleberry, for whom this is still an important ritual. (My last little kid, y'all…Rilla became a teenager this month. Can you believe it?) Then Scott and I watch an hour of TV, and then I read in bed for a while, where "read" means "hold my Kindle in front of unseeing eyes until Scott gently removes it from my hand." Often I turn on the Kindle next morning to discover I highlighted random phrases as I dozed off, like:
tics. The simple action of sweeping
Or:
Norman was unaffected by her because
Uh, super helpful there, sleepy Lissa.
I learned last summer that as our Pacific Northwest evenings lengthen, I won't be able to resist that magical golden-hour light, so the 7-9pm time block for creative work will give way to long walks, and I'll have to find other ways to create room for playing with color and words. Of course in a way my whole day revolves around those activities: reading to and chatting with the kids, doing art projects together, working on various writing projects in the afternoons. But I've learned I need to give myself chunks of time for creative play that has no end-purpose—no deadlines, no expectations to meet. Lately I've been enjoying drawing houseplants—on index cards, mostly, because that's the ultimate low-pressure canvas—or doing Procreate tutorials on the iPad. (I'm trying to catch up to Rilla and Beanie. Their Procreate skills far surpass mine.)
Not that I have any wish to hurry spring along! I could linger here for another three or four months. My bitterroot is just beginning to bloom, and the dogwoods are in full glory. I remember last May as a month full of swoons—the light, mostly, that miraculous glow illuminating the clouds every evening, turning the air blue and gold.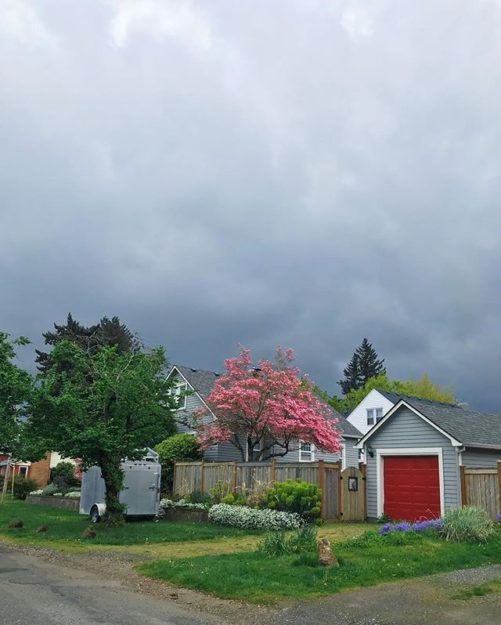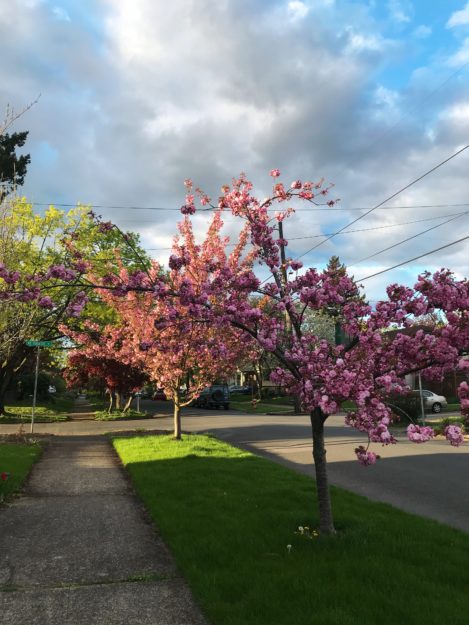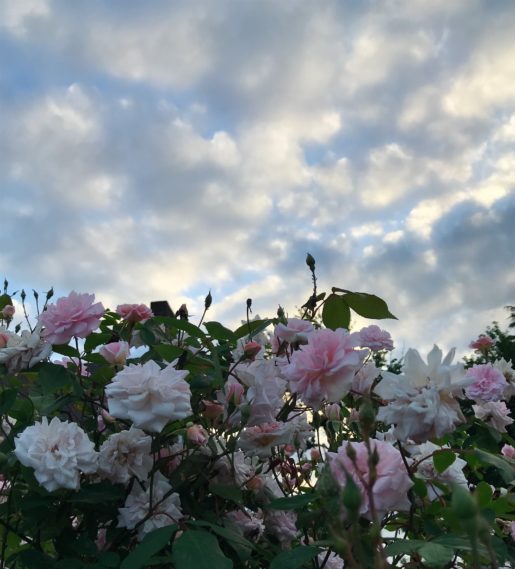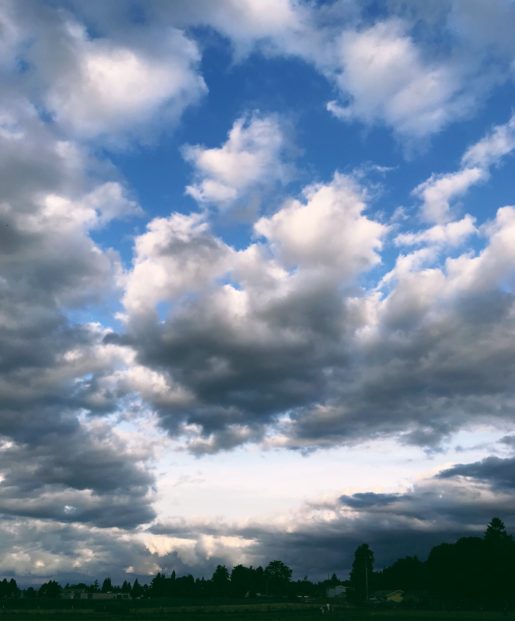 I may be getting carried away with photos—I have hundreds like this from last spring.

Some quick notes on things we read this past week:
—Began a readaloud of Where the Mountain Meets the Moon, a lovely novel by Grace Lin. I wrote a BraveWriter Arrow guide for this book last year; it was one of my favorites from the year's lineup. I've been looking forward all year to enjoying it with Huck and Rilla.
—Continued our nostalgia-read of Brambly Hedge. It's slow going because Rilla and I have to spend long minutes cooing over every tiny detail in the art.
—Rilla (my resident green thumb) and I have also spend loads of time poring over my treasured-since-college copy of Crockett's Indoor Garden. Rilla has taken charge of the houseplant-watering schedule, which is marvelous since I've been…unreliable on that front these past two years. My goldfish plant is getting ready to bloom, we repotted the aeschynanthus, Rilla's jade cutting, and a few other overcrowded treasures. Rilla has a small succulent collection that began with cuttings given to her by a neighbor whose cat she looked after for a week last summer, augmented by plants harvested from a beautiful succulent wreath my sister gave me for Christmas. And this week we inherited a large fennel volunteer that was taking over my friend Ron's vegetable bed. Trying to decide whether to plant it in a pot or in the small raised garden bed out back. The latter was probably sundrenched when it was built, but now the neighbor's magnolia is leaning over it, casting heavy shade over the bed for much of the day. Our fennel will probably prefer a spot on the sunny front steps.
My parents gave Rilla a big box of flower bulbs for her birthday (thirteen! did I mention?!)—dahlias, daylilies, glads, and I forget what else. So those will be going into pots this weekend. Luckily we inherited a dozen large clay pots from yet another neighbor who was clearing out her garage before a move. And a big bag of potting soil! Such riches!
My rosemary, thyme, sage, mint, and chives survived the winter. The basil, not so much. (Its demise was expected.) The potted blueberry has buds and there's a nice fat poppy coming up where I planned to repot the dahlia tuber Ron gave me when we moved in. My yarrow is looking lush and the foxglove has gone bananas! No flower stalks yet but the leaves are huge and abundant. And my tulips, oh! I can't get enough of them.
But I'm supposed to be writing booknotes here! Apart from things I enjoyed with the kids, I didn't get much reading done this week—I had an unusual number of out-of-the-house events in the evenings. I'm enjoying Austin Kleon's latest, though—Keep Going. Come to think of it, I read that one with the kids as well—they love his artwork.
I'm about halfway through Mike Monteiro's Ruined By Design, which is thought-provoking and somewhat chilling.
The world is working exactly as designed.

The combustion engine which is destroying our planet's atmosphere and rapidly making it inhospitable is working exactly as we designed it. Guns, which lead to so much death, work exactly as they're designed to work. And every time we "improve" their design, they get better at killing….

Design is also a craft with a lot of blood on its hands. Every cigarette ad is on us. Every gun is on us. Every ballot that a voter cannot understand is on us. Every time social network's interface allows a stalker to find their victim, that's on us. The monsters we unleash into the world will carry your name.

This book will make you see that design is a political act. What we choose to design is a political act. Who we choose to work for is a political act. Who we choose to work with is a political act. And, most importantly, the people we've excluded from these decisions is the biggest (and stupidest) political act we've made as a society.
Fascinating and unsettling, and it feels like an important conversation for this moment in time.
Today I'm in the mood for some entertaining fiction—maybe another Terry Pratchett since I so enjoyed The Wee Free Men. My only highlight in the Kindle edition: "an egg's worth of education." I read it aloud to the kids so that fragment can't have been the thunk of a sleeping hand on the screen. I guess I just liked the notion! (Tiffany barters eggs for knowledge when the scholars come to town.)
(Affiliate links.)

This week on Medium I shared a peek at how I used a Trello board to help with my novel revision. And squee—the most exciting moment of my week—my editor sent me the cover sketch for my new book and it's fabulous! I can't wait to share it. The artist is brilliant and the sketch just crackles with energy. I'm so happy. I think we'll have final art for it quite soon. Of course the book doesn't pub until summer 2020, but seeing the title in print makes it feel very real!
Happy last-weekend-in-April, my dears. I'd love to hear what you're reading and planting!