Heading to Cincinnati this afternoon. Or rather, heading toward Cinci this afternoon—won't arrive until fearfully early tomorrow morning.
I don't sleep well on planes (which maybe makes the redeye a dubious plan) so I've loaded up on podcasts & Kindle books for the trip. And took screenshots of some Celtic knot tutorials to keep my hands busy while I listen.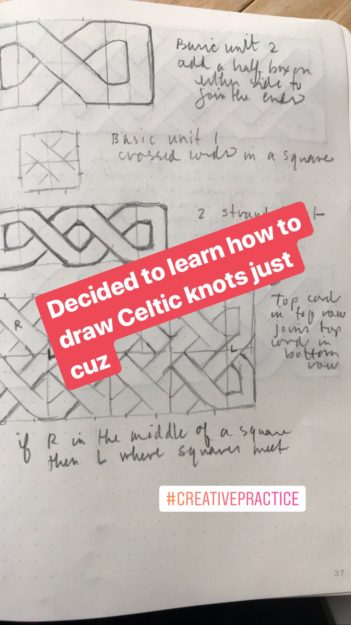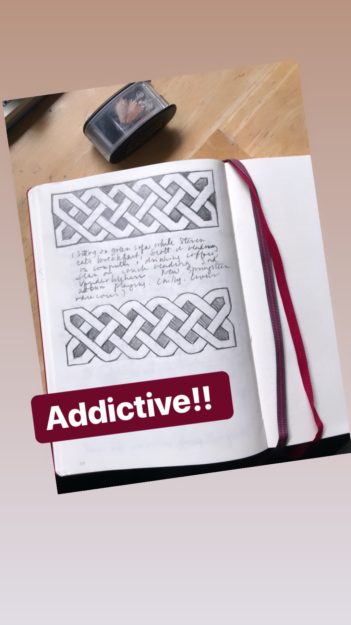 I started with this tutorial at calligraphy-skills.com. It's great! Clear and easy to follow.
I also came up with a hack for easy access of my travel itinerary. I made a phone wallpaper with my flight information on it so all I have to do is glance at my home screen to know where to go. Took me all of five minutes in Canva. I used their Instagram Stories blank canvas because that's the size of my iPhone screen. Chose a solid blue background and pasted my flight info where it would show beneath my app icons.
I made two images, one for the outbound trip (above) and one for my return trip on Sunday. All I had to do was save both images to my phone photos and then choose the pertinent image as home-screen wallpaper. What you're seeing in the image above is a screenshot of my home screen with the travel wallpaper in place. (The red and orange text chunks are captions from when I shared this on IG Stories.)
All righty, time to get moving! This bag ain't gonna pack itself.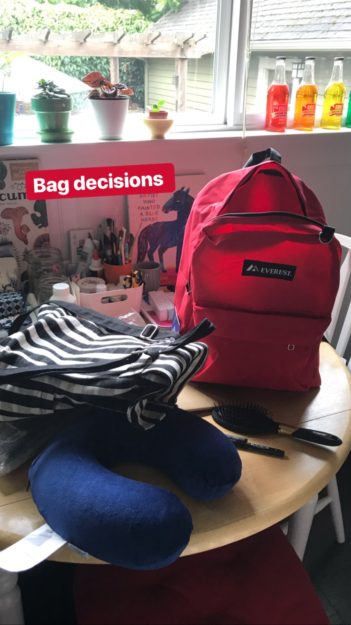 (I say "this bag" like I've decided which one I'm bringing. I haven't. Cram everything into the red bag and thus avoid bringing a carry-on suitcase? But it'll be heavy and a pain to dig through. Or bring the suitcase, which will be very light because I really don't need much for a three-day trip, and use the smaller backpack for ready-to-hand stuff. Either way, I'm not checking a bag. Decisions!)
Have a great weekend, friends!