I just wrote an epic Twitter thread with advice for parents who have suddenly found themselves thrust into homeschooling situations due to COVID-19. I promised to compile it here for easy reference, so here it is!
Suddenly & temporarily homeschooling parents: I'm a work-at-home mom of six who has been homeschooling for over 20 years & I'm here to help if you have questions! I call my family's learning style "Tidal Homeschooling" in recognition of natural ebbs & flows in life & learning. 1/

— Melissa Wiley (@melissawiley) March 18, 2020
Dear Suddenly & Temporarily Homeschooling Parents:
I'm a work-at-home mom of six who has been homeschooling for over 20 years and I'm here to help if you have questions! I call my family's learning style "Tidal Homeschooling" in recognition of natural ebbs and flows in life and learning.
One of my kids is high risk for respiratory issues, so our family began social distancing about a week before it went national. This is definitely a low tide season in our homeschooling life! Lots of art projects and games. Gardening. Poetry. Baking. Music. A bit of mellow math.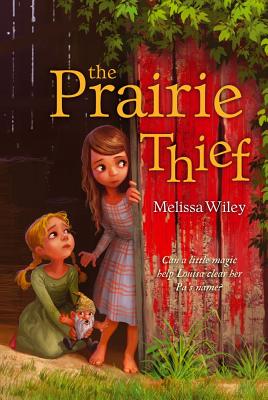 And readalouds, our absolute staple! Grab a copy of Finn Family Moomintroll or By the Great Horn Spoon or Stella by Starlight or Bronze & Sunflower or The Fourteenth Goldfish or Where the Mountain Meets the Moon or The Girl Who Drank the Moon or…(I could do this all day.)
As you can see, I'm bananas about middle-grade fiction. That's what I write! Starting next Monday I'll be reading my novel The Prairie Thief out loud every day at 4pm EDT/1pm PDT. Details coming soon—you can sign up for my newsletter and get more book recommendations. Also this blog! The archives are crammed with book recs for all ages and other fun learning resources.
Challenging but full of delight
I'm seeing a lot of tweets right now about the struggles suddenly-homeschooling families are experiencing and I get it. I've homeschooled through book deadlines and killer workloads and breast cancer and kids in the hospital and you name it. What I've learned: relationship is the most important thing.
Carve out some work time for yourself & a family quiet reading time if that fits your schedule. Dig out old toys the kids outgrew—nostalgia is a major entertainment aide in times like this. Play board games. Make slime. Find art & craft supplies from projects you meant to finish—let the kids have at 'em. That bin of quilting supplies I've been hoarding? Yeah, turns out I'm never going to be a quilter. That fabric is fair game for cooped-up kids now.
We're getting ready to launch a massive D&D campaign—I'm DMing. And the kid who likes gardening is helping me repot plants. The kid who likes games is roping siblings in to play. Lots of Wii action too.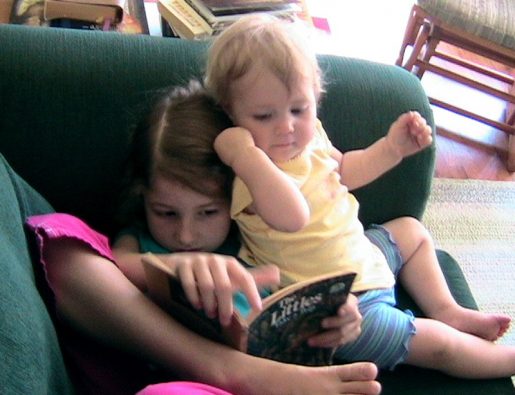 Don't try to make it school at home
If they have packets of schoolwork they have to do, don't let that be the thing that pits you against each other. Working one on one often takes less time than group learning. (Group learning has its perks too. We're sorely missing our homeschool co-op these days.) Get gummy bears or pretzels for lesson time because chewing helps people concentrate. No, really, it's a thing. Keep lesson time short for now, and if they're writing, you write too! Good time to start your plague journal.
Homeschoolers all over the internet are sharing resources right now. Brave Writer's Homebound page is a fabulous place to start. Or follow Julie Bogart on Instagram. Read her book The Brave Learner: Finding Everyday Magic in Homeschool, Learning, & Life. We're all brave learners now!
Feed yourself, too
Follow Holly Wren Spaulding on Instagram for poems and thoughts to keep you sane and grounded. I also recommend Commonplace Podcast and The Slowdown—vital listening for my peace of mind. And the Poetry Unbound podcast!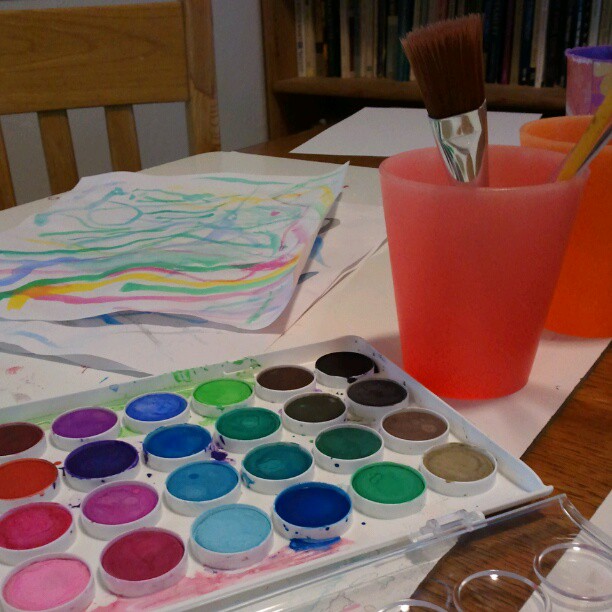 Makers gotta mess
Use up the paints and good paper you've been hoarding. Or use printer paper and a ballpoint. Get messy. Do round robin drawings where you draw a bit, your kid adds to it, you add more, you all laugh hysterically & make sweet memories. Get out the family photos. Make videos!
Watch science videos. Watch Bill Nye! Find Cyberchase on PBS Kids! (More magical nostalgia for my gang.) SING, sing as much as you can. Youtube search any song + karaoke—now's the time for your family to find that perfect song they can belt out. It's a life skill!
But what about their homework?
If they have math to do: here's the thing. There are loads of ways to learn math. If a concept isn't making sense, ask for help here or on Twitter. You'll be bombarded with creative ideas.
Don't try to make it "school at home." The dynamic is SO different. You can do math in bed & foreign language while loading the dishwasher. Make beanbags (remember that fabric stash? If you don't have thread just staple them) & toss them while chanting times tables. The beanbags won't last but the memories will.
I wish I had time to ____(it's time to fill in that blank!)
Find out what each kid has been yearning to learn. Ukulele? Coding? Cake decorating? Let that happen now. Ransack the cabinets. Try Creativebug or Skillshare for classes. Millions of tutorials on Youtube. Let them go deep if they want.
Or let them chill out if that's what they need. Down time is a precious commodity and lots of kids don't get much of it these days. Read comics. Crumple aluminum foil & have a catch in the living room. Tape toilet paper rolls (if you scored any) to the wall to make marble tunnels. (I would say fill a pan with rice and hide "artifacts" for littles to find, but maybe you should save your rice for eating.)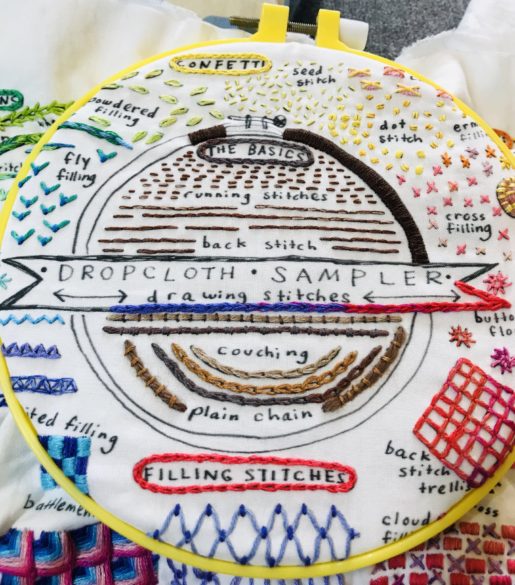 Dive deep
All I want to do right now is embroider—I have a couple of TOTALLY ABSORBING stitching projects—but I have a heavy workload at the moment so I have to squeeze it in. Find out what your kid's (and YOUR) embroidery equivalent is and let now be the time.
A school day includes making lunches and walk/drive/bus time and moving between classes and tests and homework (one of my six goes to public school, I get it)—remember, all those minutes are free now. So you don't have to expect homeschooling to take as many hours as school-school. In our "high tide" times (structured learning), we knock out our work between nine and noon. Afternoons are free time for my kids and work for me. I have college grads—it worked fine!
My one school kid is in tenth grade. His teacher sent me a packet of schoolwork but said the only thing to make sure he keeps up with is the gratitude journal. Three things a day. I loved that idea and made them for my younger kids too.
This thread got long! I have a bajillion ideas but they all come back to leaning into the together time as much as possible, diving deep into personal interests, keeping a daily rhythm that suits your family (including your own work time), and lots of readalouds for all ages.
All roads lead to learning
Another thing we do! (See? I can't stop.) My family uses The West Wing as a spine for 10th grade civics. It's a springboard for all sorts of research topics. You can do the same thing with any show.
Any kid interest can be that springboard. Homeschoolers call it "rabbit trailing." I've written a ton about it here at Bonny Glen over the years.
Schoolhouse Rock. Downton Abbey. The Importance of Being Earnest. Horrible Histories. Fun in themselves, and also: springboards!
Mad Libs. Hot Wheels on the stairs. Jim Weiss stories. Baby books! Seriously. My 11yo son happened upon all our old Sandra Boynton & Byron Barton board books the other day & hauled them all upstairs for a giggly rereading session.
Here to help
Hit me up for ideas anytime. I know it's challenging to do kids and work in the same space & same time frame! But it can be joyful, I promise. Forget about subject categories and just explore stuff. Let the teens sleep late. Let the tweens learn fancy hairstyles on Youtube.
Make a family Minecraft kingdom. We had one and my kids kept filling my house with pigs, and one of the tweens had a long-running Monty Pythonesque retort competition with my husband via the wooden signs.
My parenting life got hit with a 9-month children's hospital stay when my oldest was 2yo (leukemia, she's 24 and healthy now) so I had to learn fast and young how to make life fun for my kid and me in social distancing situations.
Holler if I can help with anything. As the mom of a medically complicated kid (and a person with a dodgy health history of my own), I sincerely thank you for doing your part to flatten the curve.
Preorder my new book, The Nerviest Girl in the World!